Miami Dolphins Special Teams Case Study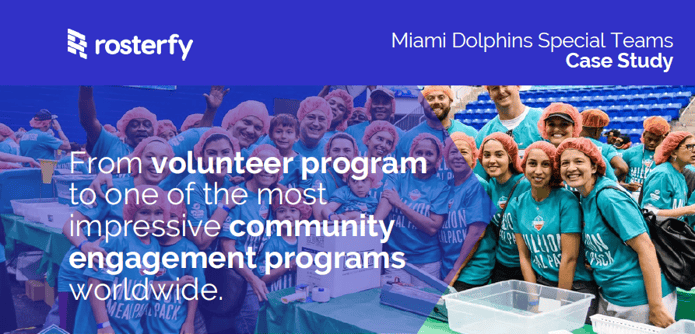 The Miami Dolphins have pioneered the way for professional teams when it comes to community engagement through their 'Special Teams' program, which has provided $8,533,875 value in volunteer time since its inception 10 years ago.
Traditionally after The Super Bowl concludes, the Host Committee dismantles and the tens of thousands of volunteers that were recruited cease to be utilized - sounds too crazy to be true, right? Well The Miami Dolphins thought so too and decided to do things differently.
After hosting The Super Bowl in 2010, the Miami Dolphins repurposed their volunteer program into a robust community engagement program that has created a lasting legacy within the South Florida community now known as the Special Teams program.
Although the Special Teams program falls under the Miami Dolphins Foundation, 90% of the work that they do is to support local not for profit organizations. Over the past 10 years, The Miami Dolphins Special Teams have become a resource that local not for profits utilize to secure volunteers to assist with their operations. From a volunteer perspective, the program also provides a platform to connect them with volunteer opportunities within their community, which might otherwise have been difficult to find.
Some impressive stats on the size and impact of The Special Teams program over the past 10 year include;
89,210 volunteers
334,583 hours volunteered
75 million minutes volunteered
24,691 unique volunteers
Understanding that they needed a digital solution to manage their volunteers, The Miami Dolphins commenced their working relationship with Rosterfy during The Super Bowl in 2018 to ensure the best possible experience for their volunteers.
Leslie Nixon, Senior Director of Community Affairs said,
"As we evolve, reliance on digital communications to allow us to engage with our volunteers in the ways in which they want to be communicated is so important - Rosterfy has enabled us to do this."
With buy in from staff, players, volunteers and the community as a whole, the Special Teams program serves as a foundation for all the work that the Miami Dolphins does within the community. From providing volunteers to running events and supporting not for profits, Special Teams is a true resource to the community.
So how do they engage and retain their volunteers? Professional Teams and volunteer programs in general can learn a lot from the Special Teams reward and recognition program, designed to 'give back' to those that donate their time.
During Rosterfy's webinar with the Miami Dolphins, Callie Newbanks, Volunteer Coordinator for the Special Teams explained how this works.
"We [Special Teams] have an incentive program where every hour spent volunteering sees you earn 10 incentive volunteer points, which is tracked and updated automatically through Rosterfy's volunteer portal. At the end of the year we do an appreciation party, where points can be turned in for memorabilia, apparel, concert tickets and game tickets."
It is this reward and recognition program that helped the Miami Dolphins Special Teams to win the NFL's Huddle for 100 earlier this year, contributing 75 million minutes to the overall total.
Designed to get 1 million volunteers to volunteer 100 minutes of their time by The Super Bowl, The Miami Dolphins utilized their Special Teams program to work with their community partners, not for profits, existing volunteers and their entire fanbase to take home the coveted prize.
The ability to utlize the Special Teams program when the community needs it most, to react and action help immediately has been instrumental during COVID-19 where the Miami Dolphins have once again risen to the occasion to help.
With Miami Dolphins owner, Stephen M Ross realizing that food insecurity, already an issue in the South Florida community, was about to get a whole lot worse with thousands now out of work he generously donated 3 million dollars (minimum) to feed those who are food insecure.
Once again, the Miami Dolphins' existing Special Team program has enabled the Dolphins to provide over 1000 meals out of their facility. Benefits of this have been twofold, with the ability to now feed those within the community but also providing jobs for Miami Dolphins staff who were out of work with game days no longer happening so they have also been helping to re-stimulate the economy!
So what can we learn from the Miami Dolphins? A lot. The importance of a strong volunteer program that can be adapted into a lasting legacy within your community not promotes a healthy brand and reputation but more importantly, allows the Miami Dolphins to become bigger than the game itself. Leslie and Callie shared their 'Top 5 Tips' for engaging their volunteers, which can be seen below.
Top Tips for Engaging your Volunteers
Create relationships with your volunteers

Appreciate volunteers by recognising their talents and impacts on and to an organisation

Over communicate volunteer expectations and project/event details

Share organisational goals and roles volunteers play in fulfilling these goals

Adapt your volunteer program to the changing times
To catch our webinar with Leslie Nixon and Callie Newbanks from the Miami Dolphins Special Teams and their incredible journey from volunteer program to one of the most successful community engagement programs worldwide, click here