VOLUNTEER ONBOARDING
Optimized Onboarding
Rosterfy will help you automate your volunteer onboarding to ensure that volunteers and staff are thoroughly inducted, interviewed and screened to comply with your needs.
All through one centralized system.
AUTOMATE ONBOARDING
Work Smarter Not Harder
Eliminate manual processes and facilitate a straightforward onboarding process that can boost volunteer engagement and retention, whilst ensuring compliance for your volunteers.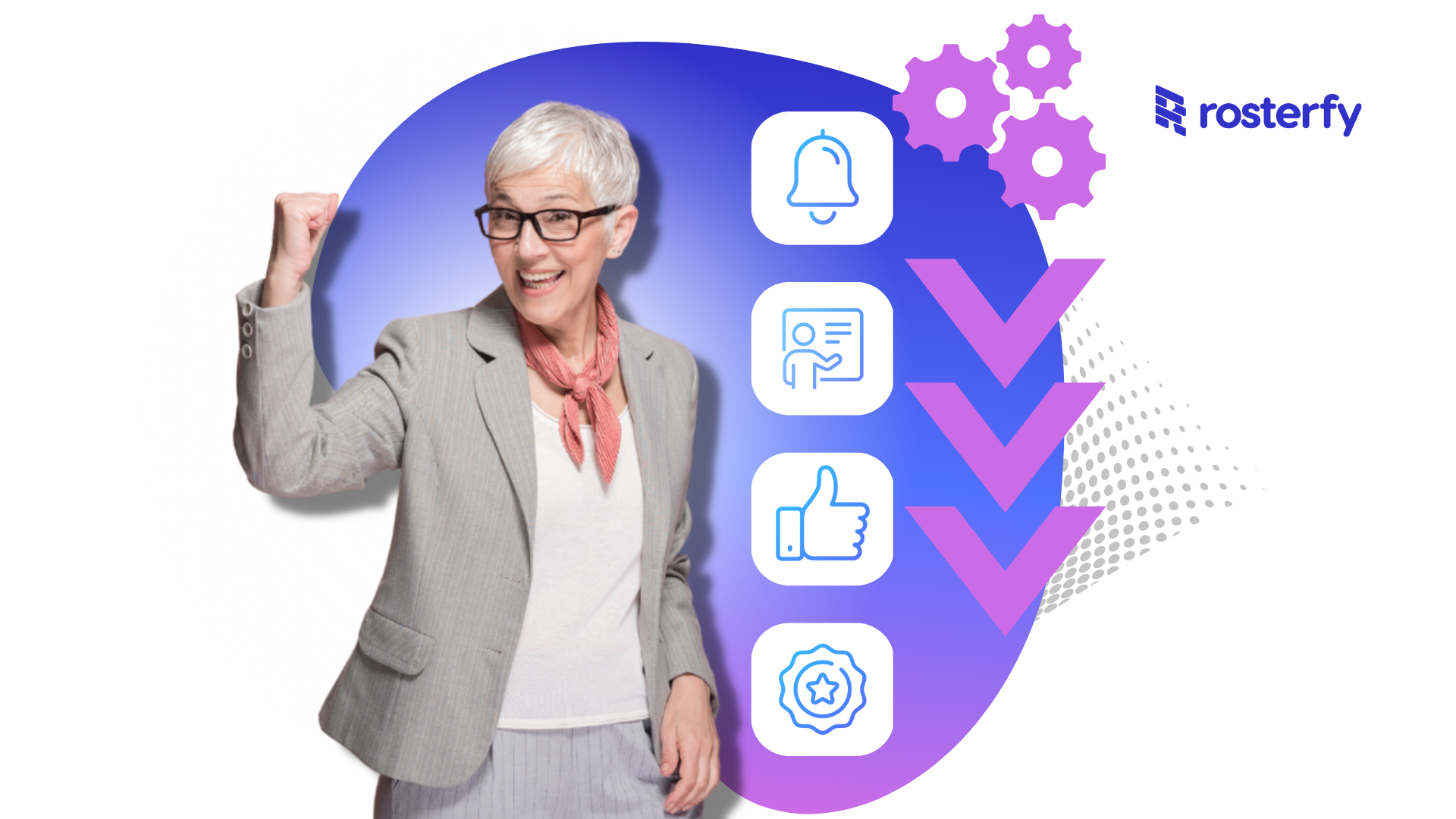 Categorize volunteers for a cohesive onboarding experience.
Ensure each new volunteer meets your standard for compliance.
Implement skills-based volunteering to cultivate a focused team.
Enhance the volunteer experience with push notifications via SMS, email and video.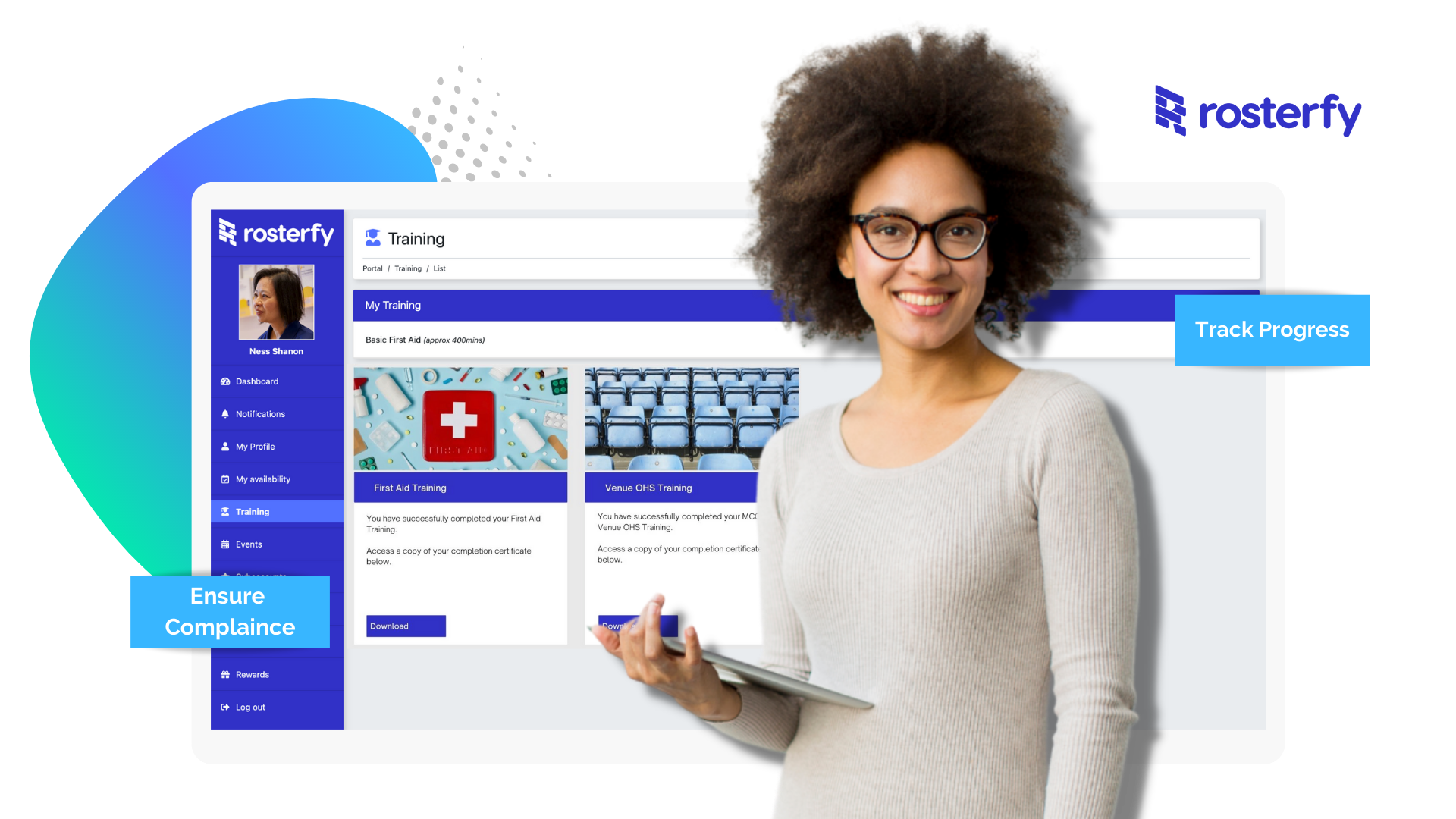 TICK EVERY BOX
Feel Confident Knowing Your Volunteers Are Compliant
Utilize Rosterfy's built-in automation functionality which uses rule-based checkpoints that allow you to automatically progress volunteers once key criteria are met.
Automations can include:
Inductions

Interview Invitation & Scheduling

Volunteer Communication

Contract Personalization & Signing

Training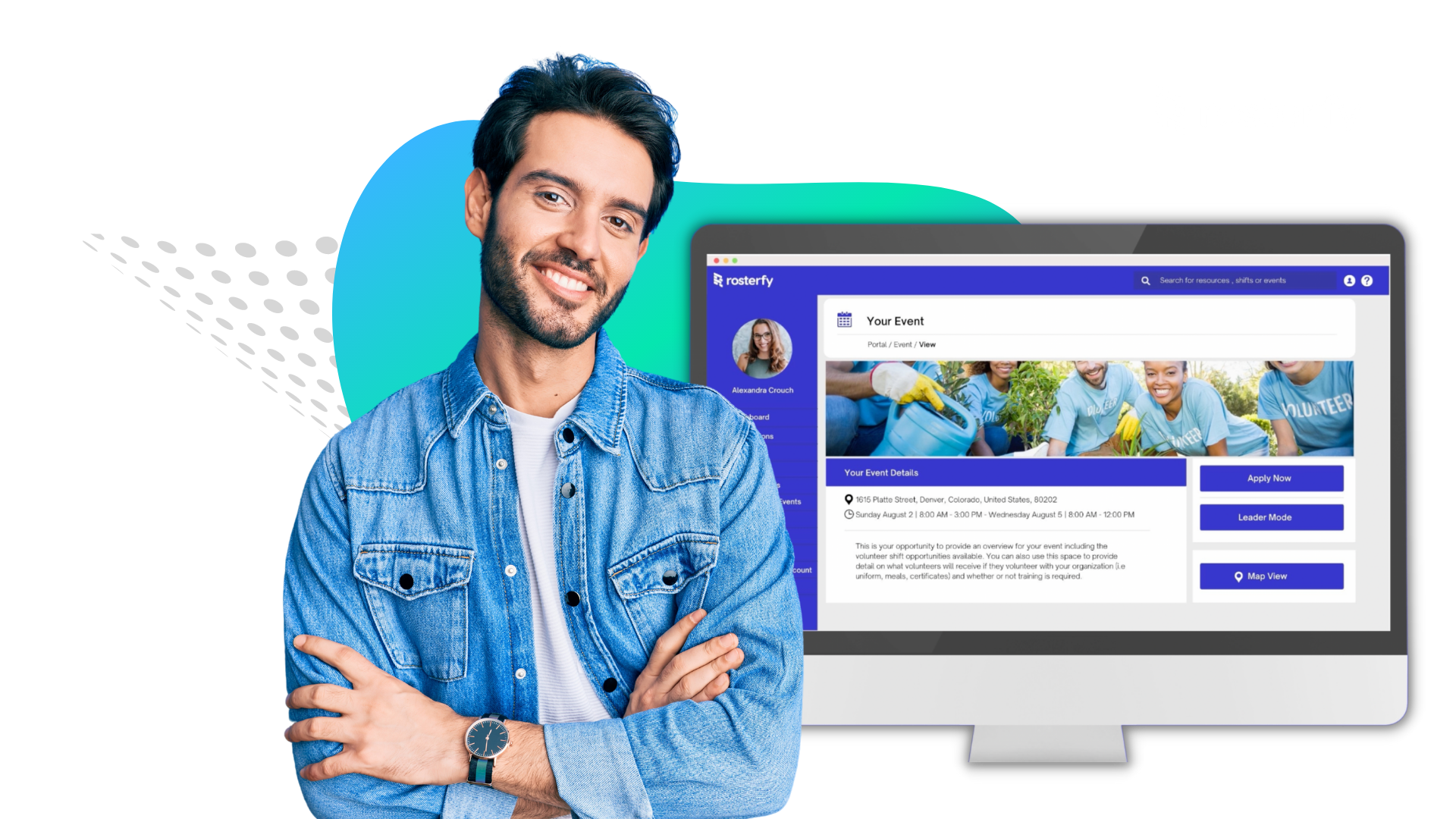 BOOK A DEMO
Speak to One of Our Team
If you want to improve the quality of your volunteer program, starting with your onboarding process, then speak to our team.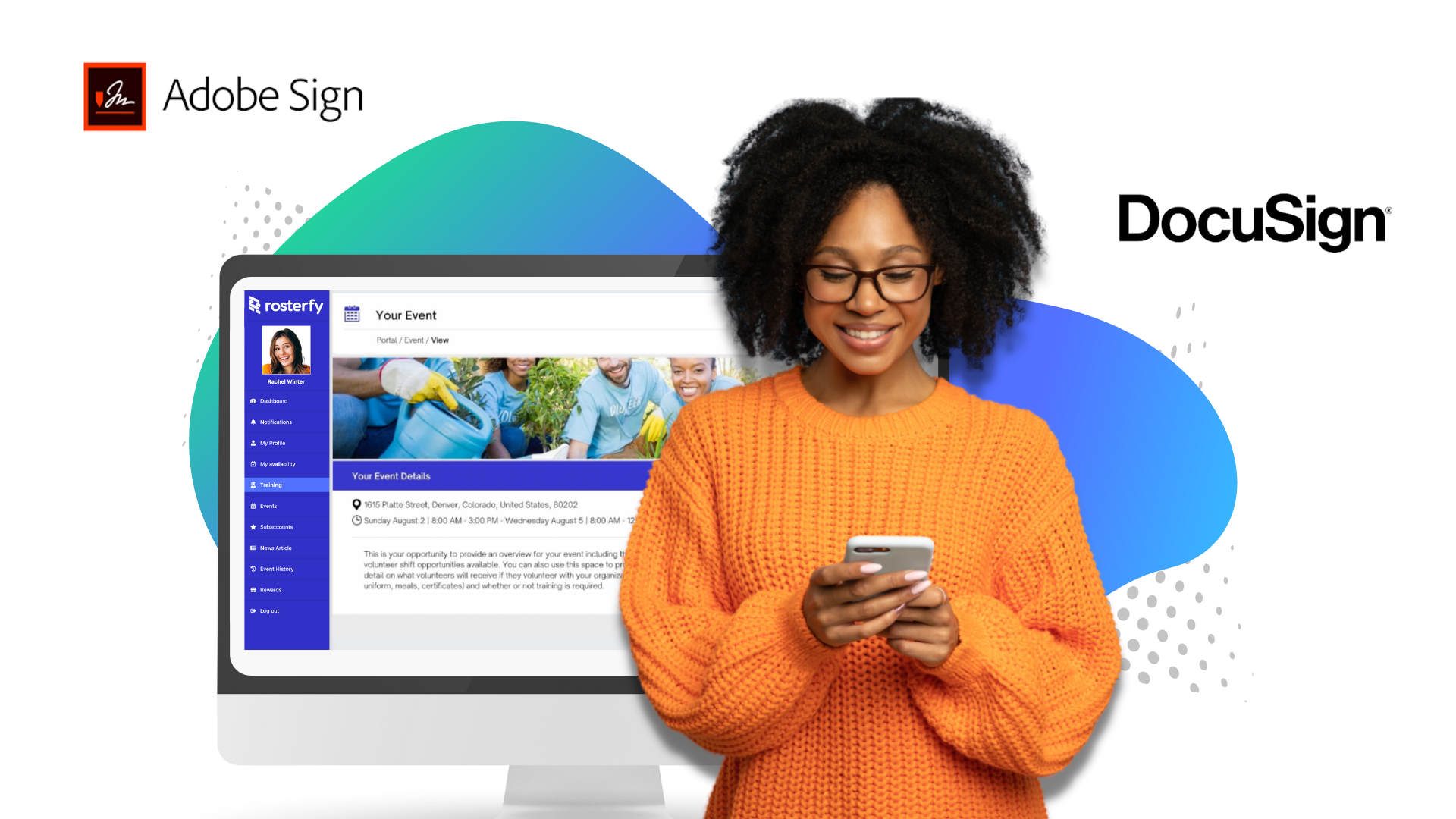 FASTER SIGN UP
Signed and Delivered
Rosterfy offers a built-in signature feature tool.
You can also use your existing software like Adobe Sign or DocuSign with simple integrations to allow your workforce to sign their contract without ever leaving their portal.
ALL IN ONE
Bring Volunteer Management to Life
You only need one software solution to recruit, retain, reward and train your volunteers -
and that's Rosterfy.
Supporting your cause and putting on great events starts with a great volunteer onboarding experience.
Cities & Local Governments
Keeping track of volunteer applications, training and onboarding progress is vital for cities programs.
Get ready for game day in the right way, with an ace onboarding process, only achievable with Rosterfy.
Universities and Colleges
The smart way to build a great volunteer program is to ensure your volunteers have a great onboarding experience.
Rosterfy helps you streamline your onboarding process, build volunteer profiles and have greater visibility of your candidate application and training progress.
FAQ
Questions About Volunteer Management Software
What is volunteer management software?
If you're looking for a way to streamline managing volunteers, Rosterfy offers you a centrally managed software solution. Volunteer management software from Rosterfy allows you to conduct background checks, automate application screening and schedule volunteers based on their volunteer profiles.
You can build out the platform based on integrations you already have or via the modules already available on our platform. This software gives you a single source of truth for all of your volunteer workflows, from volunteer hours to productivity to program success.
Software tools give your teams the chance to automate and expedite manual processes that would otherwise create bottlenecks, and instead focus on new engagement, marketing, sales and upcoming organizational strategies to boost the success of your program.
How can I migrate volunteers on Rosterfy?
With our File Manager, you can upload volunteer information and existing schedules onto your Rosterfy module. All you need is a CSV file. We offer these options so you can work off of your existing worksheets up until you're fully integrated into the Rosterfy platform.
Why is it important to log volunteer hours?
Understanding how many or how few hours your volunteers have put in can help in a lot of ways. For example, logging volunteer hours allows you to measure and compare your multiple volunteer programs - including where you saw success and where you didn't.
By accessing and understanding historic data, you can see how many volunteers you'll need for future programs and set expectations for the next program based on these numbers — meaning you can save time for forthcoming volunteer schedule needs.
Additionally, you can see which volunteers are providing the most value to your organization, and not only reward them for the effort, but also keep them at the top of the list for open shifts and any upcoming volunteer opportunities in the future. This may even extend to paid workforce opportunities, work experience or even full-time employment with your organization.
Can Rosterfy allow for onboarding contracts?
Yes. Rosterfy allows you to send contracts to successful applicants where volunteers and staff can sign these digitally via a number of our integration tools.
Can I create my own custom training?
Yes. Rosterfy allows you to create your own training and induction models to ensure that you get the most out of your volunteers. Create quizzes, including multiple choice, and add your own videos, images and branding to make training engaging and reflective of your brand.
How can Rosterfy help when interviewing volunteers?
Our software allows your potential volunteer applicants to schedule interviews whenever you have availability right from the platform. The software integrates with Zoom, Microsoft Teams and other video conferencing platforms.