ROSTERFY APP
Introducing our mobile app!
You asked and we delivered.
Rosterfy's new mobile app, empowers volunteers to take control of their volunteer experience, any place, any time, from the palm of their hands.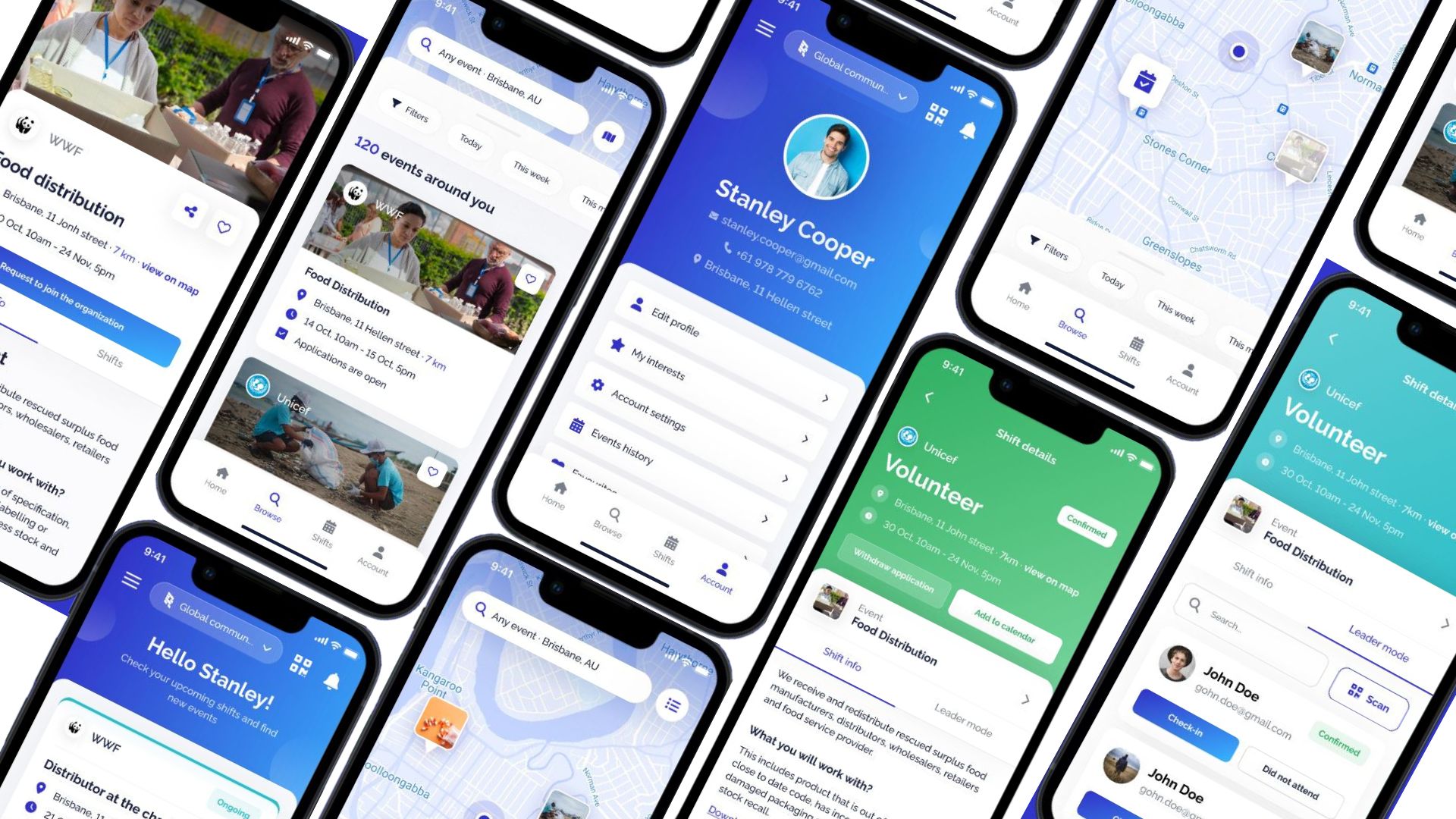 PROVIDE A WORLDCLASS EXPERIENCE FOR YOUR VOLUNTEERS
Better connect your volunteers to your organisation.
Make volunteering simple. Notify volunteers of new opportunities, empower them to complete training inductions and communicate in real-time with Rosterfy's mobile app.
Empower your volunteers to make changes to their volunteer profile to ensure that you have the right details on file.
Notify volunteers about upcoming opportunities or changes to their shifts through Push Notifications.
Browse & Apply for Opportunities
Allow your volunteers to search for opportunities by area, interest and availability and submit an application with a click of a button.
Collect important screening information and allow your volunteers to sign waivers all from the mobile app.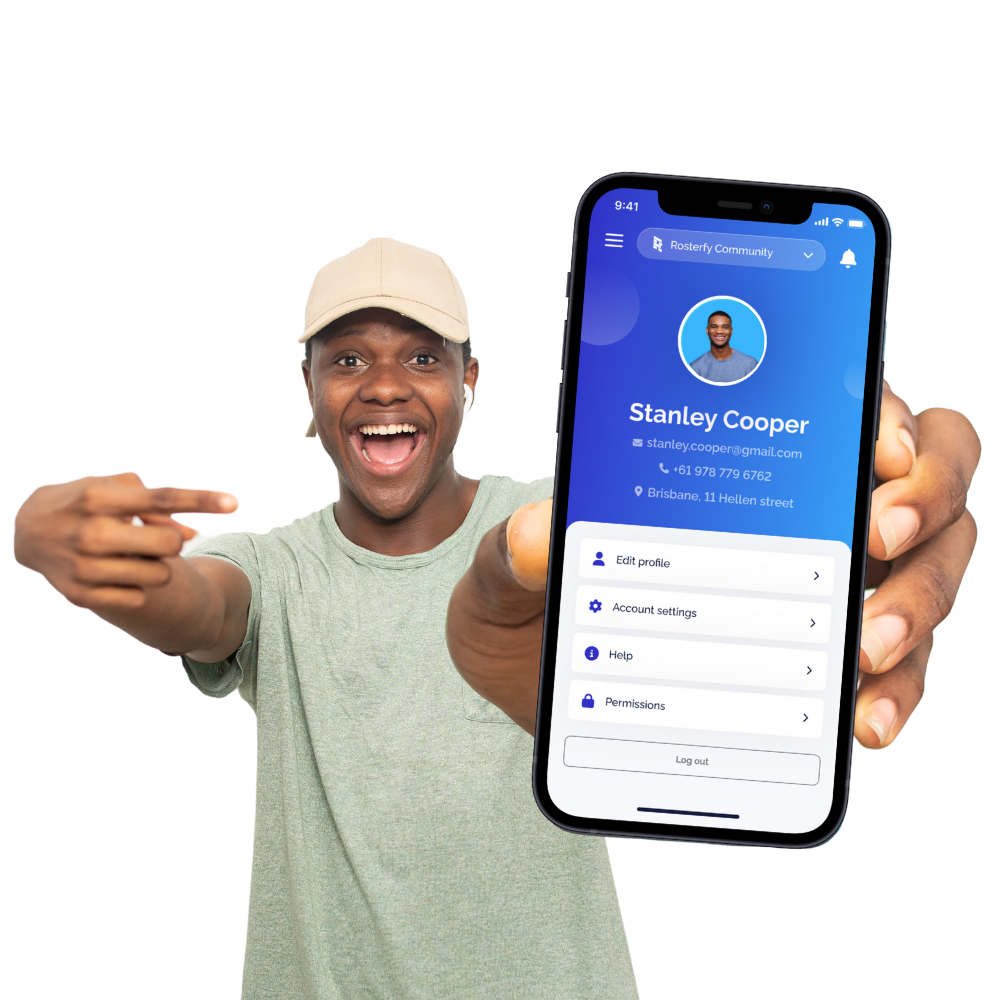 Intuitive and easy to use
Volunteers of all ages will find Rosterfy's app clean and simple to navigate. From updating their personal details to browsing opportunities and completing onboarding, volunteering has never been simpler.
Available for both Android and iOS users, Rosterfy's mobile app has been designed with volunteers at the forefront to maximise productivity and engagement.
Change the way volunteers search for opportunities
Create opportunities and place them in the palm of your volunteers hands.
Allow volunteers to search via location, dates and their interests to ensure that your organisation stands out from the crowd.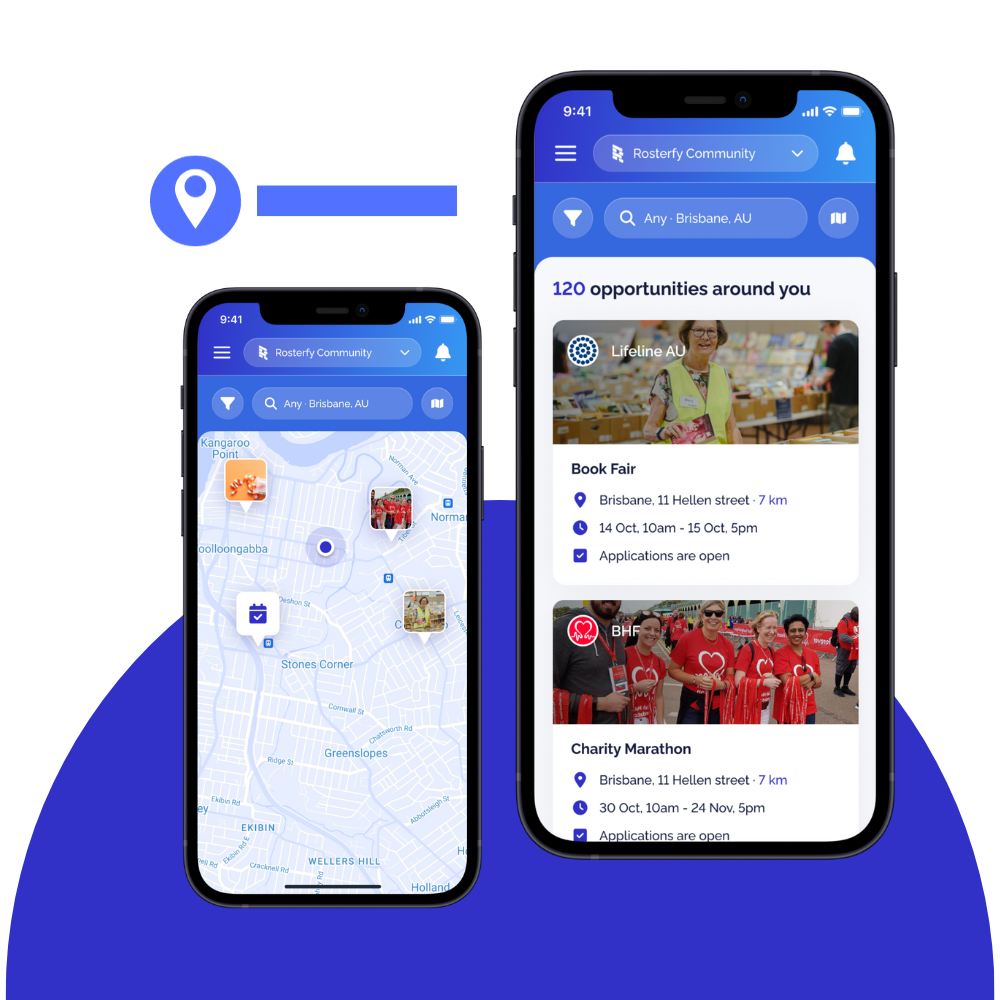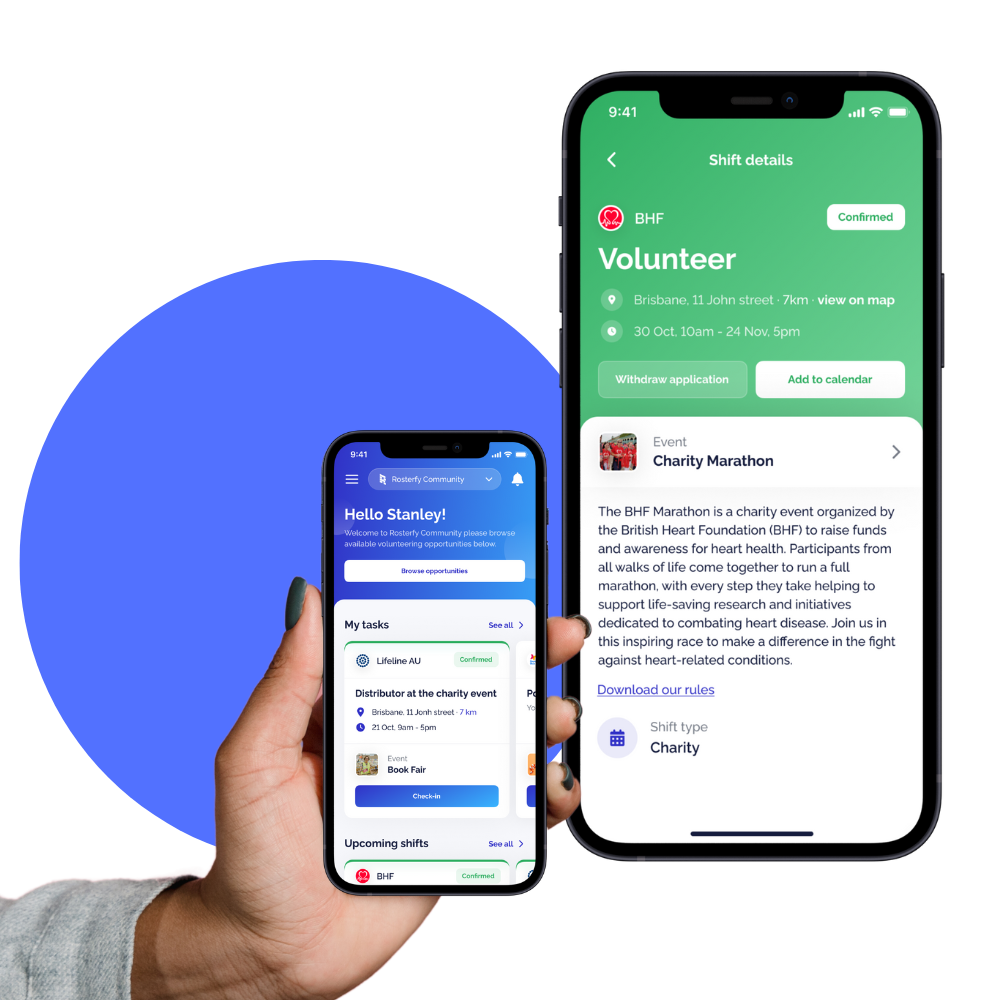 Drive volunteer registrations
Volunteers can scroll away on the Rosterfy app and apply for opportunities that appeal to them.
With live alerts, volunteers will receive push notifications when an opportunity becomes available, increasing your organisations visibility and driving interest in your program.
Amplify your opportunities via Rosterfy Community
Rosterfy Community is a world first volunteer marketplace, connecting thousands of volunteers to an array of opportunities within their area.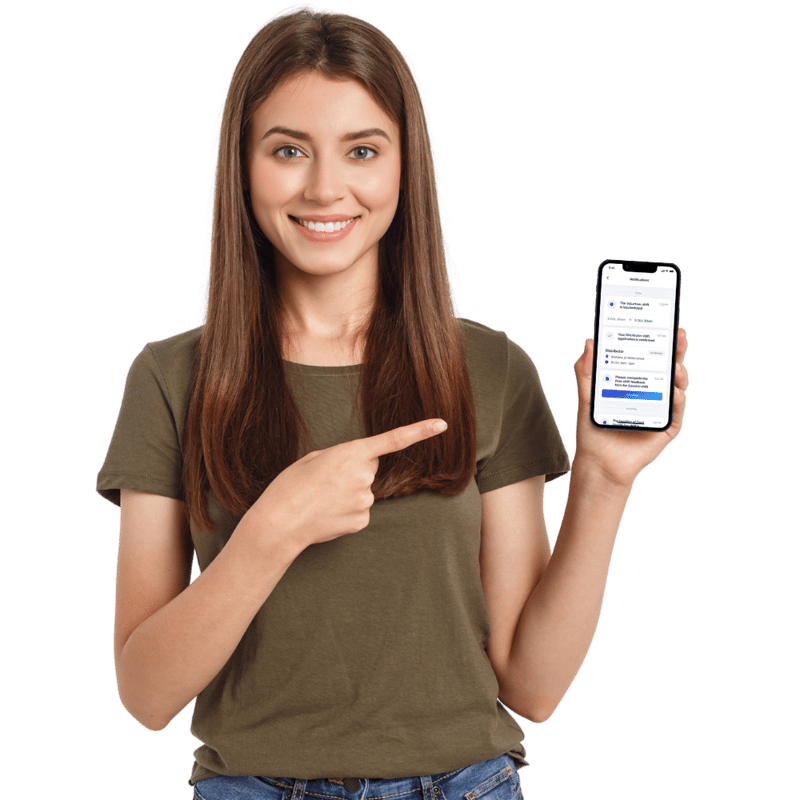 Complete inductions and training on the go
Make it simple for your volunteers to complete training and inductions with the ability to complete induction training modules and sign waivers all from the convenience of the Rosterfy app.
Empower volunteers to manage their experience
Tired of volunteers emailing to request changes to their shift? Why not empower them to do it themselves.
From viewing upcoming shifts, accepting or rejecting role offers to withdrawing from a scheduled shift, volunteers can make changes as required.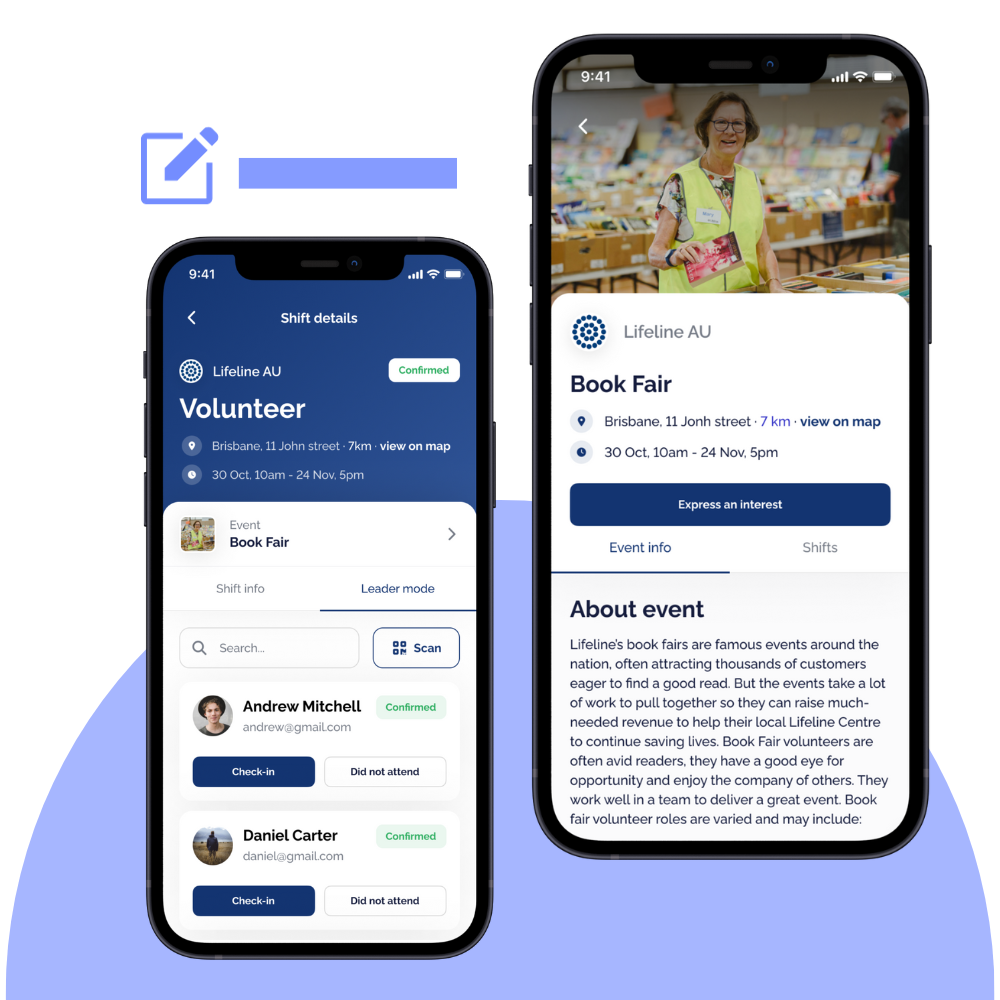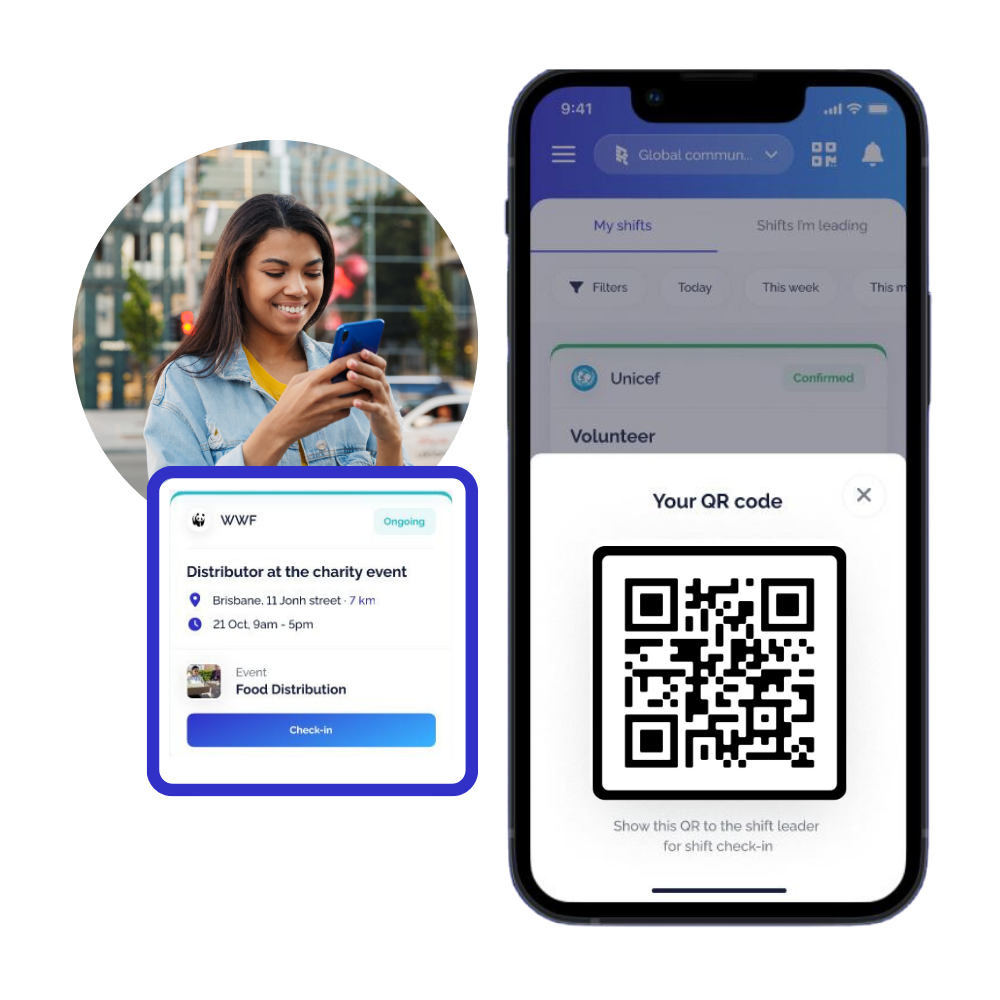 Make check in simple
Another benefit of our mobile app? Volunteers will have their own QR code, which can be scanned by Team Leaders or Volunteer Managers to make check in a breeze.
Keen to learn more?
Book a demo today to learn more Rosterfy's volunteer app and other great features.
Trusted by leading Nonprofit, charities, Local Government and Mass Sporting Events