INCREASE ENGAGEMENT
Volunteer Portals
Ensure volunteers have all the information about their volunteering history, training details and upcoming shifts with Rosterfy Volunteer Portals.
Over 10 million hours of volunteering are managed
through Rosterfy each year
KEEP VOLUNTEERS INFORMED
Volunteer Portals on Mobile
Rosterfy is optimised for use on Mobile empowering volunteers to search and apply for shifts.
Administrators can also send notifications via SMS, making it easy for volunteers to receive an alert and complete a task all within minutes.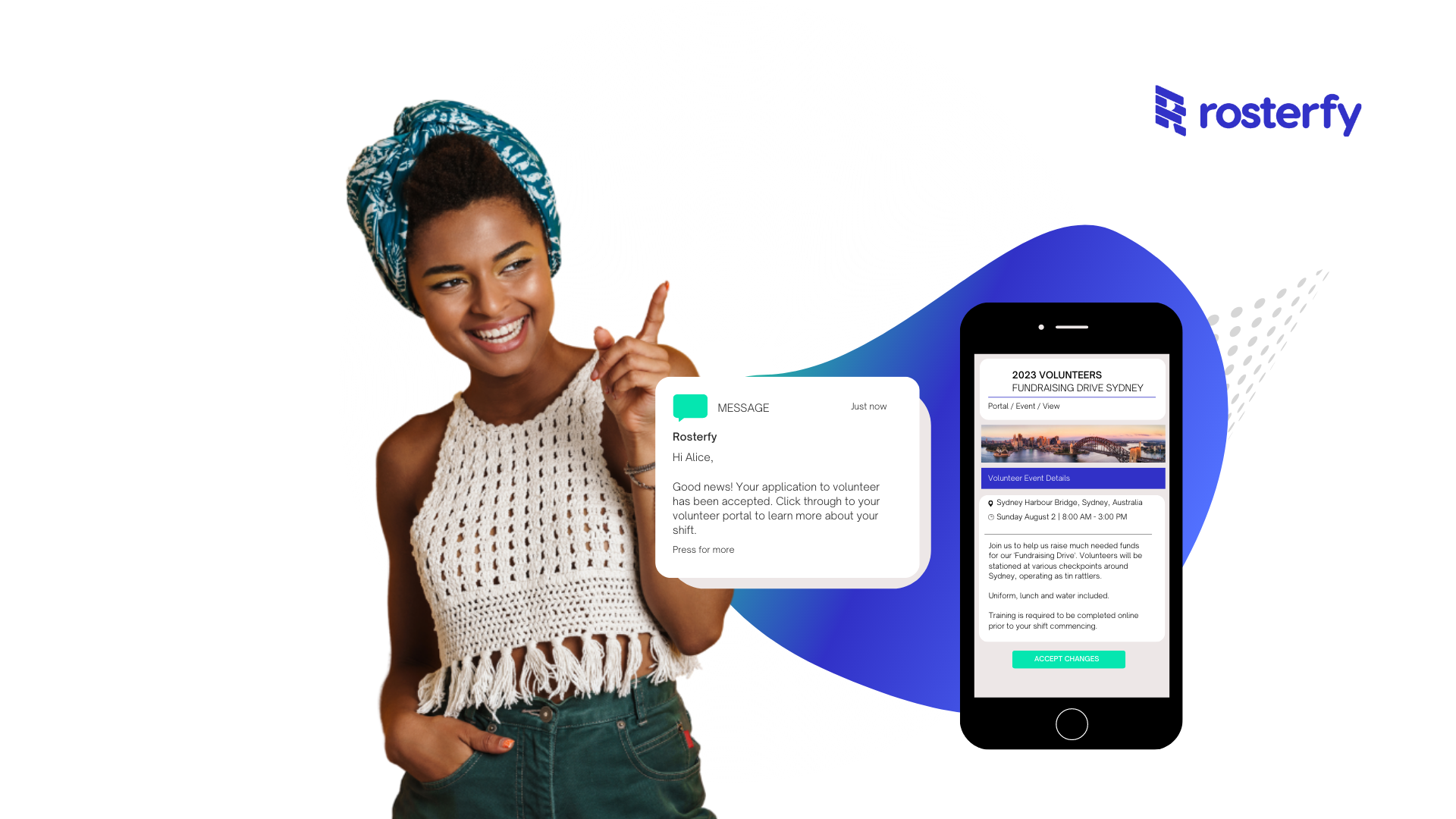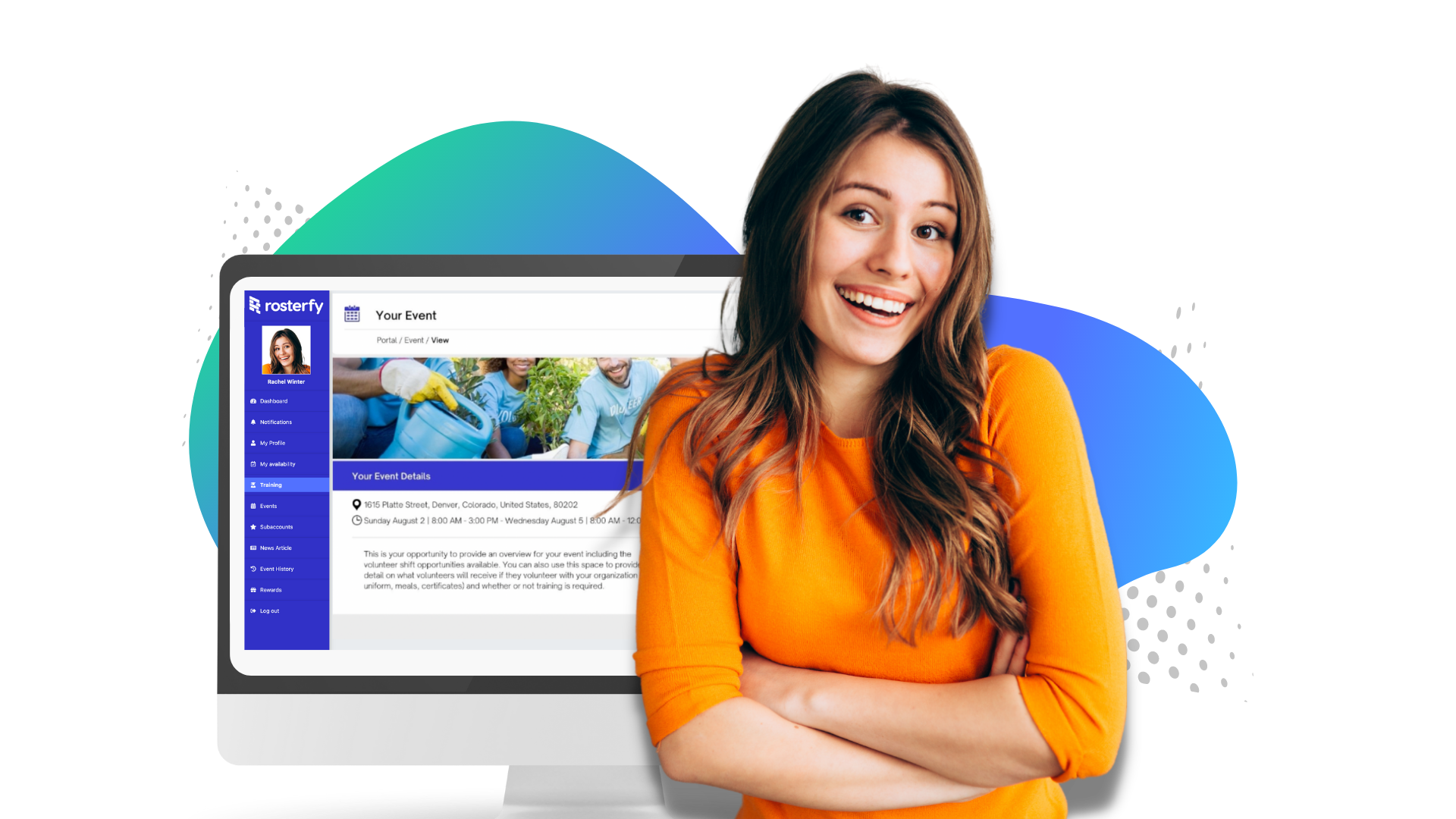 MEET EXPECTATIONS
Modernise your Volunteering Experience
Real-time information and on-demand details about their volunteering profile are the minimum expectations.
Keep up with the modern demands of volunteering by using Rosterfy's volunteer portal to help you deliver an engaging experience.
ADDING HOURS
Logging extra volunteering hours without the extra effort
Empower volunteers to log additional hours worked without the extra admin hours involved in updating volunteering records.
With Rosterfy candidates can use our
Activity Update feature. This is a simple way volunteers can record the start and end time of extra activity and submit it for approval from your admin team.
The correct number of hours volunteered for your whole operation is updated instantly.
That means your reports are accurate and the volunteer is sure their hard effort has been recorded.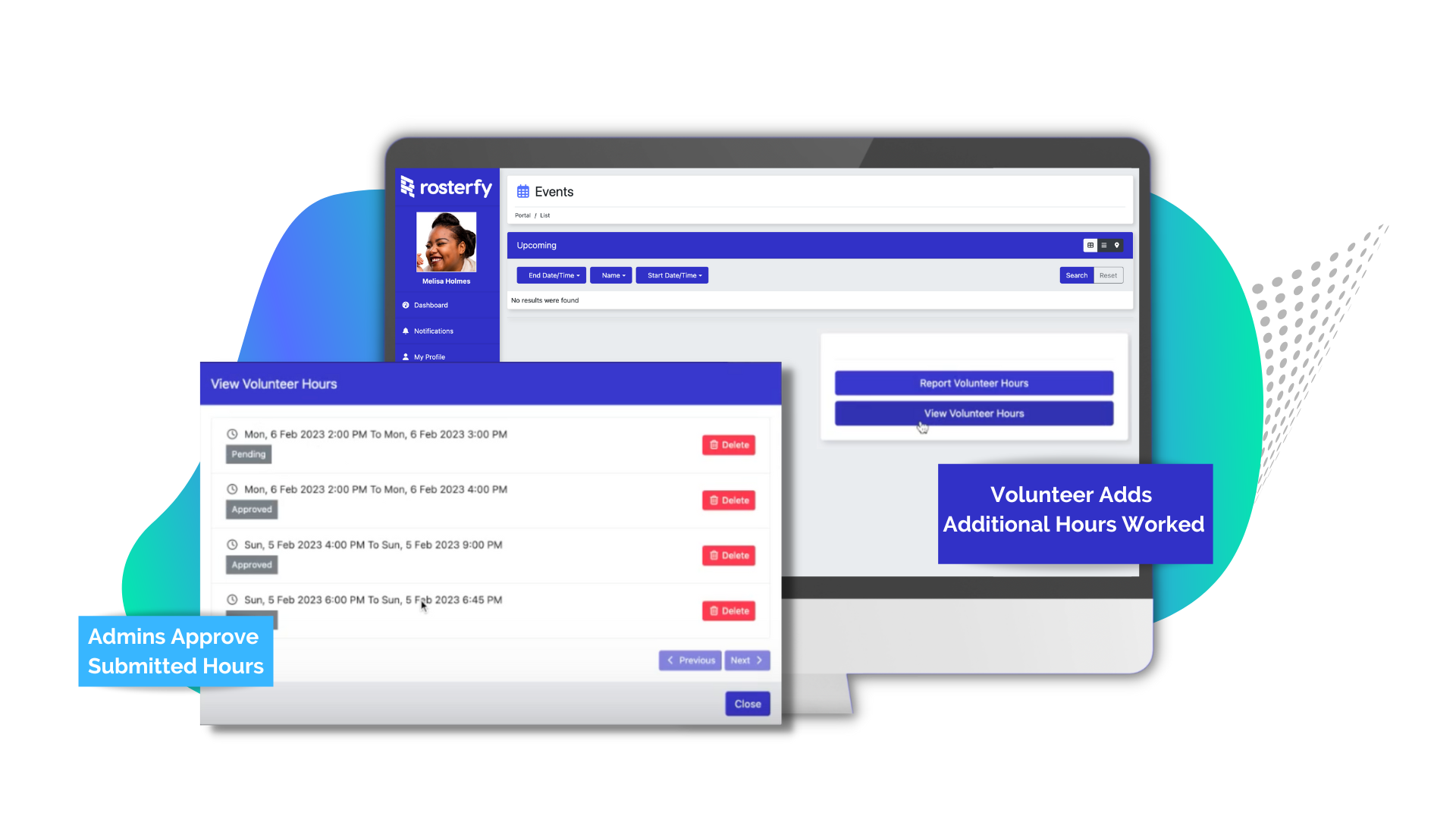 Streamline volunteer engagement with volunteer portals
Give volunteers all the information they need at their fingertips from the moment they sign up.
Make a splash with volunteers from day one with custom branding on your portal.
Put the power to add details such as documentation, credentials and more in the hands of volunteers.
Communicate with volunteers at mass with portal notifications. Save hours with the emails you won't have to write and send.
Provide access to training information and redeemable rewards through their portal.
Volunteer Management Software from Rosterfy helps you create branded, impressive portals that will reduce your admin and create engaging experiences.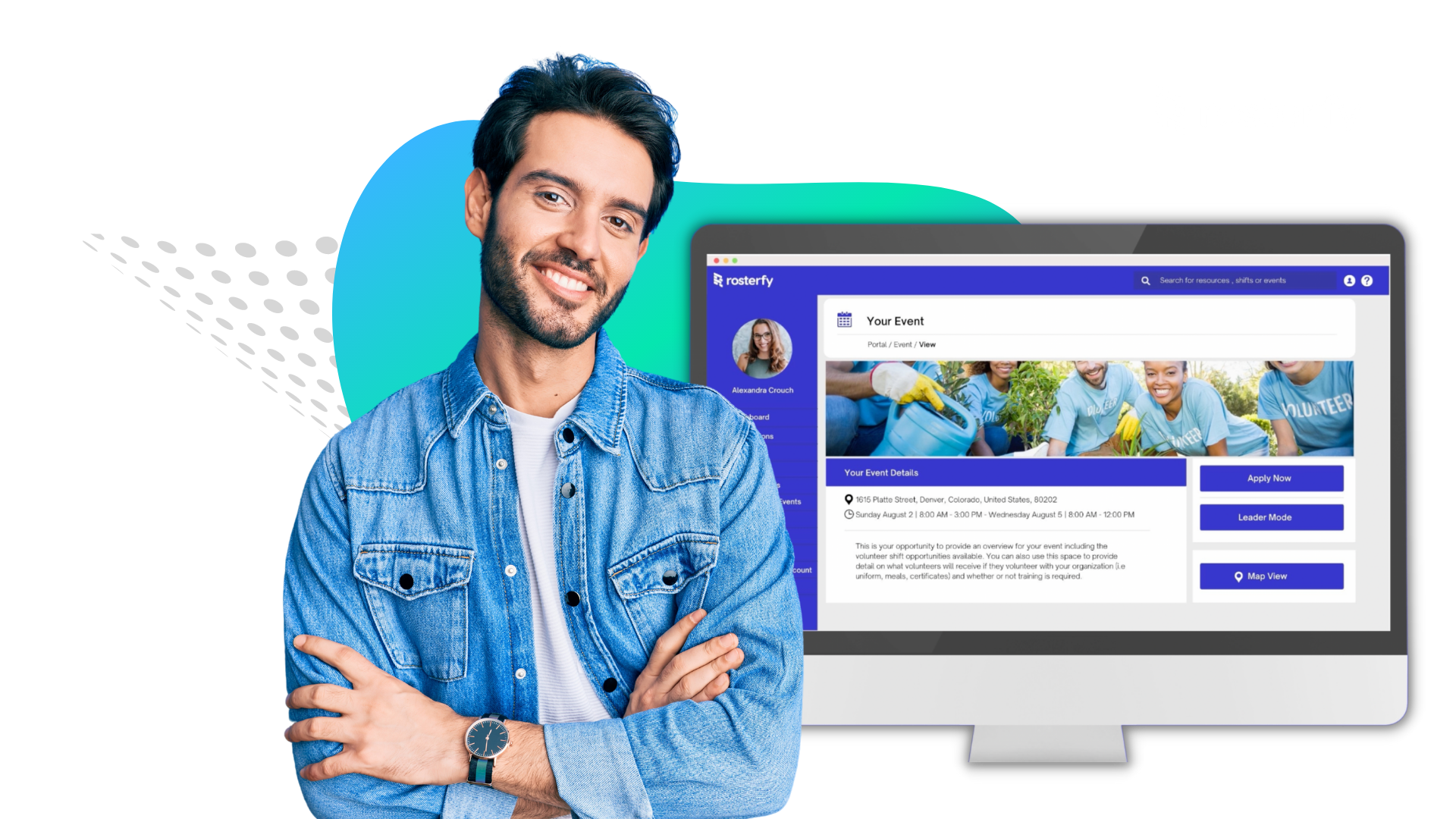 BOOK A DEMO
Speak to one of our team
See for yourself how Rosterfy can help you improve the quality of your volunteer program by ensuring a consistent and engaging experience.
Request a one to one demo today.
WHAT OUR CUSTOMERS SAY
How Rosterfy Simplifies Engagement
"Rosterfy has given us an easier way to communicate with our teams and I like how easy it is for volunteers and staff to sign up to shifts"
"We use Rosterfy on a daily basis and it makes our job 100x easier and more efficient"
"I love the flexibility. Not only has Rosterfy helped us manage our workforce better, we've moved other functions such as training, time tracking & communication onto it, because Rosterfy handles them so well"
ONE PORTAL MULTIPLE EVENTS
One Portal to Manage Them All!
Volunteers need only create one single portal then any additional events they sign up for can be viewable through that portal.
If you run multiple events throughout the year and you don't want to create multiple sources of information for your volunteers, with Rosterfy you don't need to - one portal to manage them all!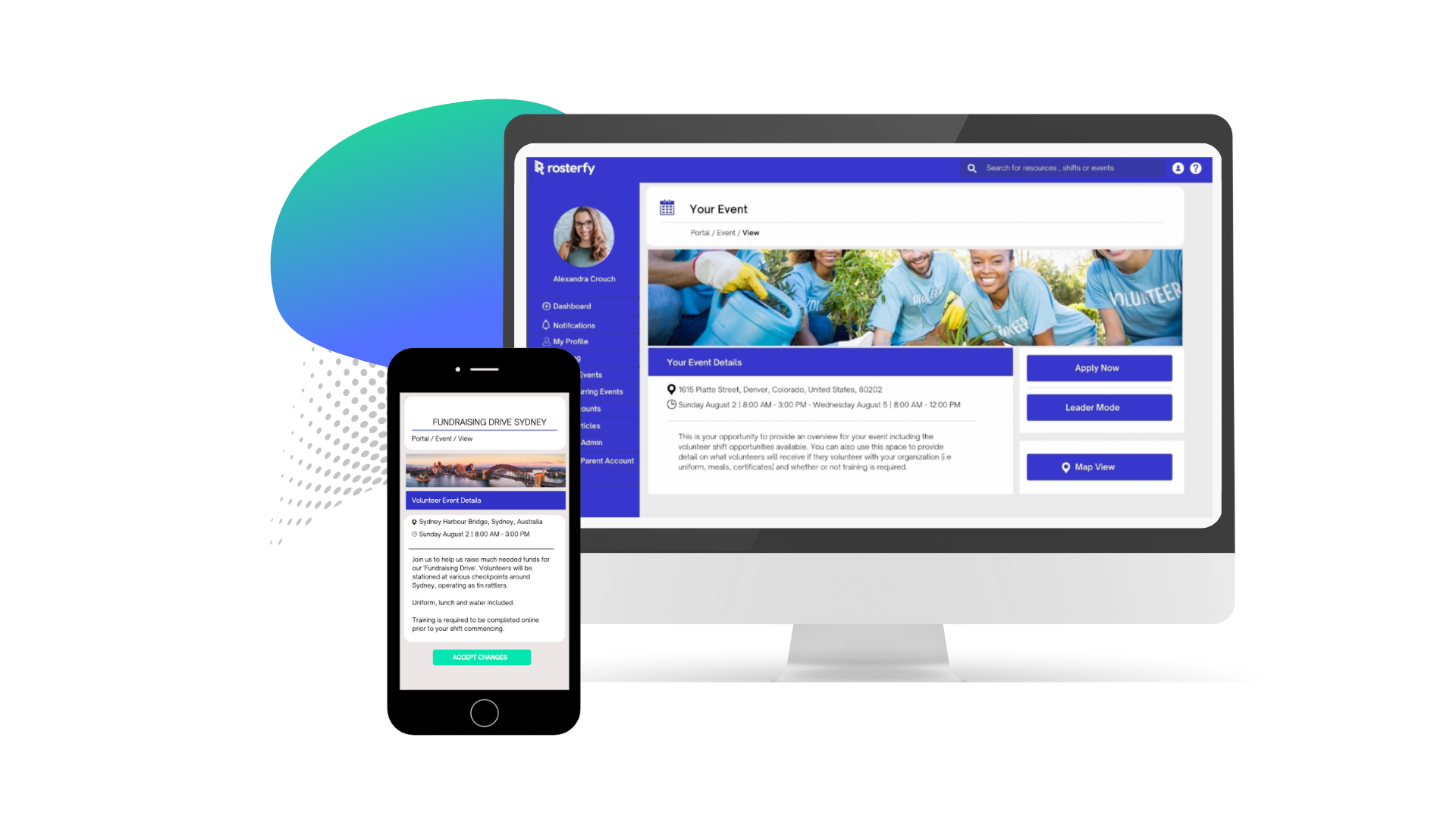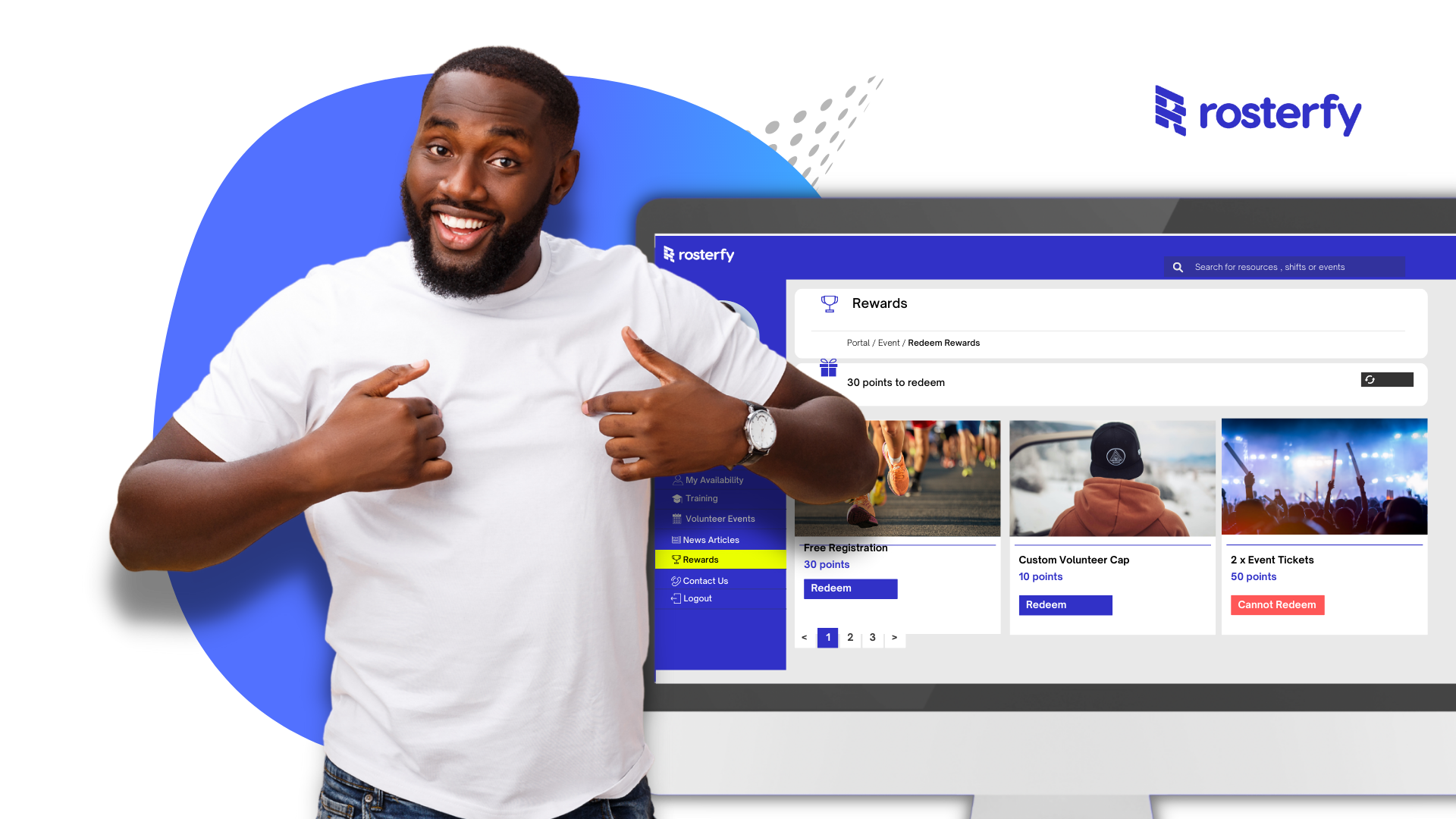 A REWARDING EXPERIENCE
Offer Recognition
Give volunteers that 'feel-good' feeling by recognising their efforts with a reward and recognition program.
Setting up a reward platform can be tricky but not with Rosterfy.
Their volunteer portal can easily display how their efforts have made an impact and how they can redeem rewards.
MONITOR PROGRESS
Empower Volunteers to view their Training progress
Volunteers have the ability to complete onboarding and training from within their Rosterfy volunteer portal.
As they progress through their training, volunteers will receive alerts and communications updating them on their performance. Completed training will trigger personalised certificates for volunteers, which are accessible at all times within their portal.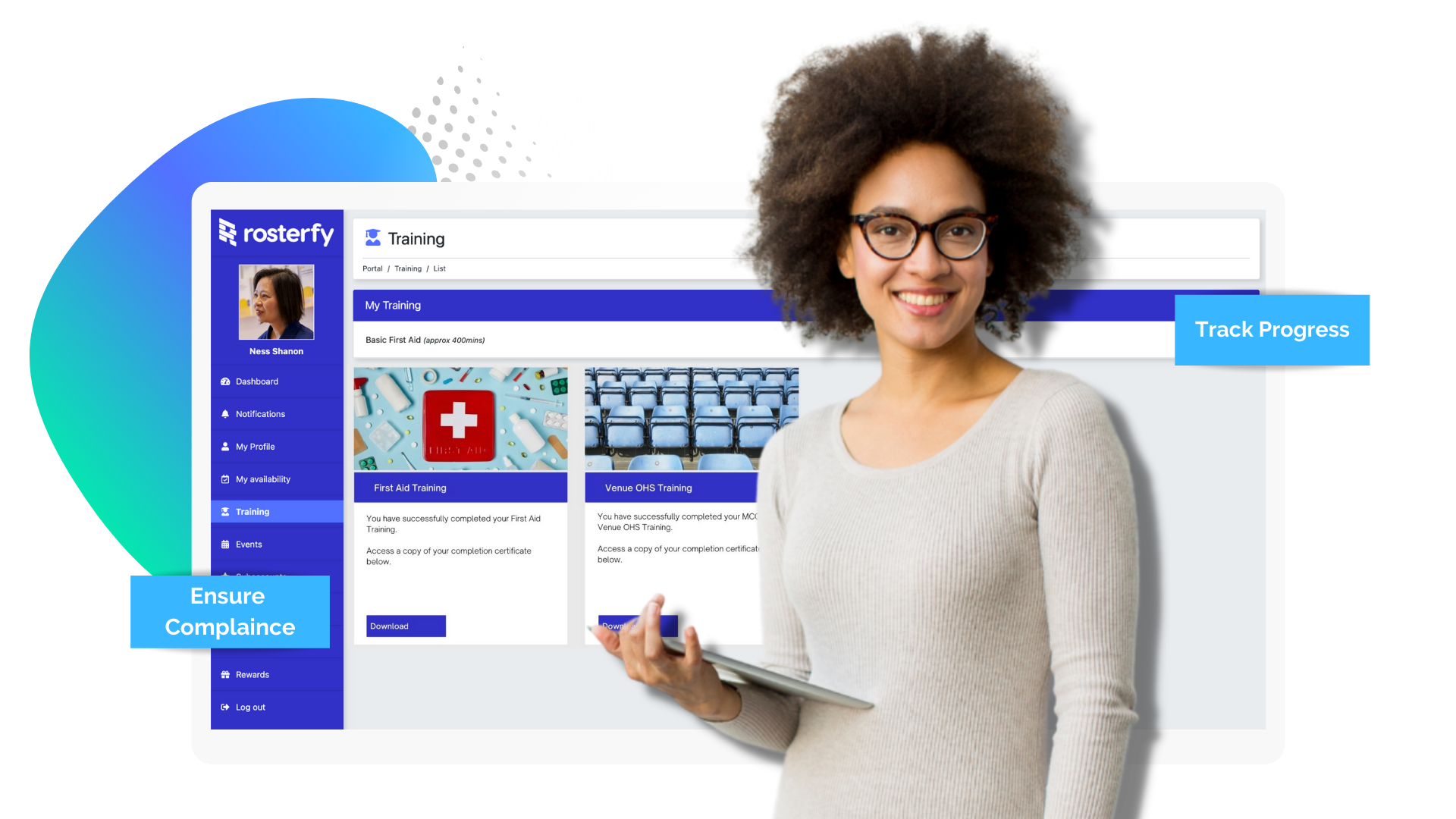 FAQ
Questions about Volunteer Portals
How do volunteers create their own portal?
During registration volunteer will be prompted to create a username and password, which will create their own Rosterfy volunteer account. They can use these credentials to login to their volunteer portal at any time.
Software tools give your teams the chance to automate and expedite manual processes that would otherwise create bottlenecks, and instead focus on new engagement, marketing, sales and upcoming organisational strategies to boost the success of your program.
Can volunteers access communication from within their portal?
Yes! Volunteers can access emails, briefings and reminders through their Rosterfy portal. Administrators can also choose to send in-portal notifications to ensure certain milestones are achieved.
Do volunteers have to re-register and create a new account to apply for different events?
One of the best things about Rosterfy is that volunteers create their account once, and can use this account to apply for multiple events. For instance, if you're a charity and you run multiple events throughout the year your volunteers will create their account once and can then use this account to register for your organizations events/shifts for years to come.
Can volunteers update details in their own portal?
Yes! Rosterfy's volunteer portals empowers volunteers to update their personal details including address and mobile, credentials and documentation to ensure everything is up to date!