VALUED VOLUNTEERS
Reward & Recognition
Engage and retain your volunteers through the gamification of reward and recognition.
REWARDS YOUR WAY
Customize Your Reward Program
Each volunteer management program is unique. Rosterfy enables administrators to create their own custom reward and recognition program.
From the amount of hours required to redeem prizes to the the rewards themselves, create your program the way that you want so that it works for you.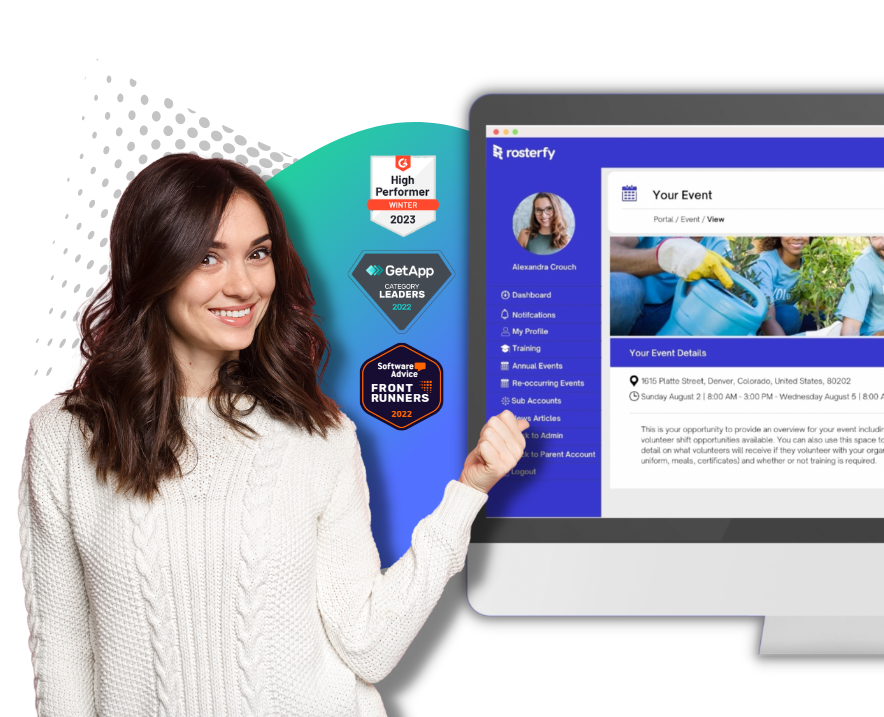 EASILY MANAGE REWARDS
Engage Your Volunteers With Enticing Rewards
You only need one software solution to recruit, retain, reward and train your volunteers, and that's Rosterfy
Secure merchandise, apparel, tickets and access to events in exchange for hours volunteered.
Track and redeem volunteer rewards from within a volunteer portal.
Commercialize your reward and recognition program by partnering with a sponsor.
Easily monitor inventory of available rewards and report on what's been offered.
Rosterfy helps you automate more of your manual tasks and easily manage a rewarding experience for your volunteers.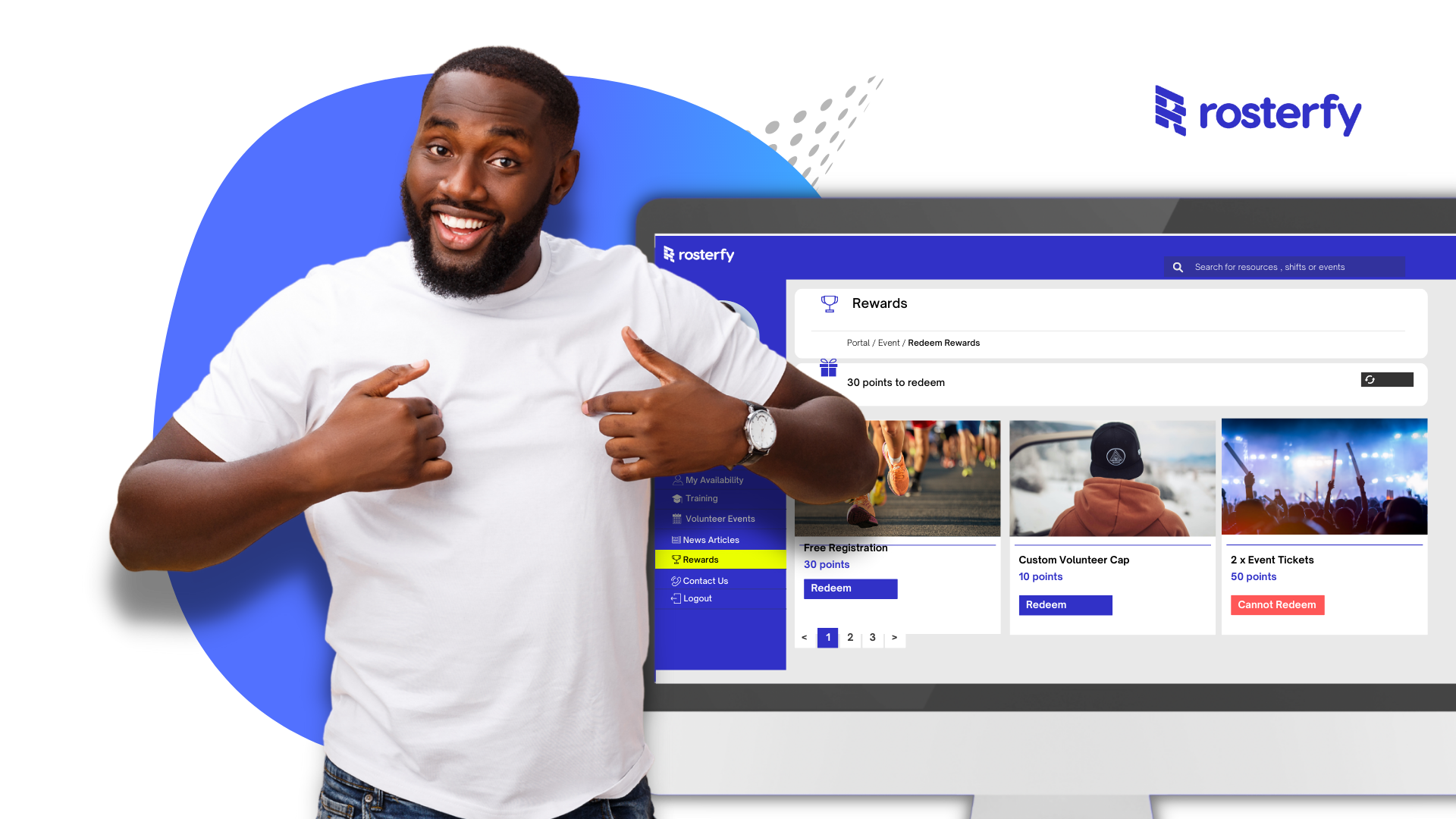 LEVEL UP YOUR ENGAGEMENT
Gamify Your Volunteer Management
Make your volunteer management program sing with Rosterfy's reward and recognition functionality, allowing you to incentivize volunteering through the use of rewards, which can be redeemed in exchange for hours or shifts volunteered.
From merchandise and apparel, to event tickets and once-in-a-lifetime opportunities, gamifying your volunteer management program is a great way to engage and retain your volunteers.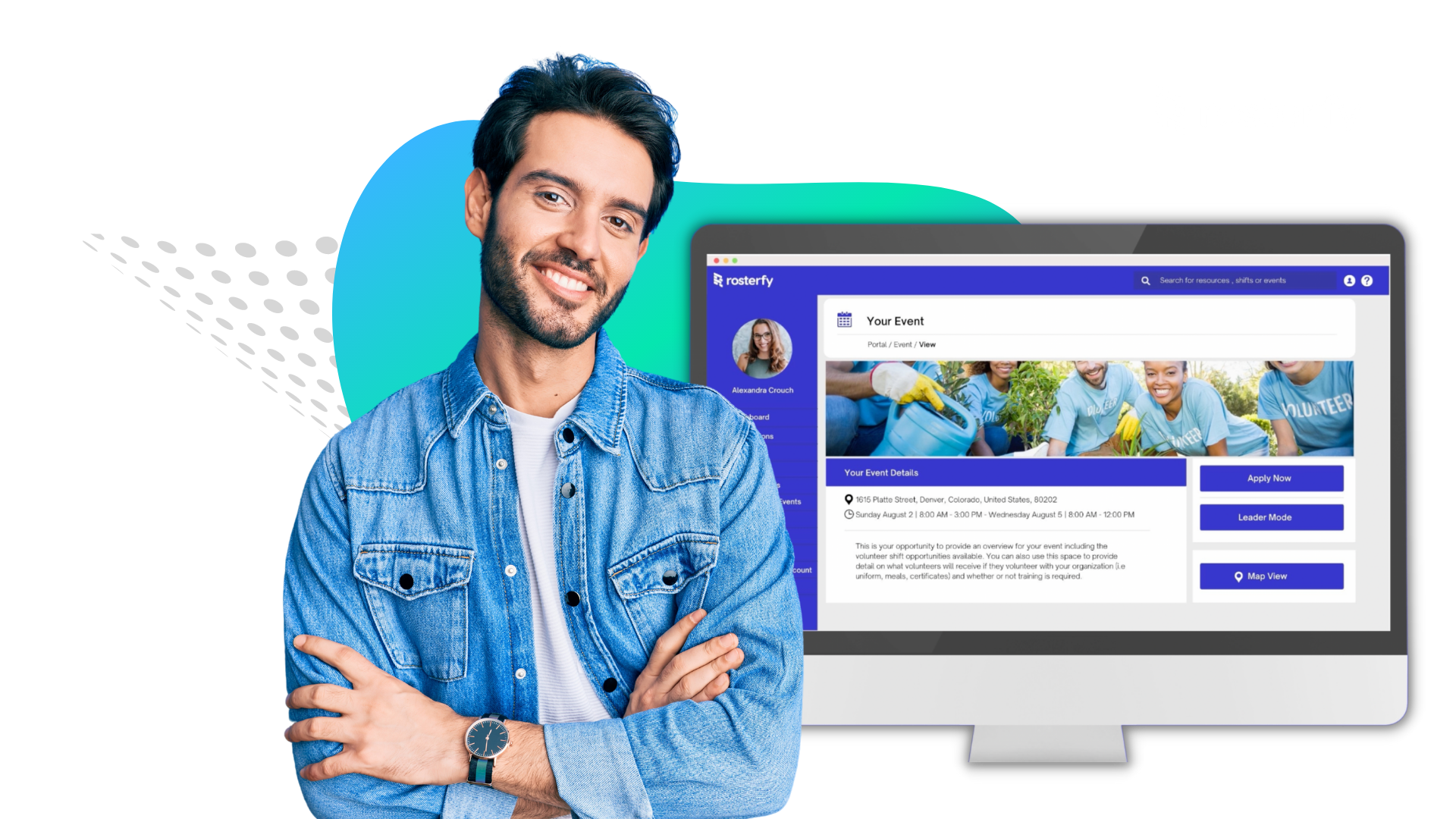 BOOK A DEMO
Speak to One of Our Team Members
If you want to improve the quality of your volunteer program, starting with your reward and recognition program.
Speak to our team today.
EMPOWER YOUR PARTNERS
Commercialize Your Rewards With Sponsorship Partners
A great way to maximize your volunteer reward and recognition program's full potential is through partners.
Partners provide a cost-effective solution to gamifying rewards, whilst providing volunteers with tangible rewards that are of real value.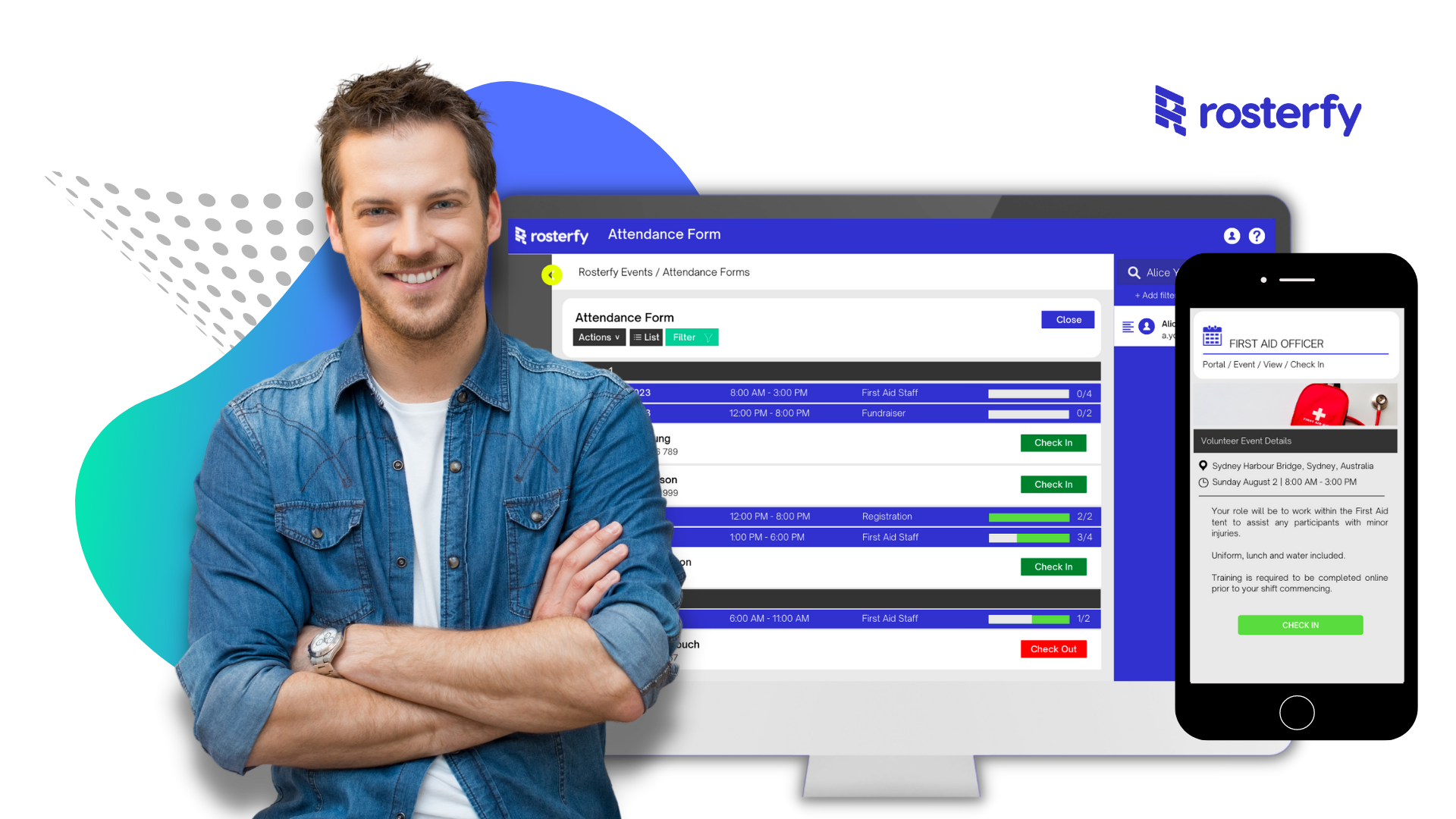 Trusted by Charities, Non-Profits and Sporting Federations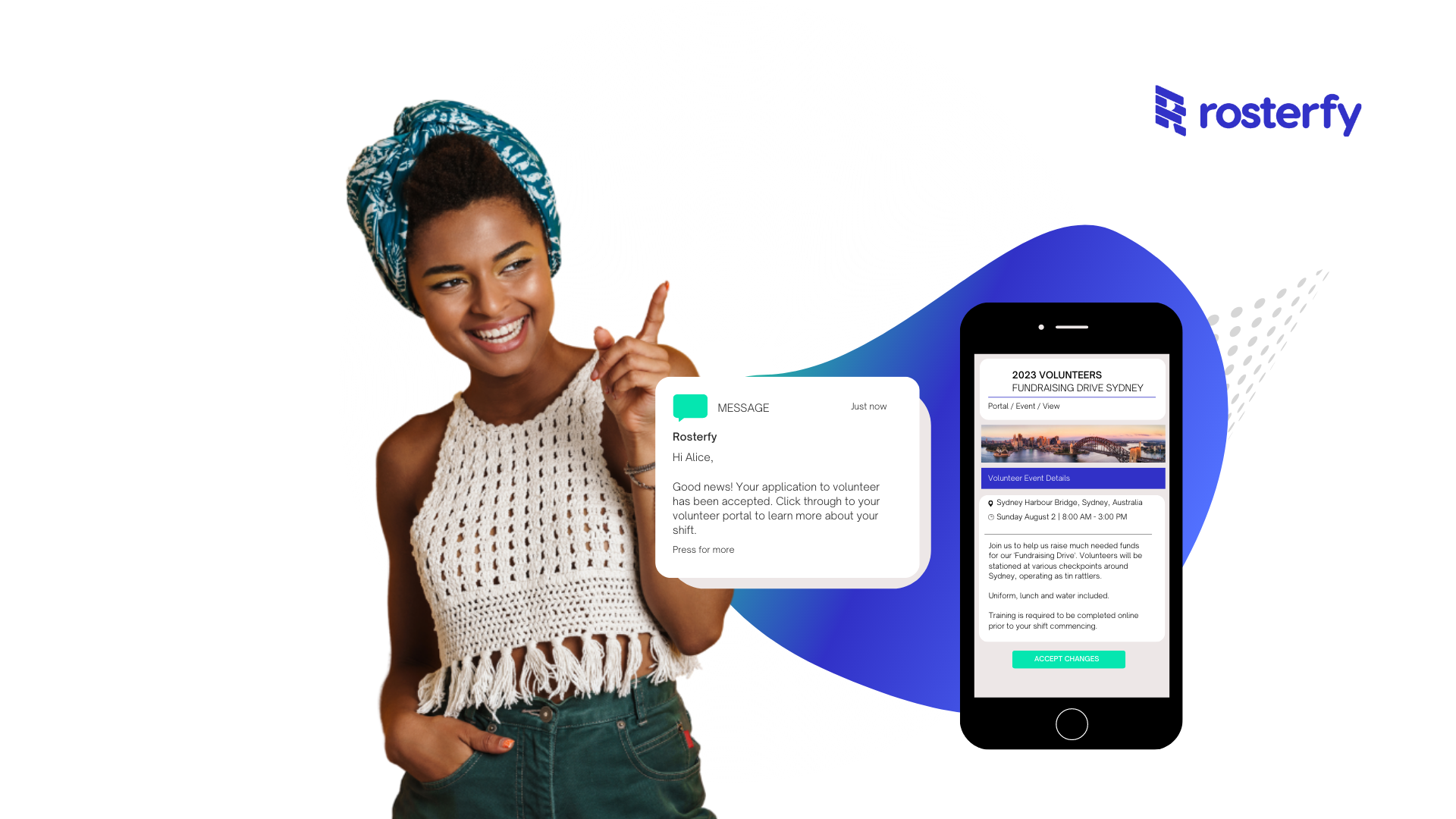 AUTOMATE YOUR REWARDS
Never Miss an Opportunity to Impress
Let Rosterfy do the hard work for you!
Rosterfy's automations ensure maximum engagement with your volunteers without double the workload.
Build automations including notification emails once volunteers are eligible for certain rewards to prompt volunteers to redeem prizes and get the most out of their rewards program.
TAKE STOCK
Keep Track of Your Inventory
Administrators can keep track of their inventory and items redeemed through Rosterfy's rewards inventory tracker. Better understand what rewards resonate with your volunteers and make changes at the click of a button.
Track individual volunteer rewards and prompt them to redeem through reminder communications and in-portal notifications.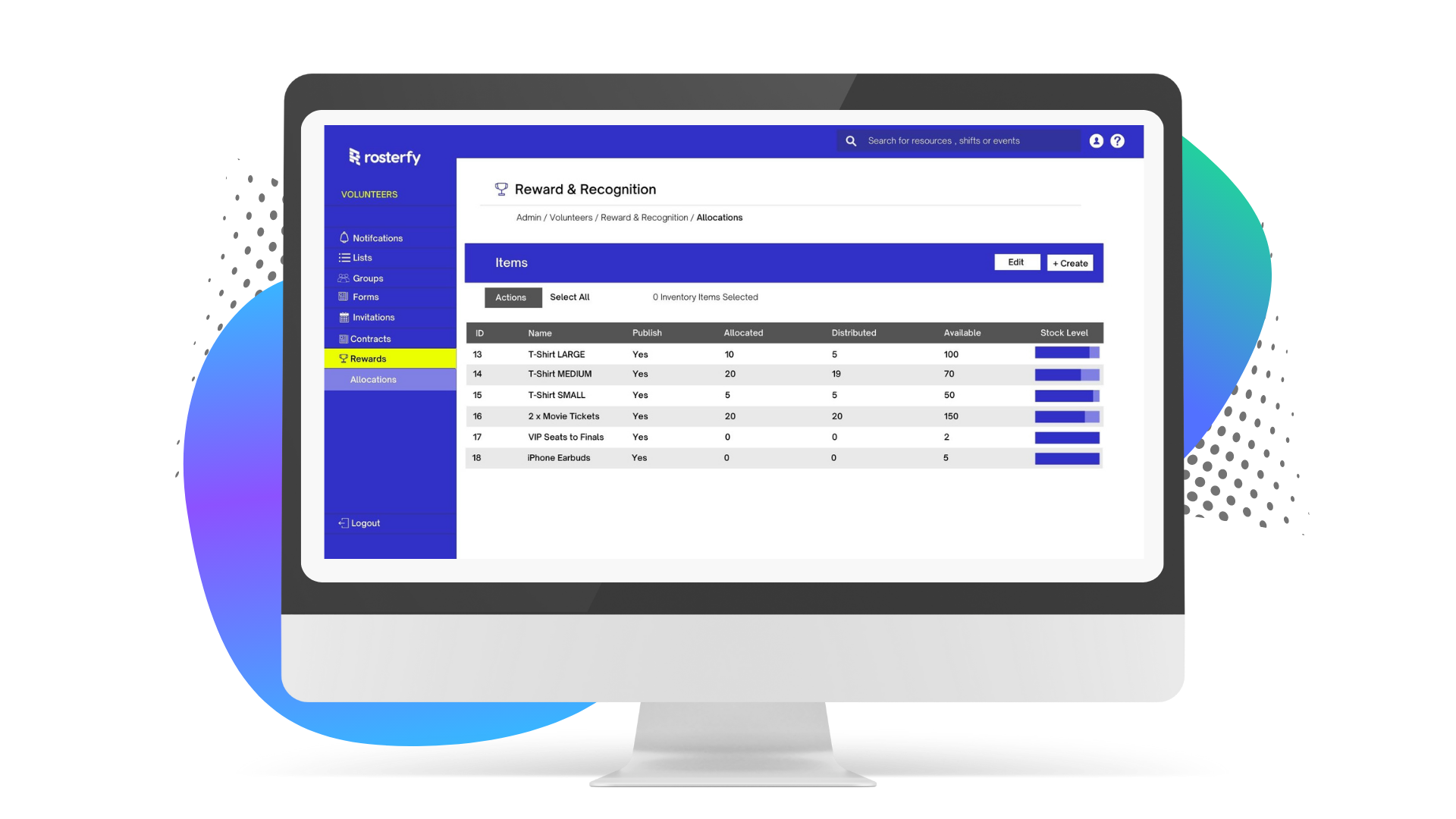 FAQ
Questions About Rewards and Recognition
Can I upload my own rewards?
Yes. Rosterfy is very flexible and allows you to customize your own Reward & Recognition program for your volunteers. This includes adding your preferred incentives and prizes as well as the milestones for achieving and redeeming rewards.
Can you automate Rewards and Recognition?
When used in conjunction with Workflows and Checkpoints, Rosterfy's Reward & Recognition functionality can be automated.
Set up Workflows so that when a volunteer reaches a certain milestone they will receive an alert (email, SMS, portal notification) prompting them to redeem their reward.
How do I keep track of my Rewards Inventory?
With Rosterfy it's simple.
Our inventory tracker for administrators, allow you to see what has been redeemed and how much of each item you have left in stock.
Need to add new rewards? Simply update your inventory to reflect this.
Do you have any examples of people using Rosterfy for Rewards?
Check out our podcast with the Miami Dolphins Special Teams Volunteer Managers to learn more about how they used Rosterfy's Reward & Recognition to incentivize their volunteers here.