WHY ROSTERFY?
All-in-One Volunteer Management Software
Reduce admin and create a seamless, engaging experience to support your volunteer program with the most configurable and scalable platform available.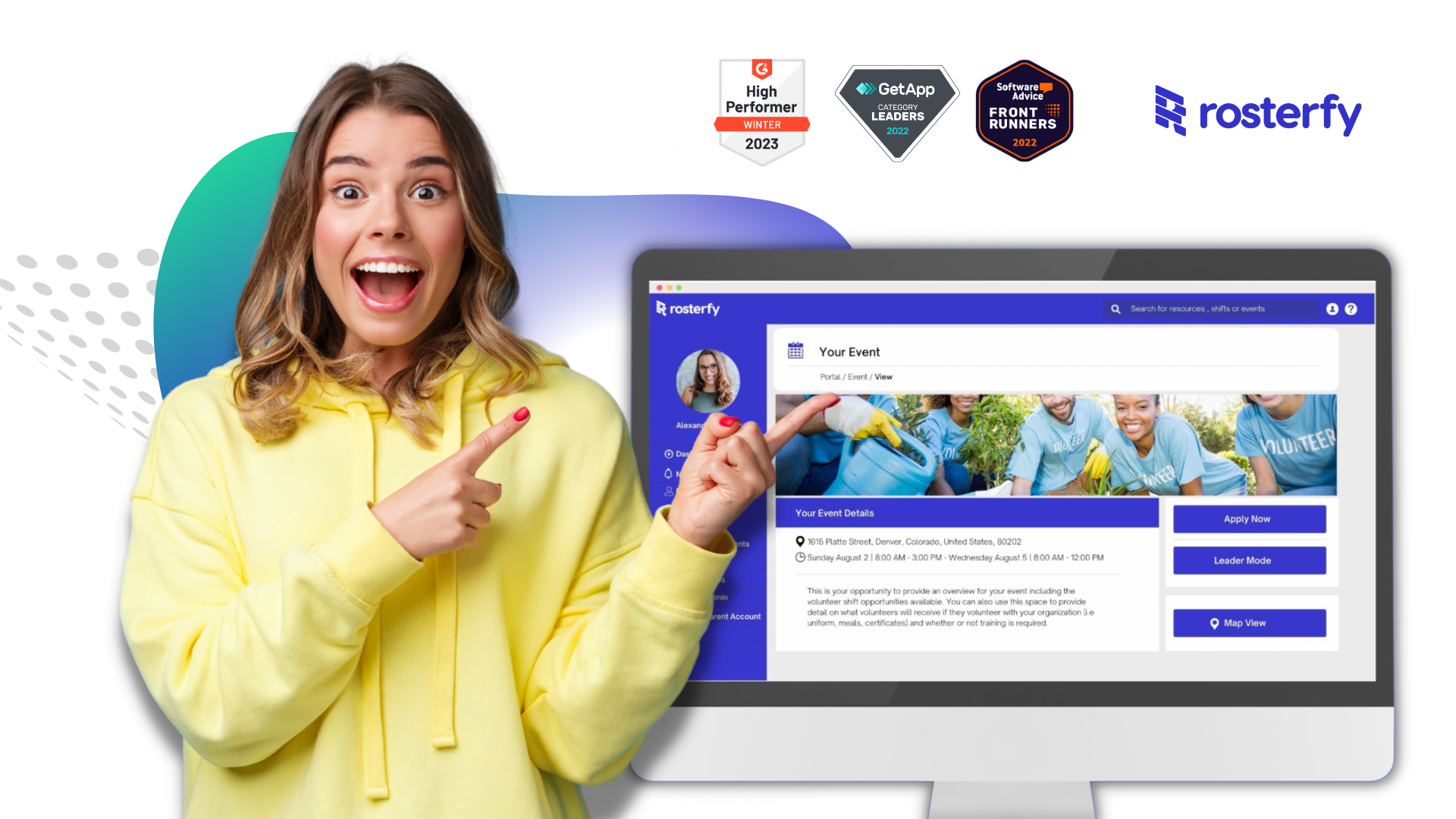 THE MOST FEATURE RICH VOLUNTEER MANAGEMENT PLATFORM
Highly Configurable. Super Effective.
Make great things happen by focusing your time and efforts on supporting your cause and not the admin.
Schedule volunteer shifts and keep everyone informed where and when they are needed.
Get all your volunteers off to a great start by automating your onboarding process.
Reporting on Rosterfy means you'll have endless data at your fingertips.
Automations trigger follow up messages to volunteers through SMS and email.
Super simple check-in and check-out of volunteers reduces complexity.
No more working in the dark. Our platform gives you greater visibility of your program.
What's your attendance rate and who's arrived for each shift? With Rosterfy, you'll know.
Automation helps your team focus on the cause and not the admin.
Charities, Non-Profit Organizations and Sporting Federations who use Rosterfy
SMARTER SCHEDULING
Go Beyond Scheduling
Every volunteer management software platform offers shift scheduling, but how many can offer automated scheduling based on suitability, skills, experience and availability?
Rosterfy empowers your team to create groups of volunteers based on their skills, location, interests and more.
No more searching for the right credentials.
You can make sure you're deploying a diverse, inclusive and qualified volunteering team to every opportunity with Rosterfy.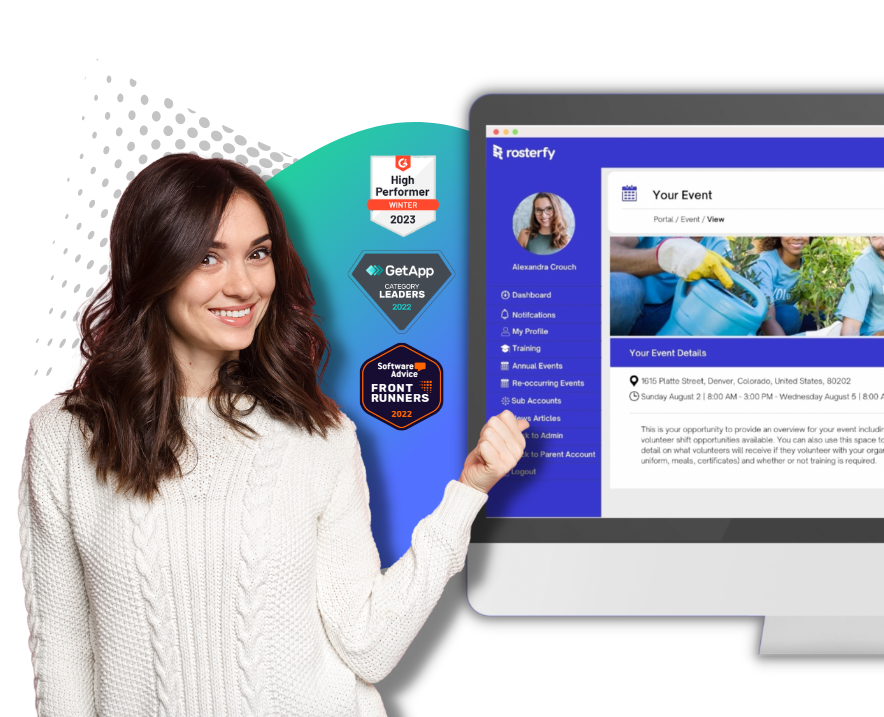 "Rosterfy saves us around 15 minutes every volunteer application and that's only from screening, it all adds up to a significant amount of time saving across the volunteering functions"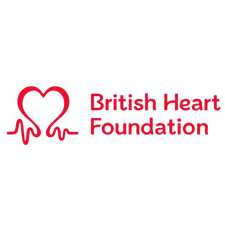 "Rosterfy offers an easy-to-navigate layout and is a very user-friendly volunteer management system, particularly on the facilitator side which is incredibly important to us. We don't need to make things more complex than they need to be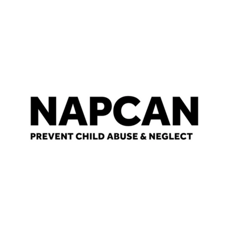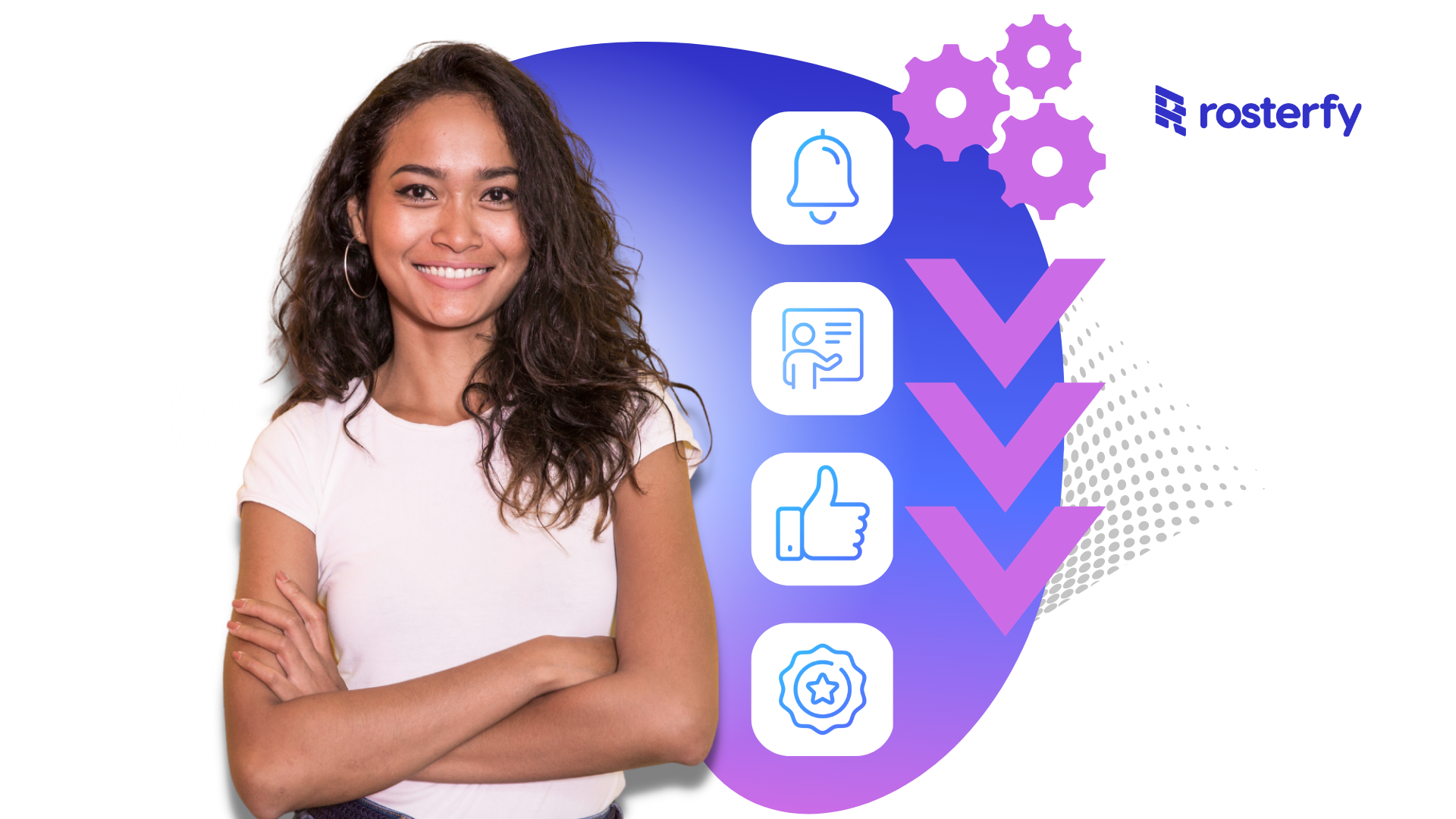 TASK AUTOMATION
Do More With Less
By automating more tasks through Rosterfy, you and those people supporting your cause will be able to direct their energy towards making a difference.
For many Rosterfy customers this is our standout feature and what sets us apart from the rest. Our customers save hours every week with our automations.
AUTOMATE YOUR VOLUNTEER EXPERIENCE
Volunteer Recruitment Redefined
Take on the biggest challenge in the non-profit and event management space with Rosterfy.

Improve your recruitment and give your volunteers an easy to follow step-by-step experience when they sign up fort= an opportunity.

Rosterfy is redefining volunteer recruitment.
Market Leading Volunteer Management Software



IMPROVED ENGAGEMENT
Create a Great Volunteer Experience
Improve the effectiveness of your volunteer recruitment and engagement by creating professionally delivered communication.
Give volunteers the type of experience they will want to talk about and refer to others.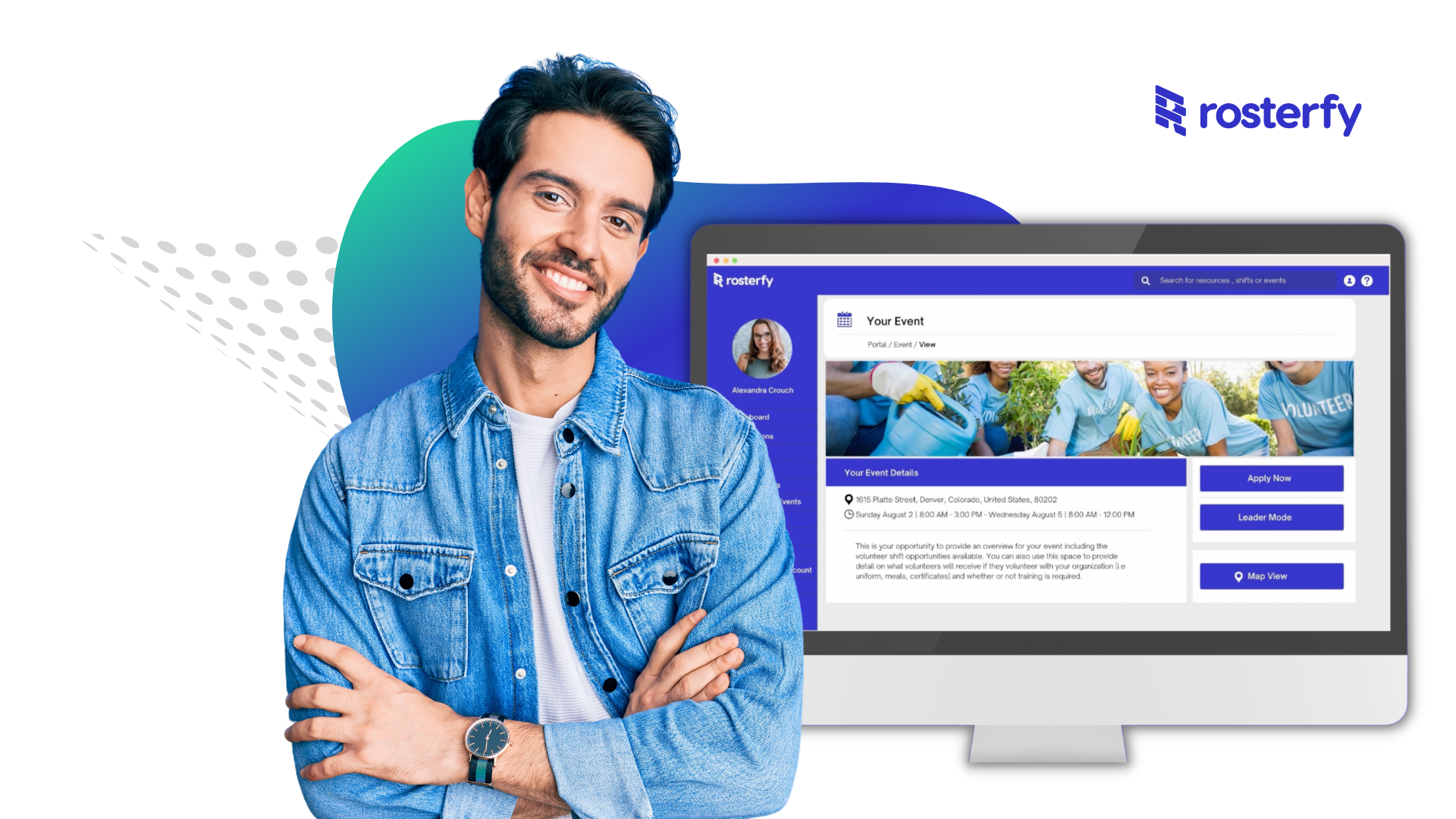 ROBUST REPORTING
A Single Source of Truth
How many active volunteers do you have? How many hours do they offer your cause each week or each month?
Build a complete picture of the impact your volunteer program is making and share insights with your team and stakeholders with Rosterfy.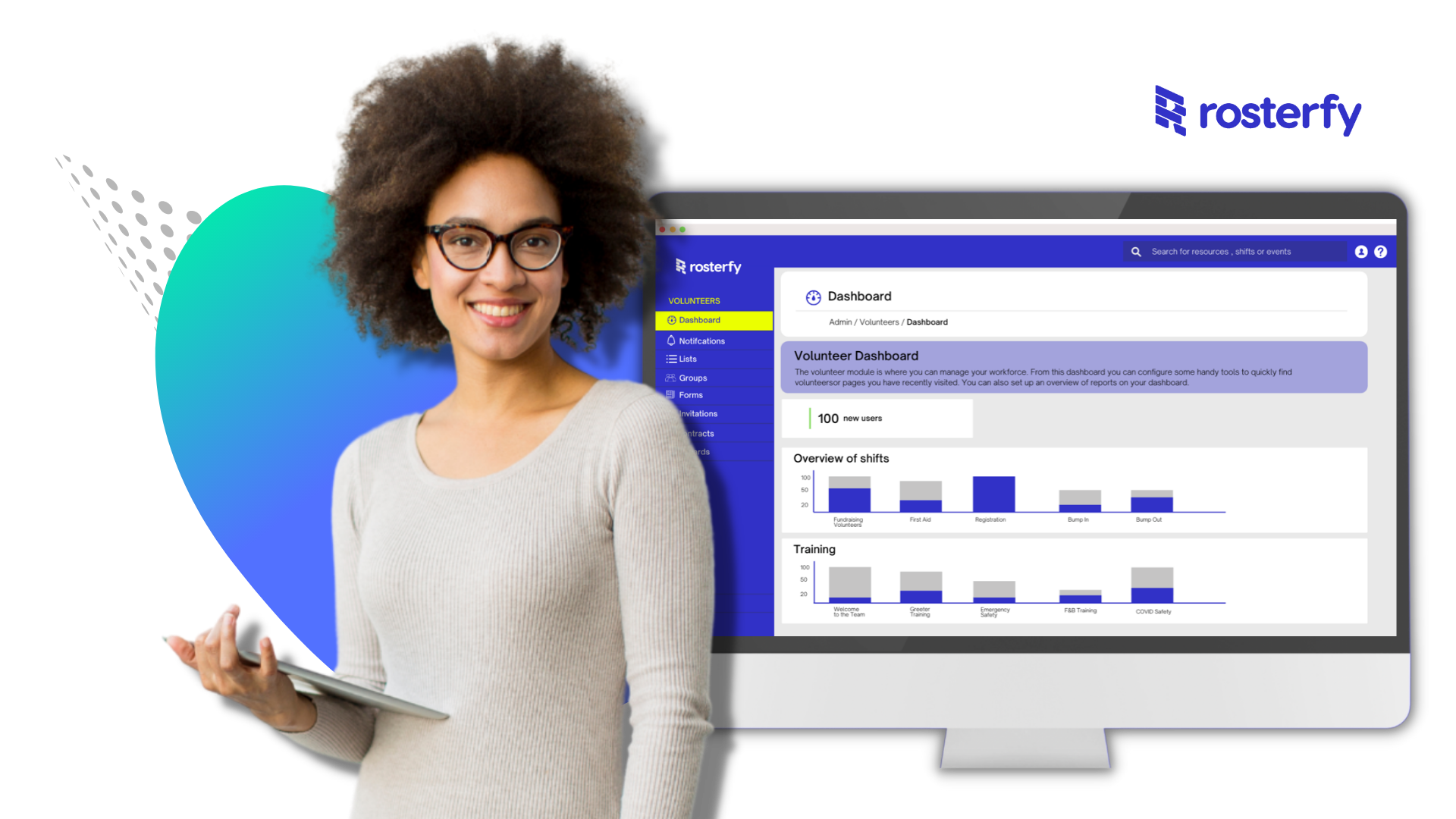 MANAGE EN MASSE
How We Help You Manage Your Volunteer Groups
User groups on Rosterfy help group certain volunteers together, helping you easily see the number of people you have in your database matching certain criteria you choose.
They also allow you to control what opportunities or communications they receive from you - and the best bit is they are easy to set up with Rosterfy.
One Platform.
Multiple Volunteer Management Challenges Solved.
Brave. Inclusive. Reliable. Innovative. Respected.
Our values are the foundation of what we are as a business. Everyone here at Rosterfy is dedicated to providing our customers with expectational value while pushing boundaries to make things better.
Bring Volunteer Management to Life
With Rosterfy