HIT THE GROUND RUNNING
Client Onboarding
& Support
Rosterfy's Project Delivery Team will help you get off to a great start by establishing clear goals, focused training and post-implementation reviews.
How We Help You Make the Onboarding Process Quick and Straightforward
When you make the switch to Rosterfy the real work begins and our experienced team help you set goals,
manage the change, communicate and train your team successfully.
Our team helps you understand what success looks like.
We will identify who will be affected and what support you need internally.
We provide assistance with your internal communication.
We ensure your staff are well trained in the ways of Rosterfy.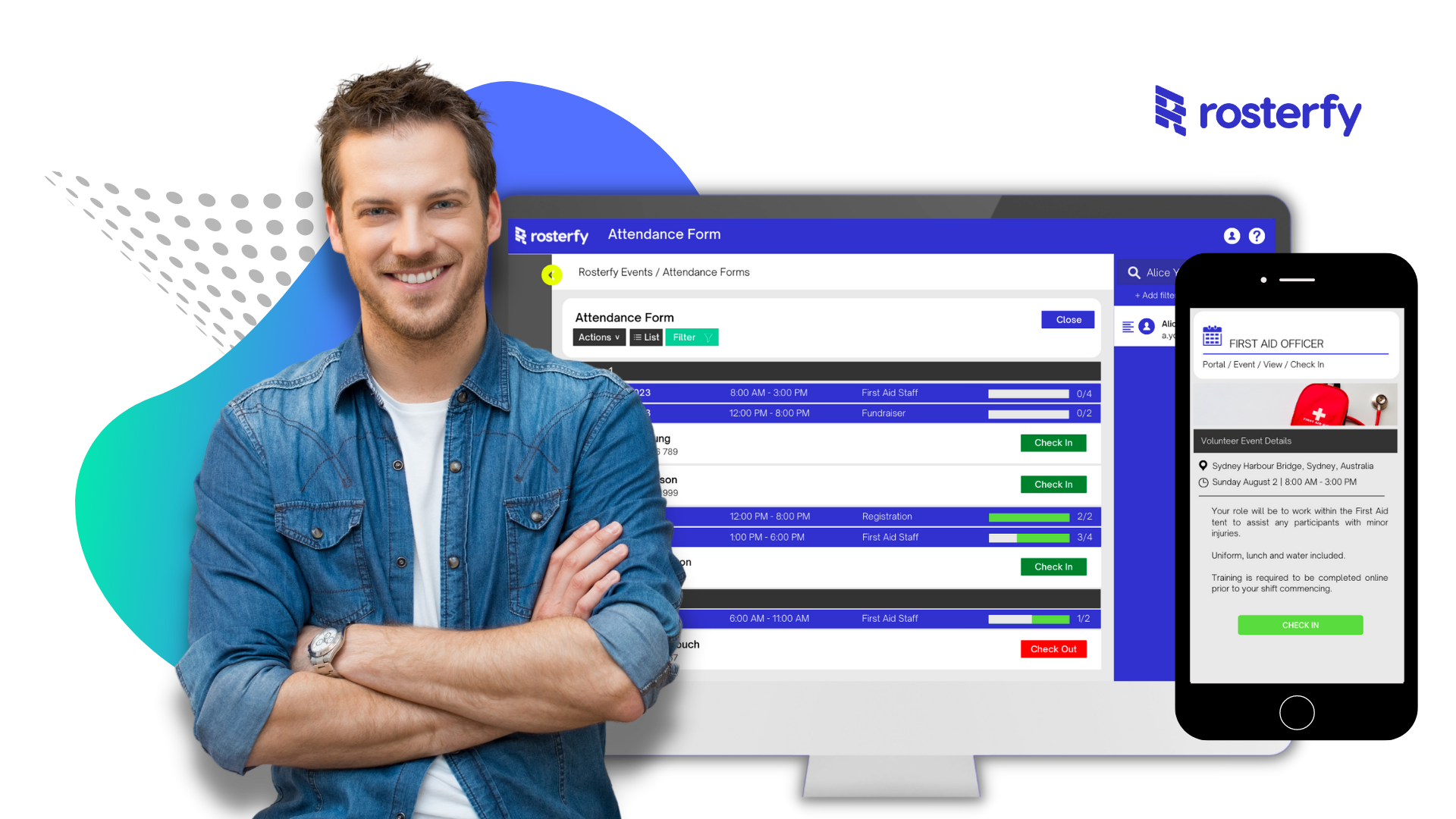 MEET THE TEAM
Rosterfy's Project Delivery Team
Our highly experienced Project Delivery Team is responsible for the implementation of your volunteer management software.
We've helped organizations just like yours make the switch to Rosterfy and our team are experts in understanding your unique needs and considerations.
"We're already getting really positive feedback"
We launched Rosterfy to our existing database of volunteers and we're already getting really positive feedback. Rosterfy are a pleasure to work with and their support team are so helpful particularly during the onboarding process"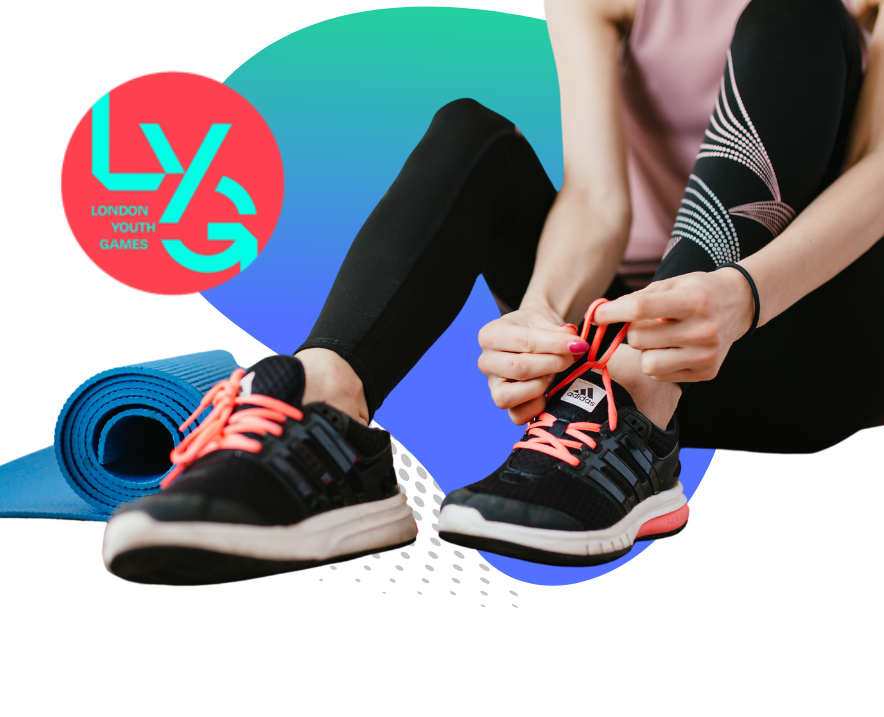 THE RIGHT STUFF
Your Project. Supported by Our Experts.
One of the biggest differences between Rosterfy and other volunteer management software providers is the level of support and attention to detail our team offers while you make the switch to Rosterfy.
Customer Success Director
Your one point of contact to manage the onboarding process. They will ensure a consistent and accountable customer experience while keeping you up to date on progress.
Rosterfy's Project Managers are responsible for ensuring the project is delivered on time, on budget and to your satisfaction.
These are your key business and technical stakeholders to scope the business solution to ensure Rosterfy meets your needs.
Implementation Consultant
Rosterfy's Implementation Consultants engage with your business to configure the complete solution based on the Solutions Architect's scope.
Rosterfy's Support Team provide phone and email support to your team. They are on hand should your team experience any issues and are always keen to help.
Your Customer Success Manager is dedicated to support your ongoing business success. Their goal is to provide continual communication, partnership and measurable success.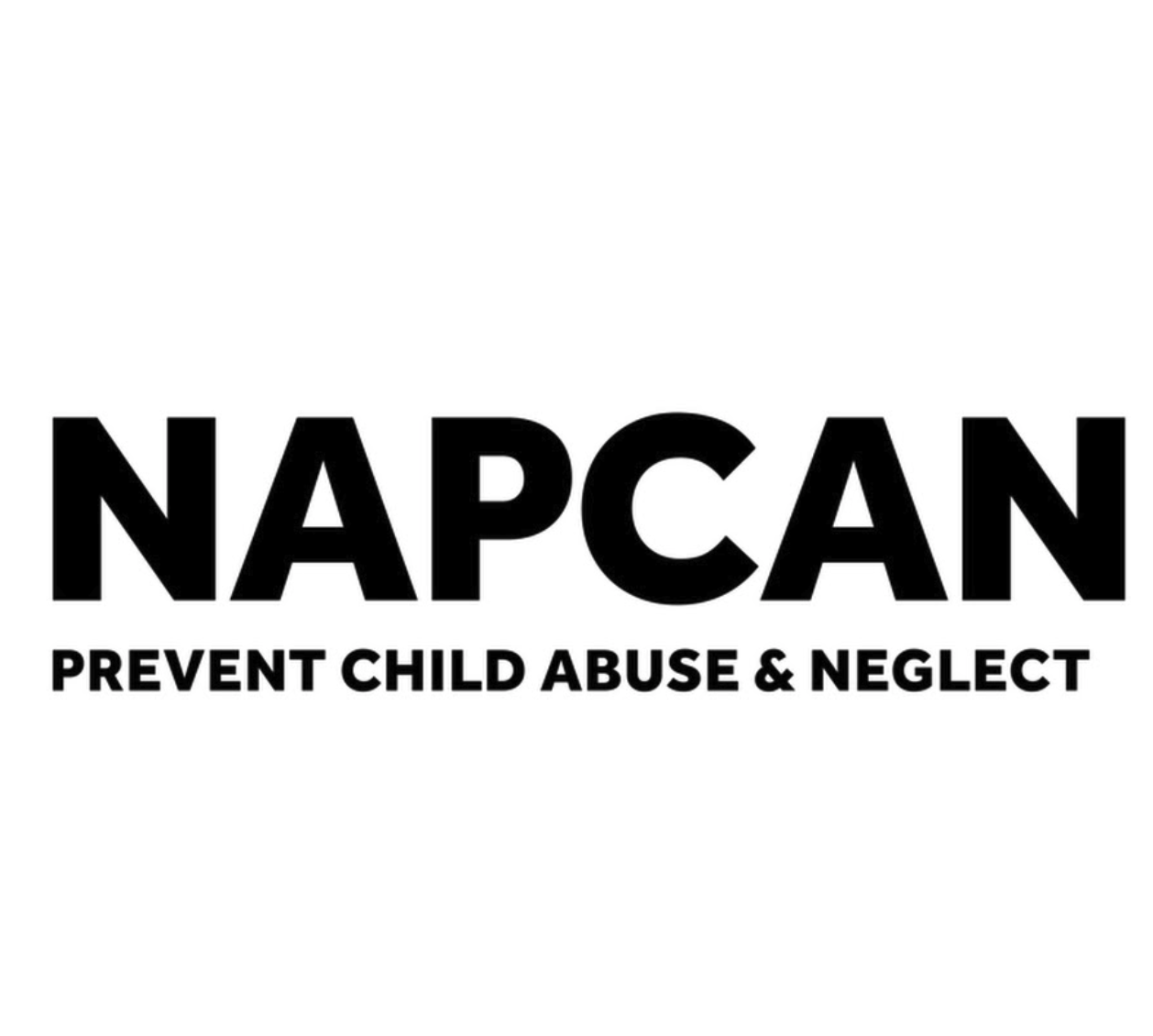 CUSTOMER VOICES
"Always there to answer questions"
Dee and the wider team provided us with critical support, enabling us to go live and hit our first milestone. They are always available to answer questions, no matter how big or small. They made the onboarding process a positive experience."
STEP BY STEP
How We Do It...
This diagram shows the steps between signing the contract and getting set up with your Rosterfy account. These steps may vary depending on the specifics of your workforce program.
For a successful onboarding experience we will need your input, but Team Rosterfy will respect your time and be there to help.
Your onboarding process will run for approximately 6-8 weeks from sign off to completion.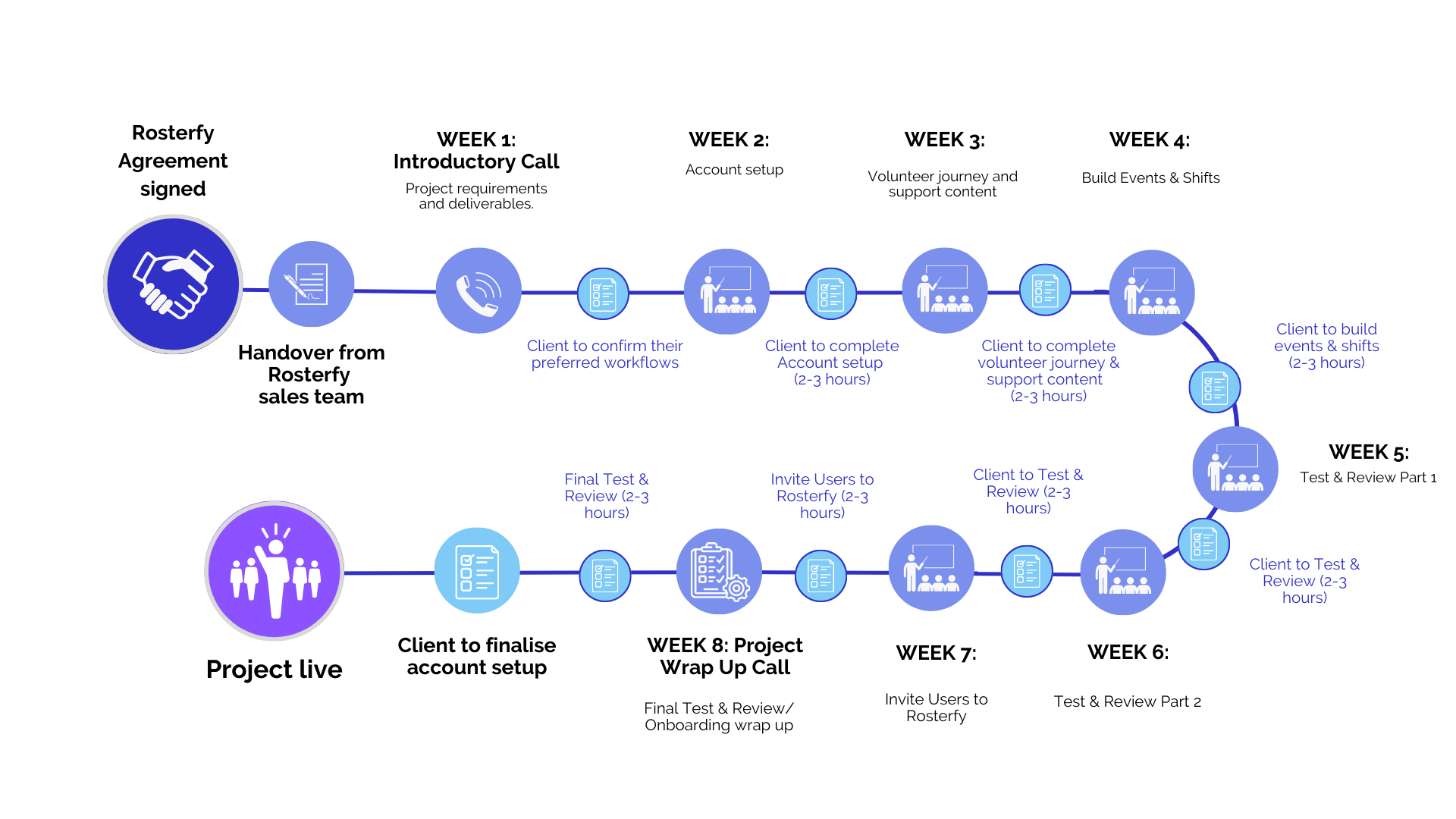 FROM OUR TEAM TO YOU
Rosterfy Takes Pride in its Onboarding Process
Instead of the traditional cookie cutter onboarding process, Rosterfy creates an onboarding structure surrounding the organization's goals. This allows your organization to deliver results based on those goals.

Rosterfy's robust automation functionality and custom curtailed Volunteer Journey allows your organization's goals to be the main focus during the onboarding process, all while making the organization's workload a lot smaller in the process.

Rosterfy takes pride in its onboarding process.
As soon as your organization signs with Rosterfy they are assigned a Dedicated Customer Success Manager, who will create their onboarding structure based on the needs of the organization. With Rosterfy's onboarding process, customers can feel confident in their ability to maximize the benefits and streamline their volunteer management.
Keri Castellano
Rosterfy, Senior Client Success Manager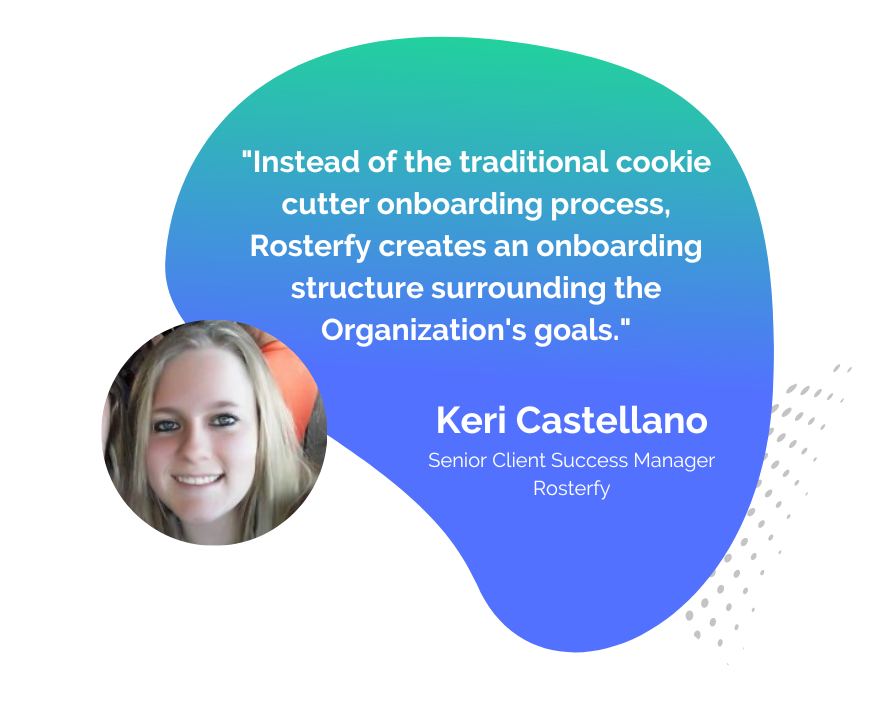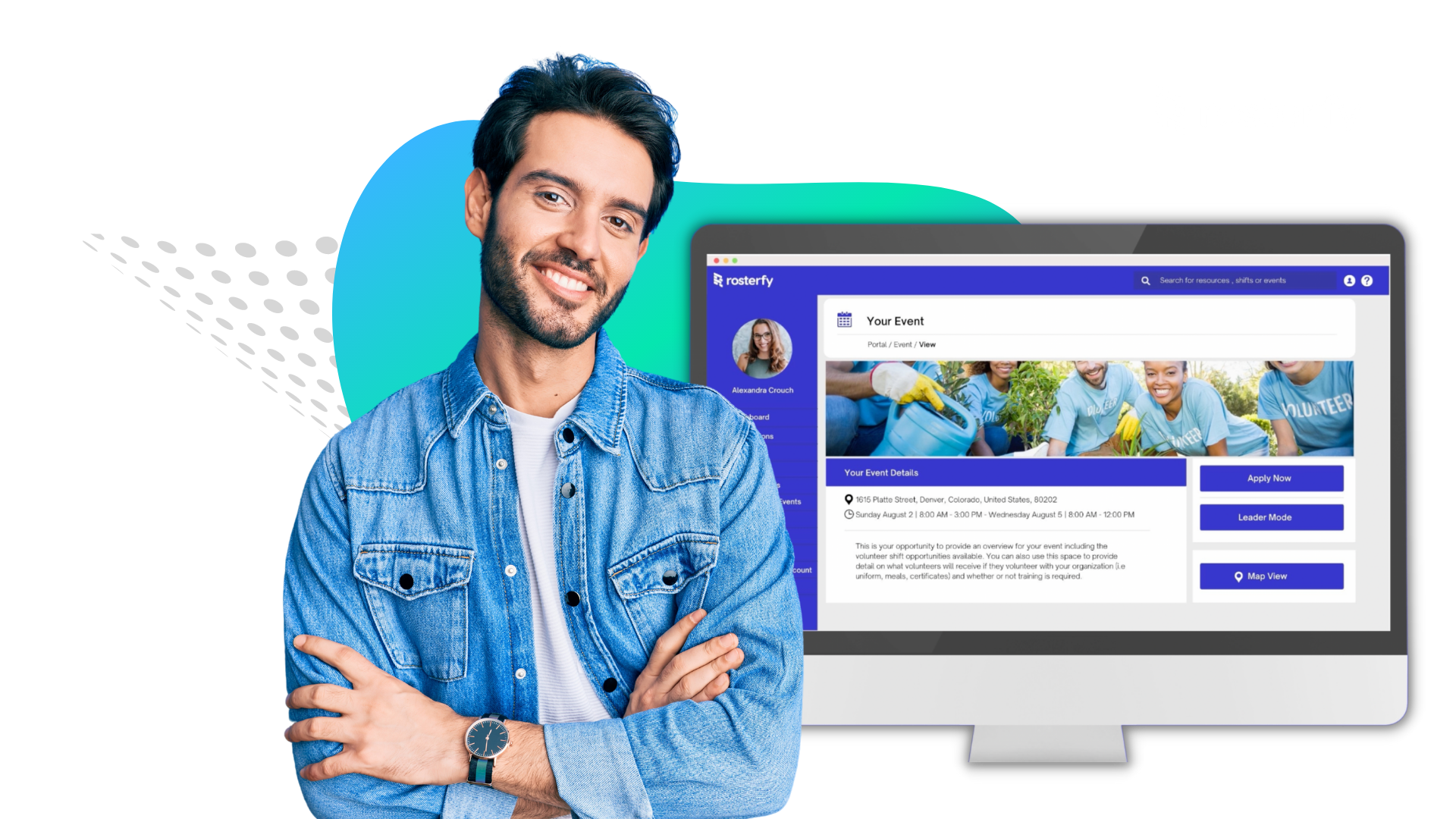 SPEAK TO US TODAY
Speak to One of Our Team Members
If you want to improve the quality of your volunteer program and work with a team that can onboard you successfully, then speak to our team today.