Volunteer Management Software for Nonprofits
Replace manual processes with automations
Create and send personalized communications
Reward and recognize your volunteers
Scalable to your requirements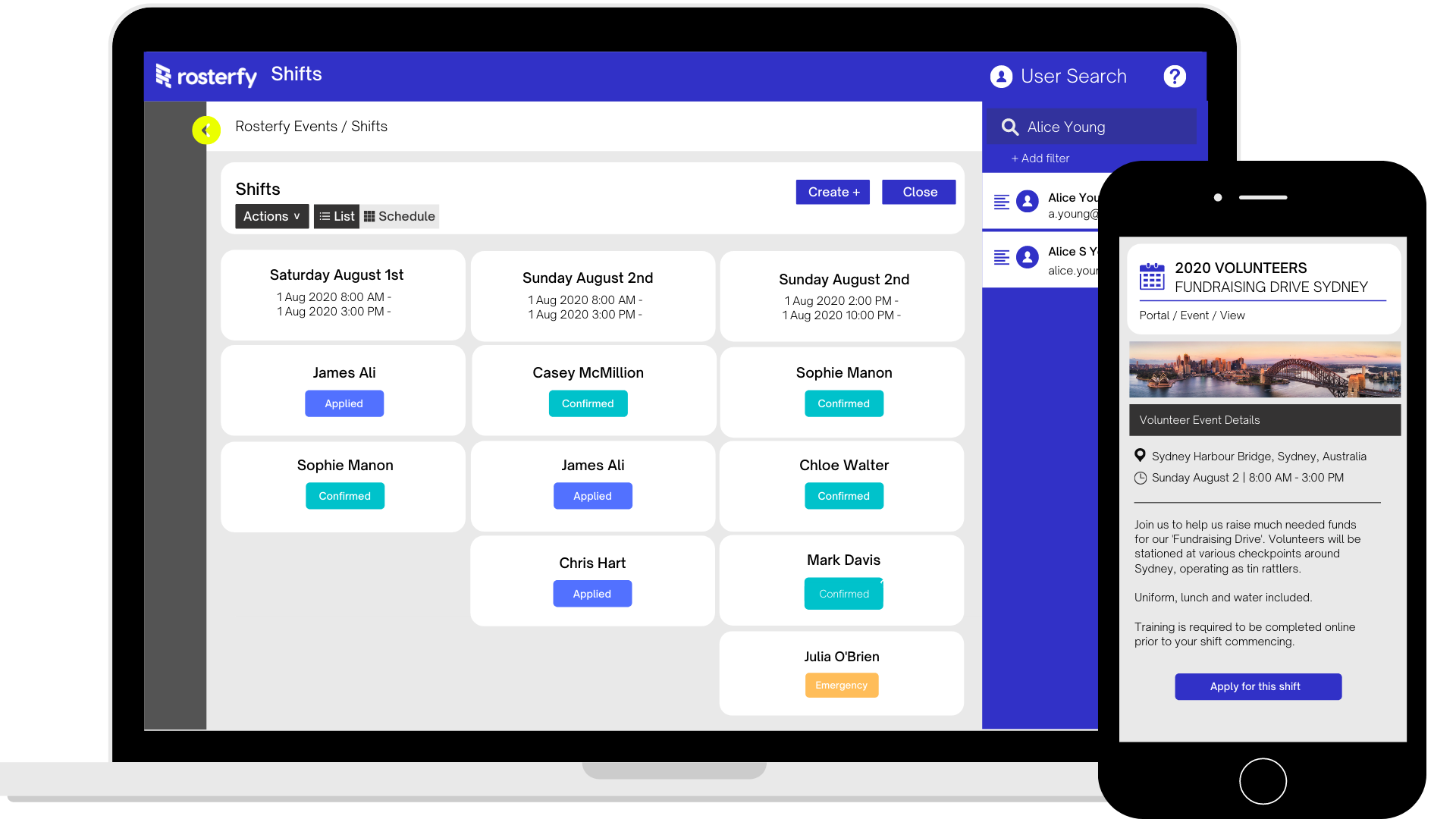 We help charities big and small to manage their volunteers
Features for Charities & Non-Profits


Recruit the right volunteers
Create custom registration forms that allow you to segment and select the right volunteers for shifts, daily needs or events to ensure that you get the most out of your volunteer management program.


Better engage and retain volunteers
Volunteers love Rosterfy's user friendly portals, providing a central platform to apply for shifts, complete training modules and access important communications to ensure that they get the most out of their experience.


Reward and recognize volunteers
Show your volunteers you care with Rosterfy's reward and recognition functionality enabling you to give back to your volunteers in exchange for achieving certain milestones.


Connect with your favourite systems
Rosterfy provides access to a number of great integrations and partners for non-profits including Salesforce and GivenGain, designed to streamline and enhance your end to end volunteer management.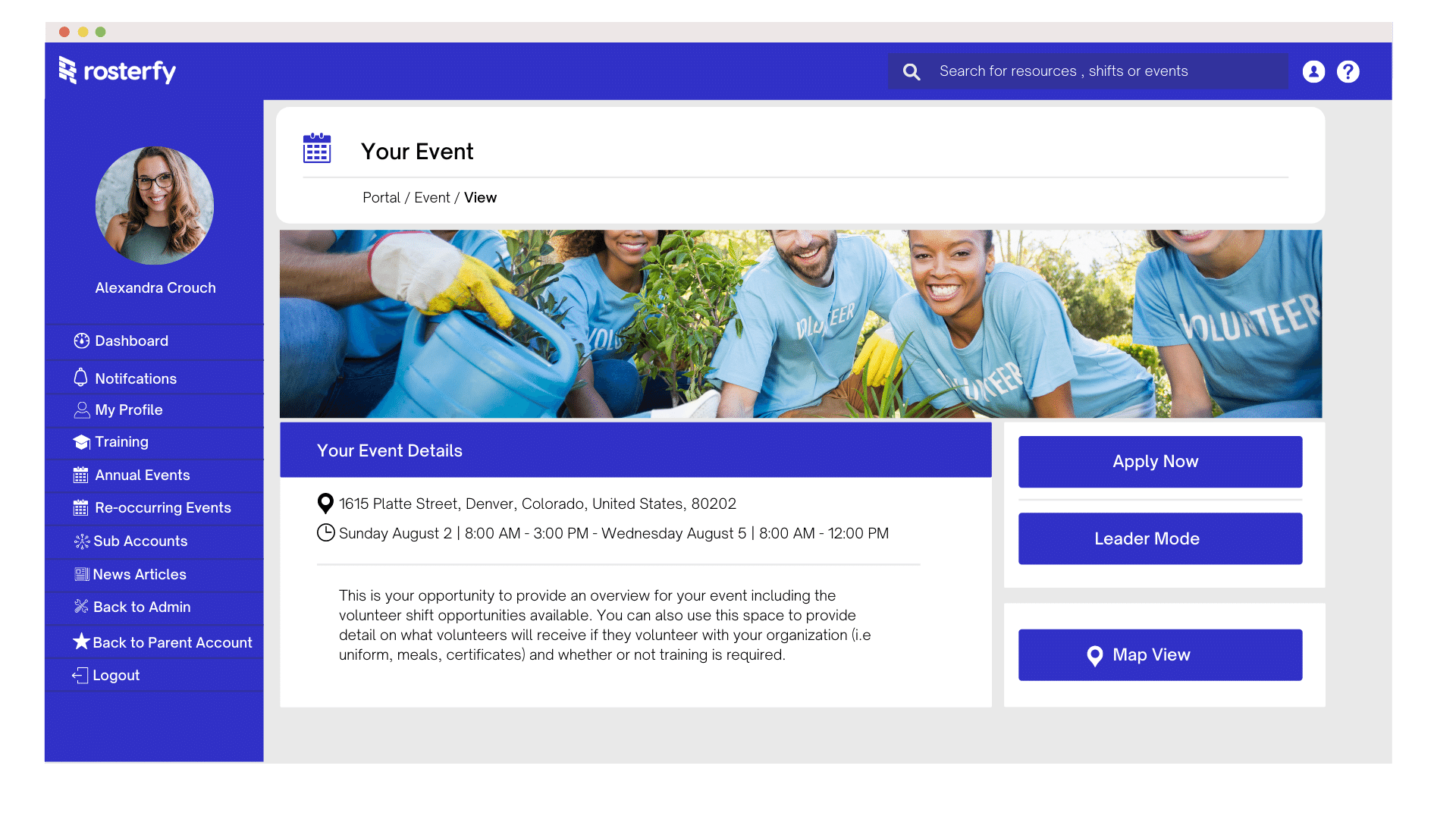 SCHEDULE
Volunteer Management Software for Nonprofits & Churches
Rosterfy's effective scheduling tools help to replace manual processes, allowing nonprofits to focus on what's important - like engaging your volunteers. Whether you're scheduling fundraisers or require volunteers onsite at an event, Rosterfy allows you to schedule the right volunteers to suit your needs.
Non-profit organizations use Rosterfy to:
Schedule volunteers across various locations
Secure volunteers with specific skills for certain shifts or events
Train volunteers to ensure that they have the skills required to perform at their best
Communicate with their volunteers via automated emails and SMS
Manage check in and out onsite or remotely
Improve reporting and visibility of operations
REWARD & RECOGNITION
Reward and Recognize your volunteers
Rosterfy's unique reward and recognition functionality allows nonprofits to incentivise your volunteers with access to memorabilia, discounts and access to events once key milestones or achievements are met. Volunteers can access rewards via their centralized volunteer portal, providing a great tool to engage with your volunteers.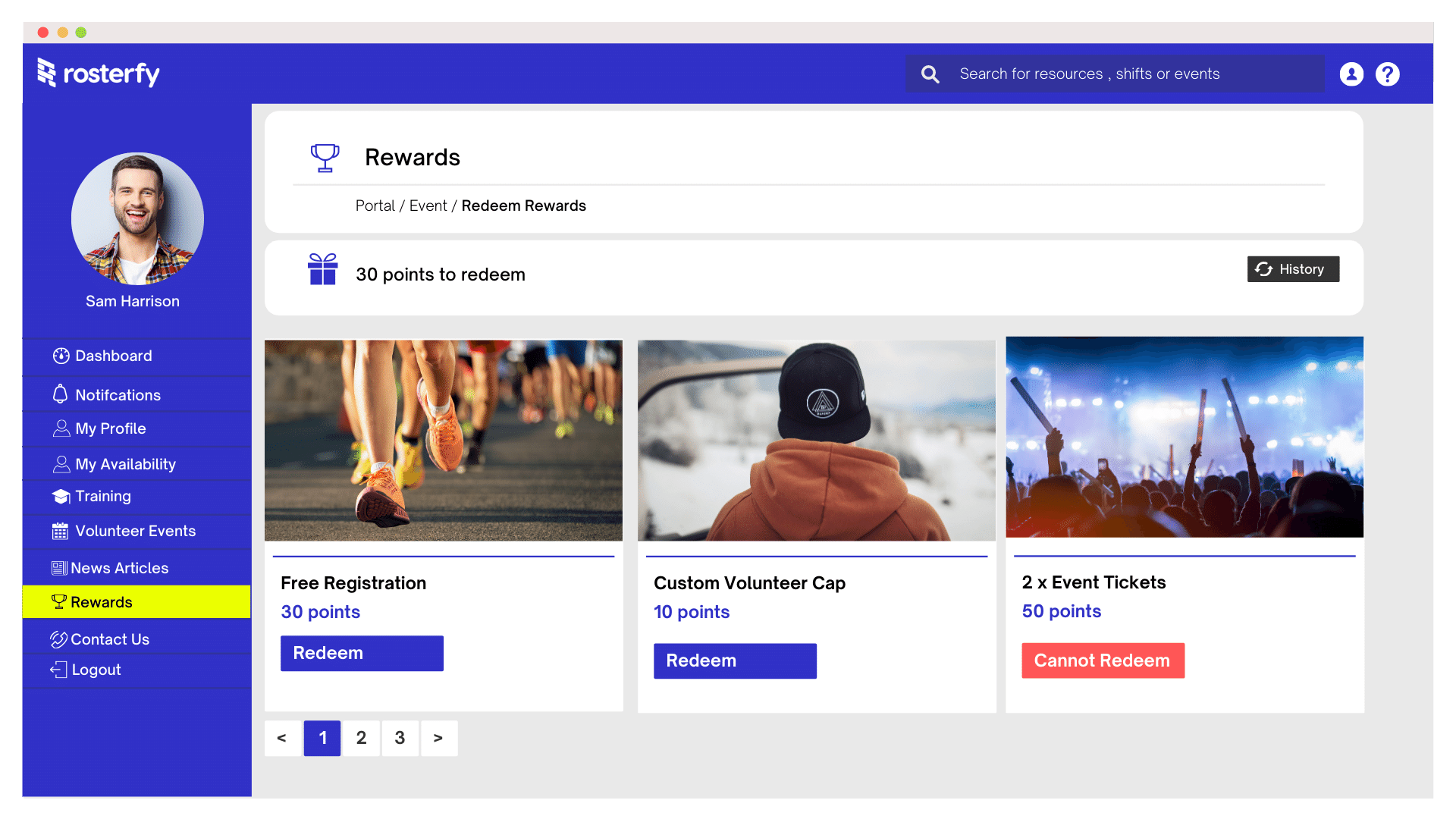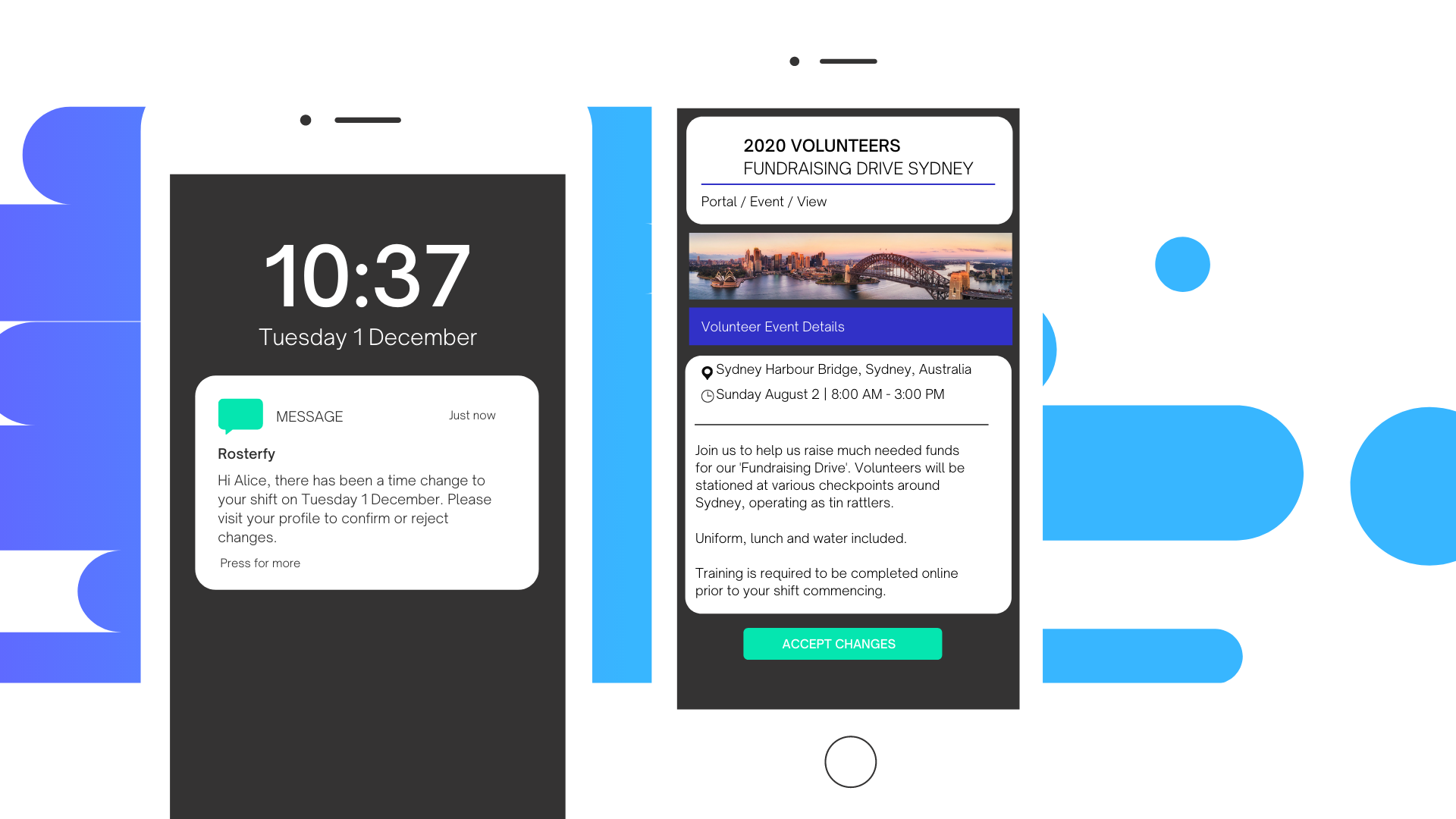 COMMUNICATION
Communicate and Engage with your Nonprofit's Volunteers
Rosterfy allows you to better engage with your volunteers with the ability to communicate in real time. Create custom templates for email and SMS and automate processes such as welcome emails, training reminders and completion certificates.
Need to communicate event or shift changes to your volunteers? No problem! Rosterfy allows you to send bulk emails and SMS to a specific group at the click of a button.
Determine the true value of your volunteers.
Want to learn more about the value of your volunteer management program? Download our free white paper to learn more.
Customer Case Studies - Nonprofits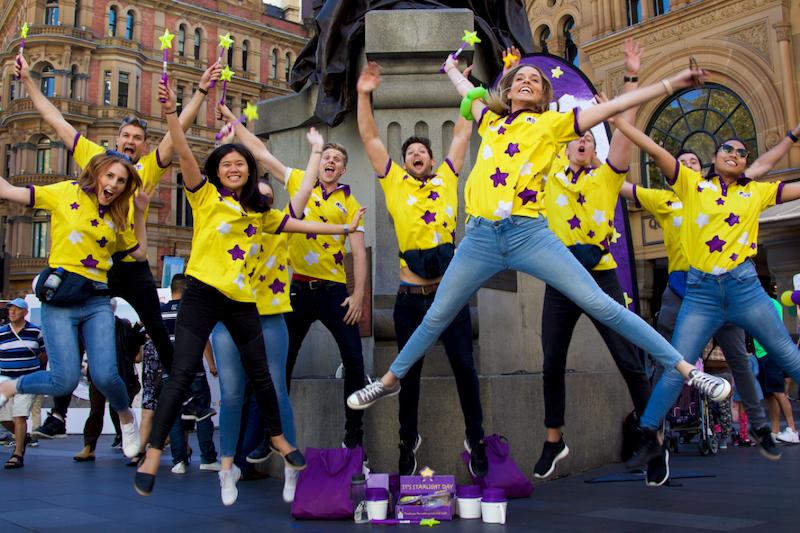 "Rosterfy has allowed me to manage the recruitment and volunteer journey with its super-efficient and easy to use functions. Without Rosterfy, I would not be able to supply and engage with the high volume of volunteers I have the pleasure of working with now."
CHRISTINE GEHA, VOLUNTEER ADVISOR, STARLIGHT CHILDREN'S FOUNDATION

"Rosterfy has changed the face of how we run Daffodil Day. It enables us to manage the volunteers en-masse in a way that keeps them feeling loved. Managing 1,600 to 1,800 people on spreadsheets didn't give our volunteer team any capacity to look at the volunteering experience - it was all focused on the act of rostering.
We can retain our volunteer database year-on-year because we've improved the technology, their experiences and their training - it's made our lives so much easier."
JACINTA WEBSTER, HEAD OF VOLUNTEERS, CANCER COUNCIL VICTORIA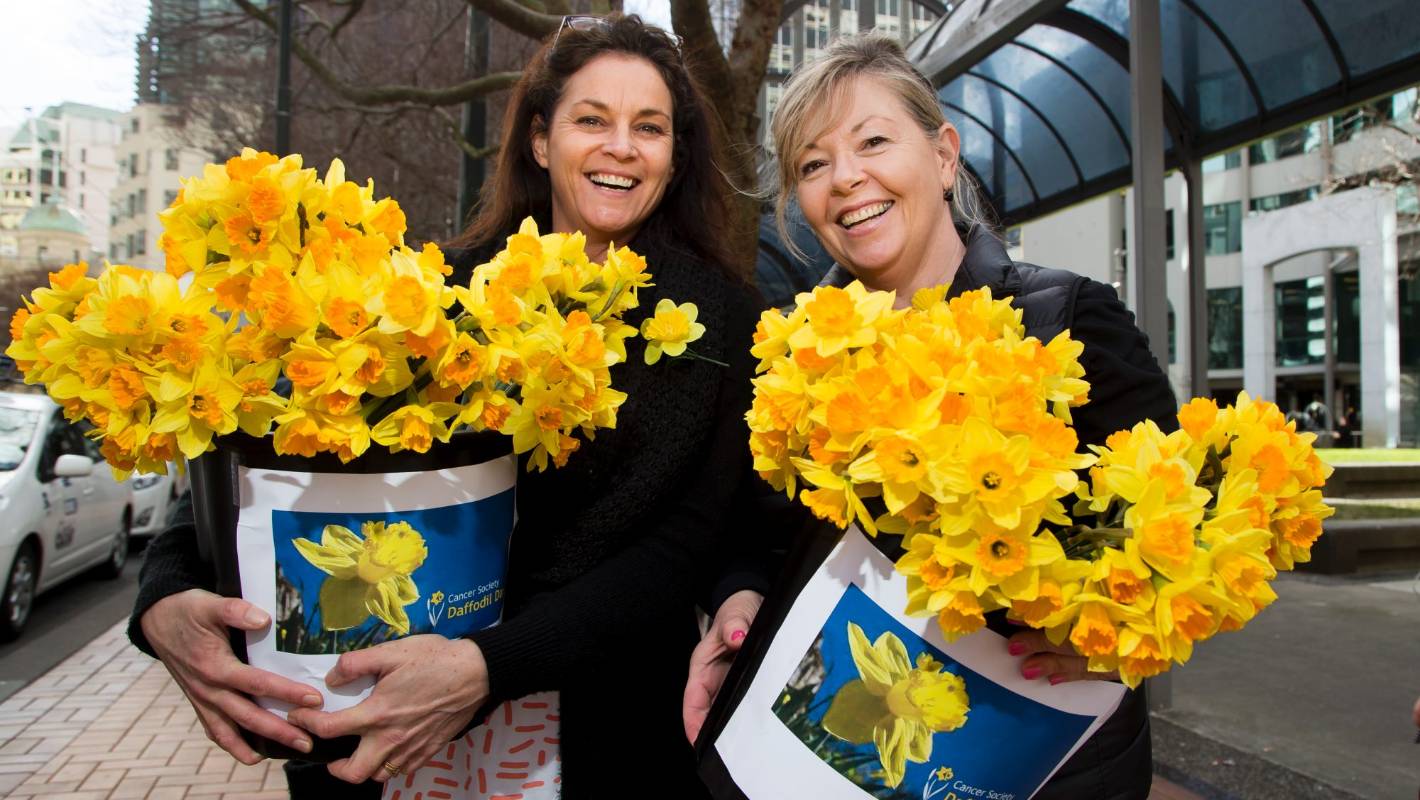 Volunteer Management Software For Nonprofits FAQs
How much does Rosterfy cost?
Rosterfy have a number of Pricing options, depend on the size and scale of your requirements. Please check out our Pricing Page for more information.
Is there a maximim number of volunteers that can be used in my Rosterfy account?
The number of volunteers is dependent on which Rosterfy package you select. Please check out our Pricing Page for more information.
How many administrators can I have using my account?
The number of administrators who have access to your account is dependent on which Rosterfy package you select. Please check out our Pricing Page for more information.
Does Rosterfy enable background checks?
Yes we do! We have a seamless integration with Sterling Volunteers, which enables organizations to run background checks on your volunteers and/or paid staff. Learn more about our Integrations here.
Where will my data be stored?
All data is stored securely on Amazon Web Servers (AWS) in the USA
Does Rosterfy utilize my data in any other way?
Rosterfy don't use your volunteer data or communicate with the in any way.
Can Rosterfy facilitate check in and check out?
Rosterfy has a number of on site check in options including self check in, check in desk and kiosk view. You can also allow your volunteer leaders to check in their team for you.
What training and support does Rosterfy provide for administrators?
Rosterfy provides comprehensive training and onboarding for all new clients along with on-going support via our Zendesk site and Rosterfy Resource Hub.
Do you integrate with any external platforms (CRM etc)?
Rosterfy integrates with a number of platforms. To view our extensive integration options, please visit our integrations page. If you need a specific integration then this is also an option with POA.
Can Rosterfy keep track of where each of my volunteers are from?
Rosterfy's unique Group Manager feature allows you to keep track of where volunteers are registering from, enabling you to customize forms, trainings and communications specific to that group.
Where is Rosterfy's support based?
Rosterfy have support staff in the United States, United Kingdom, United Arab Emirates and Australia. To get in touch with one of friendly staff, visit our Contact Us page.
Does Rosterfy allow for training modules to be implemented?
Yes, Rosterfy has inbuilt training modules, which depending on your package can integrate with existing solutions.
Can I interview volunteers using Rosterfy?
Yes! Rosterfy has an inbuilt online interview platform, which can be used to interview and help screen volunteers during recruitment.
How does Rosterfy migrate volunteers?
Migrating volunteers into Rosterfy is simple with the ability to import your volunteer and/or paid workforce database and shift schedules into Rosterfy via an.xlsx or .csv file.
Does Rosterfy have an app?
Rosterfy does not currently have an app, however our software is mobile optimised, allowing users to utilize Rosterfy via a mobile device.
Can we advertise our roles outside of the platform?
Yes! Clients can create external links for opportunities. In order to apply, volunteers and/or paid workforce will then need to register their details and view more information in the Rosterfy portal.