INTEGRATIONS
Salesforce & Rosterfy Integration
Salesforce is the world's most trusted customer relationship management (CRM) platform, enabling you to manage marketing, sales, commerce, service and IT teams simultaneously.
Rosterfy helps you take your CRM to the next level with improved volunteer management features.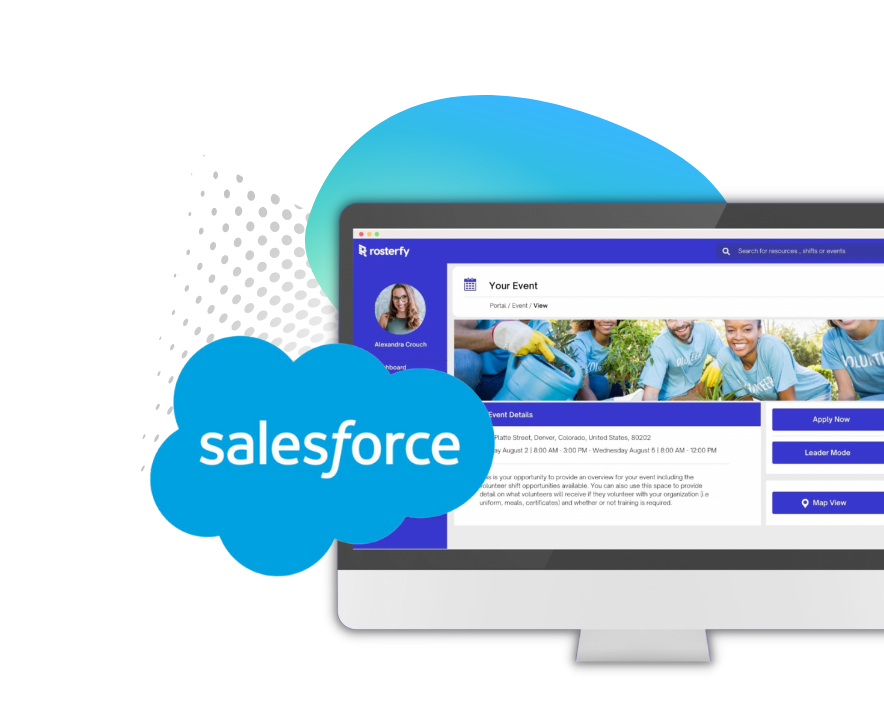 POWERFUL PARTNERS
Connect your CRM to your Volunteer Management Platform
Sync data in Rosterfy with Salesforce
Offer a personalised experience for your volunteers with the ability to capture accurate data profiles for each of your volunteers.
Eliminate manual data entry & duplication
Replace manual data entry with automations allowing you to import and export your contacts at the click of a button.
GDPR complaint data integration
Keep your data secure, safe and protected to ensure that you remain compliant.
A long term scalable solution
Our flexible and scalable solution is designed to grow with you and your businesses needs.
How does it work?
The Rosterfy platform is able to seamlessly synchronize your Rosterfy data with your Salesforce account.
This allows you to utilize the Rosterfy platform as part of your wider technology solution. Once the Salesforce / Rosterfy integration is enabled on your account, you can choose which Rosterfy data is sent to Salesforce.
How? Simply authorize Rosterfy in your Rosterfy integrations manager to update your Salesforce account and the integration will be live - it is as simple as that!
Anytime you or your volunteers updates their details in Rosterfy, it will automatically be reflected in your Salesforce account.
No maintenance or further setup required!
Streamline your workforce management with
Rosterfy & Salesforce