Product Feature Spotlight: Geo Fencing - Rosterfy
Streamline check in and check out with geo fencing
If the past few months have taught us anything, it's that technology is the way of the future. As non-profits, events and organizations are adapting to new ways of operating, opportunities to take activities online are transforming the way we manage our staff and volunteers.
What is geofencing?
Geofencing is a location based service, which uses radio frequency identification (RFID), Wi-Fi, GPS or cellular data to trigger an action when a mobile device enters or exits a virtual geographic boundary, known as a geofence. A geofence can be a radius around a certain point or a predetermined set of boundaries.
How does Rosterfy's geofencing solution work for check in and check out?
Rosterfy's new geofencing solution has been designed to enable organizations to facilitate check in and check out within a certain geographic zone. Why is this important? In an era of social distancing and reduced crowd density, things like long lines at a check in counter are a thing of the past.
Providing your volunteers and/or paid staff the ability to check in on via their own mobile device allows you to ensure that your operations remain COVID compliant and that your volunteers, fundraisers and staff feel comfortable and safe during their shift. Worried that your workforce might just check in and then not turn up? The benefit of geofencing means that you can set up a parameter around your event, meaning that only volunteers and staff who are for example, within a 5km radius can check in.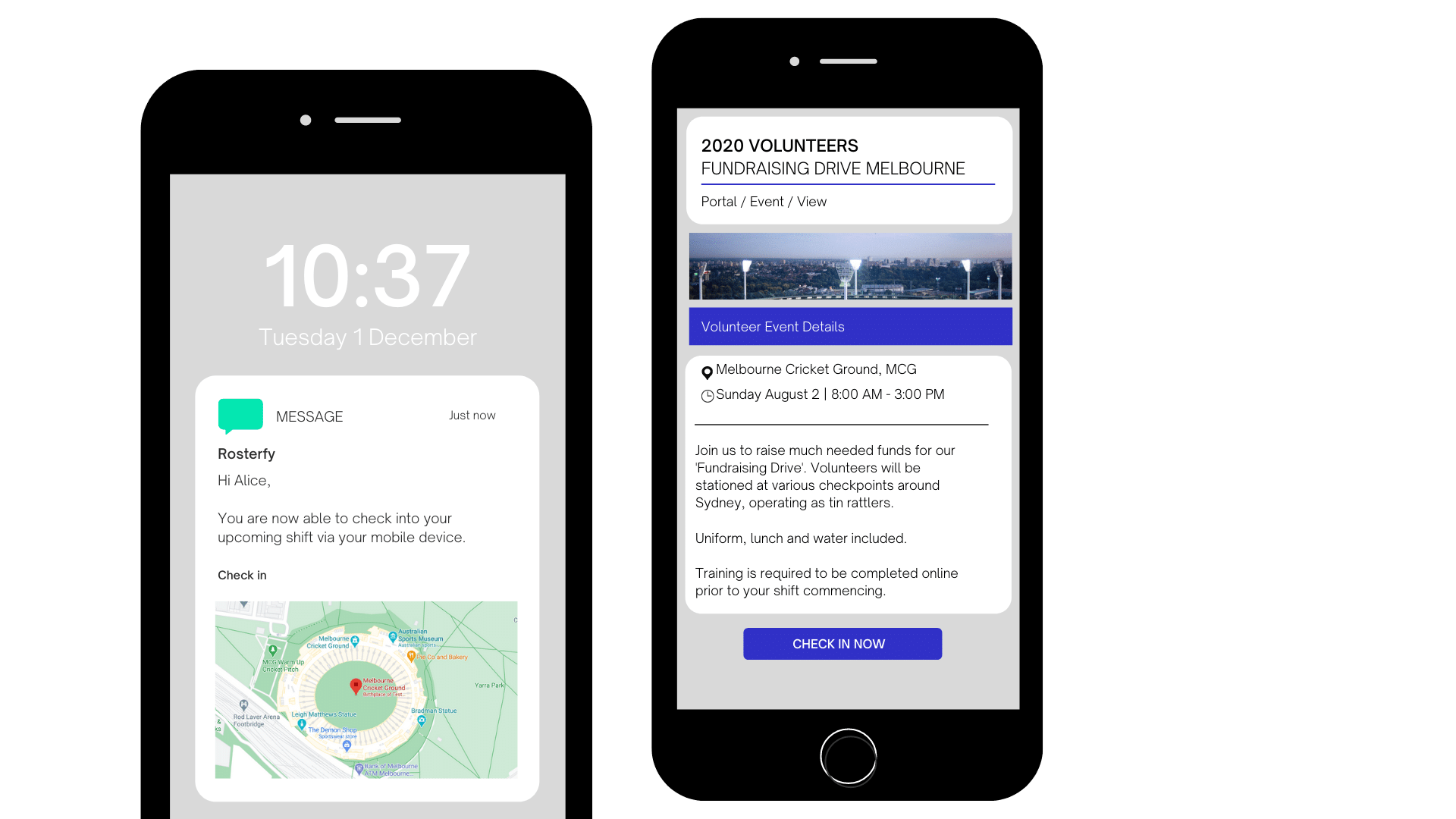 Example of Rosterfy's geo fencing
While geofencing is a great solution to ensuring COVID compliancy, it is also a great solution to managing a remote workforce.
Take a sports development program as an example. Sports development programs require staff and/or volunteers to visit numerous schools throughout a certain period to conduct sporting workshops, which requires coordination, tracking and reporting for timesheet purposes. Rosterfy's geofencing solution enables staff to receive alerts to check in and out within their predefined geofence, which administrators can track and record from the comfort of their office. Administrators can also easily pull reports with details including times, dates and location to assist with timesheets and general reporting.
Sounds pretty neat huh? Keen to learn more about how Rosterfy can work for you? Get in touch today!