How to write a donation request letter
Aside from fundraisers, charitable donation requests are a fundamental part of raising funds for your cause, charity or organisation. They're a great way to connect with your donors and prospects and build relationships with them. Your donation letter can include any number of things, but what is the right way to confidently and respectfully request a monetary gift?

We're digging into the details of donation requests including examples, templates and strategy.
What is the purpose of a donation request letter?
As a society, we've built a negative conversation around asking for money by calling them "handouts." However, for your nonprofit, charity or organisation, this is how you can continue operations and meet the needs of your cause. A donation letter is an appeal letter for monetary gifts and speaks directly to your potential donors while giving them time to consider the request.

Shake off the nervousness and understand the real reasons you need to sit down and consider adding donation request letters to your fundraising strategy:
Inform donors of an event
Many sponsors have set up automatic payments each month and forget about why they're donating. During certain events or campaigns, however, your organisation may need a certain number of donations to reach a goal. This is the perfect time to send a letter to existing donors, encouraging them to increase their monthly contributions or to send a one-time gift to support the event.

Consider a situation in which a serious threat has made your cause all the more relevant and necessary. Imagine a hurricane came through and tore down homes in a certain district; you may send fundraising letters urging people to donate to help the people affected by the event.
Expand your network
Through some research on your market and potential donor personas, you may find that there's a broader audience that you need to reach. A donation request letter could be a great way to speak to this untapped group. Telling the organisation's story, where and how the donation will help and why now is the time to get involved could be a moving introduction to a new prospective audience.
Boost mass-giving days
A giving day is a one-day opportunity for an organisation to build brand awareness, reach a fundraising goal and generate buzz about the organisation. Writing a fundraising letter to your donors can help create excitement and to start generating donations ahead of time.
Make connections
In a world of social media influencers, ads, sponsored videos and an overall bombardment of information, a letter could be just the thing your donors need to cut through the noise and focus on a cause that matters to them.

Sponsorship letters are sent to ask for fundraising money, but they're also a chance to add personal touches for donors to connect with. Sharing a story that resulted in the last fundraiser, adding a reminder of why this cause is important or imparting a personal message can go a long way with donors searching for a reason to get involved.
How to write a donation letter
Who you're writing the letter to and the type of request will inform what to include in the donation letter, but there are some generally applicable principles.

The tone of the financial support letter will determine how the reader reacts to your request. Here are a few ways you can nail the tenor of your letter:
Understand who you're speaking to: In the same way you wouldn't use slang around your grandma as you would with a friend, your recipient's identity matters in how you communicate with them. You'll need to appeal to the donors' level of authority to convey that they can trust you.
Lead with empathy: Donation letters should always include a bit of an emotional appeal to the supporter, such as a story about where the charitable donations will go to, how previous donations helped the cause and so on. Feelings are powerful motivators.
Give your why: An event, campaign or your overall organisational goals started because a charity needed more support and attention. Adding a logical enticement for why any generous donation amount can support the cause can help them understand the reason for your letter and its urgency.

These requests are based on the types of arguments Aristotle developed: ethos, pathos and logos. Persuading someone to donate can sometimes feel just as challenging as convincing someone that the world is round. Touching on the different ways an individual considers a request can help ensure positive outcomes for your fundraising letter.
Donation letter elements
Once you've got the tone down and have a basic understanding of what you want to include in an effective donation request letter, there are a few elements you must put in every letter as well:
Header: Right away, your name and logo should tell someone exactly what organisation you represent.
Contact information: Include where your organisation is located, the phone number, email address and website.
Greeting: Most donation letters are fairly formal, but here, you may include either the potential donot's first and last name, like "Dear John Smith," or something a little more formal such as "Dear Ms. Smith." Either way, it's important to personalize the letter by addressing them with their name.
Body content: This is where you'll lean into your story, or the purpose for contacting this person with background information that appeals to both their logical and emotional needs. Be as descriptive, yet concise, as possible here to keep them engaged.
Additional information: Is there an entity that's matching gifts? Will a large monetary donation win something in particular or be part of a raffle? Including these details can get a reader excited to donate and are important to include.
Call-to-action (CTA): A story and a reason why to donate are helpful, but readers need to know what you want them to do with the information. Your CTA should be confident, to the point and actionable with something like "donate today using the envelope included," or "give as much or as little using the attached donation form." If this letter is coming through email, a link to donate will replace a donation envelope.
Charitable gifts are also tax deductible for donors. It may be beneficial to include tax information relevant to your request and how to file for a deduction. This could appeal to someone's logical reasoning for making a donation and remind them that they'll eventually get this money back in deductions come tax season. You may consider adding filing instructions as a separate sheet within the letter to keep the letter itself focused on your story and request.
Sounding confident in your letter
It's paramount to come across as self-assured at every stage of your donation letter. Avoid filler phrases, and steer clear of expressions like:
"I was wondering if…"
"I hate to bother you, but…"
"I just wanted to…"
"Probably"
"Try"
"Maybe"
"Would be nice if…"
These words and phrases can throw a reader off and make them start wondering whether donating would be a bad idea. Be specific about what your institution needs, the reasons why it's important to get involved and where the donations will help the organisation.
Remember to be as authentic as possible. You're representing a worthy cause and an honest organisation that will use their donation to help those in need. The more clearly you can communicate this request, the more likely you are to see better results.
Example of a Donation Letter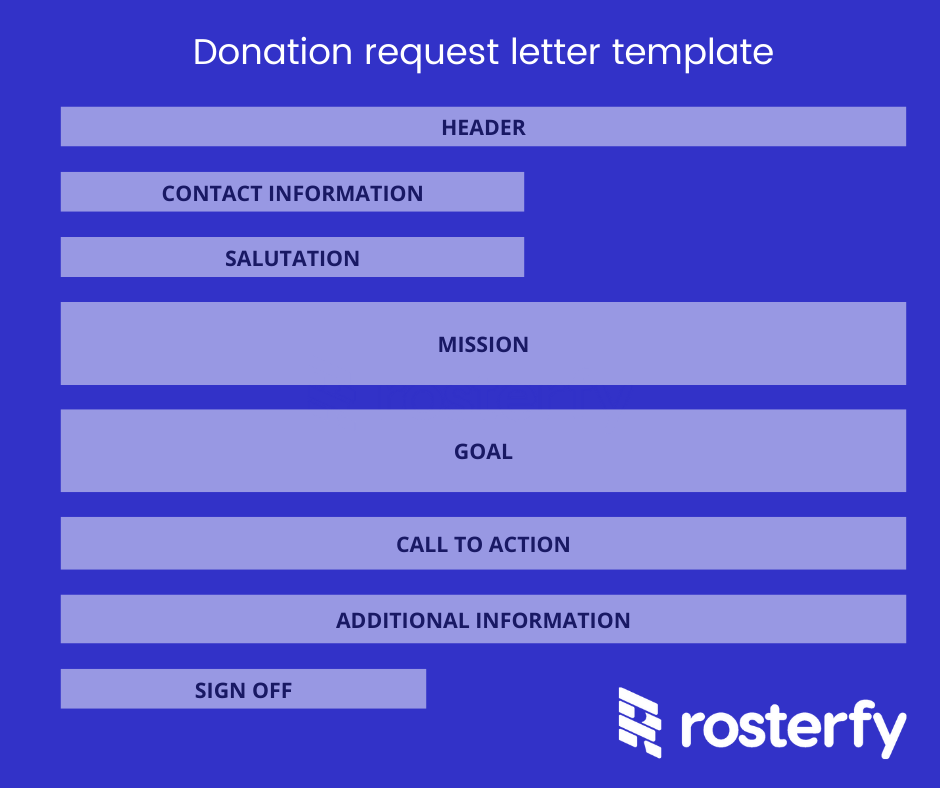 The strategy behind a fundraising letter
Now that you're feeling more confident in what to include in the letter, and you're armed with some sample letter examples, let's explore the strategy behind sending out a donation letter.
When to send a letter
We've covered a few examples of when you might want to send a letter out to potential donors, such as a new event or a fundraising campaign. If you have a certain charity for which you'd like to raise funds or your organisation is dedicated to a particular cause, you should also stay close to current events. Sending out a donation request letter after a catastrophic event could be the perfect time to get donors interested in helping with the cause.
The people, places or things your organisation is raising money for will benefit from greater outreach following a tragic event.
Once you have a steady stream of recurring donations, you may want to send out donation request letters regularly to keep them informed on current events. Any new campaigns your organisation is working on or simply urging them to increase their donation amount are reasons enough to send out a letter.
Who to send a letter to
Establishing your point of contact for a donation request letter is very important. It would be disappointing to put a lot of work into formulating the perfect plea only for the letter to fall into the wrong hands… and then into the garbage.

A fundraising letter can appeal to anyone on your donor list. But, you should consider expanding your network, too. Entertain contacting local businesses and government officials. In large enterprises and government bodies, there's likely a corporate social responsibility (CSR) department you can appeal to. For smaller businesses, you could just address the letter to the owner or manager.

Encourage your current contact list to spread the word about your organisation as well. Word of mouth could account for 92% of your donor base, according to a Nielson 2021 report. Creating more brand awareness can only benefit your cause and those it benefits.
Making your letter stand out
Everyone loves getting a letter, but it's always a letdown when the letter starts with "To whom it may concern," or offers something you're not interested in. The best way to set yourself apart is by doing your due diligence about the person to whom you're sending the letter.

Personalizing your letters is easier if you can segment donors into groups. Segmentation can help you tailor your message based on their interests. The more you know about your donors, the better you can pique their interest and keep them as contributors.

Some categories you may create could pertain to donors:
Location.
Age.
Donation frequency.
Amount of their last donation.
Profession.
Affiliations.
Method of acquisition.
First time donating.
Once you've placed your donors into segments, use language and make reference to specifics about their segment such as thanking them for their previous donation amount, hoping they're enjoying their location's weather this time of year, etc. Being precise and intentional can help your letter connect further with the prospective donor.


Automate this process with Rosterfy
Now that you're feeling more confident in what to include in the letter, and you're armed with some sample letter examples, let's explore the strategy behind sending out a donation letter.
Whether you're an established nonprofit organisation, or a corporation working on a charity fundraising event, donation letters can take a lot of time and effort. Including automation in your plan can take the pressure off your shoulders so you can focus more on the event itself.

Automation can remove hours of work. Using our template, you can fill in the necessary details depending on the different segments of donors you've established. From there, employ an automation tool like Formstack to populate the name and location of the letter's recipient.

If you're completing this process over email, automation is even easier with tools like Constant Contact. Email automation tools can help you segment, track and analyse your email donation letter. With the right platform, you can see if the recipient opened the email, whether it bounced, which links they clicked on and so much more.

Automation gives you the chance to not only get work done more quickly, but also to track the results of your efforts as well. When it comes to donation request letters, you want to make sure you've made it as easy to donate as possible. Whether that's over email with a link or by including a postage-paid envelope with a physical letter, reaching your donors and giving them the chance to donate can make a difference in your fundraising efforts.

If you have a large event coming up that needs more volunteers or you want to connect communities to events and causes they're passionate about, Rosterfy has the solution you need. Our proven end-to-end technology allows charities, events and organisations to recruit, register, screen, train, manage and report with ease, replacing manual processes with automation to better engage and retain your volunteers.

Request a demo to see our platform in action.
About Rosterfy
Rosterfy is used by non-profits, charities, sporting federations, and more to better manage their volunteer programs by improving how they can recruit, screen, train and retain volunteers.
Our market leading technology helps you create engaging experience throughout the whole lifecycle of your volunteer journey.
Book a demo today.
Keep reading more on our blog
Read more helpful articles on our blog: