How Rosterfy helped the Special Olympics World Games create a world class volunteer experience
Volunteers play a crucial role in the success of any major sporting event. Their enthusiasm, passion, dedication and support are invaluable in creating a positive and inclusive environment for athletes and spectators alike.
In the case of the Berlin 2023 Special Olympics Rosterfy, a leading volunteer management software was selected as the volunteer management software trusted to ensure a brilliant volunteer experience was created.

Rosterfy's role in creating a better volunteer experience
The Special Olympics World Games in Berlin involved participation from over 16,000 volunteers. These volunteers all needed to be recruited, screened, trained and communicated with and that would normally take a colossal effort from an admin team.

Rosterfy helped them get the job done by streamlining tasks, automating repeatable processes and standardized communication.

The volunteer management team received over 56,000 registrations for the public, proving how engaged and popular the event is and how keen people were to get involved. The event team needed to ensure enough volunteers were allocated to each of the 17 venues at the games and that meant organisting over 9,000 shifts.

Rosterfy's experience in supporting large scale events like this played a huge role in the success of the volunteer program. Our platform is tried and tested in this space and the volume of volunteers, complexity of the shift scheduling and visibility of training and screening process were easily managed.

This required a team effort between the Customer Success function at Rostefy and the World Games team on the ground. Good communication, clear objectives defined by the client and the shared passion between both parties for putting on an event to be proud of, proved to be the winning formula.
The impressive numbers behind the volunteer program for the World Games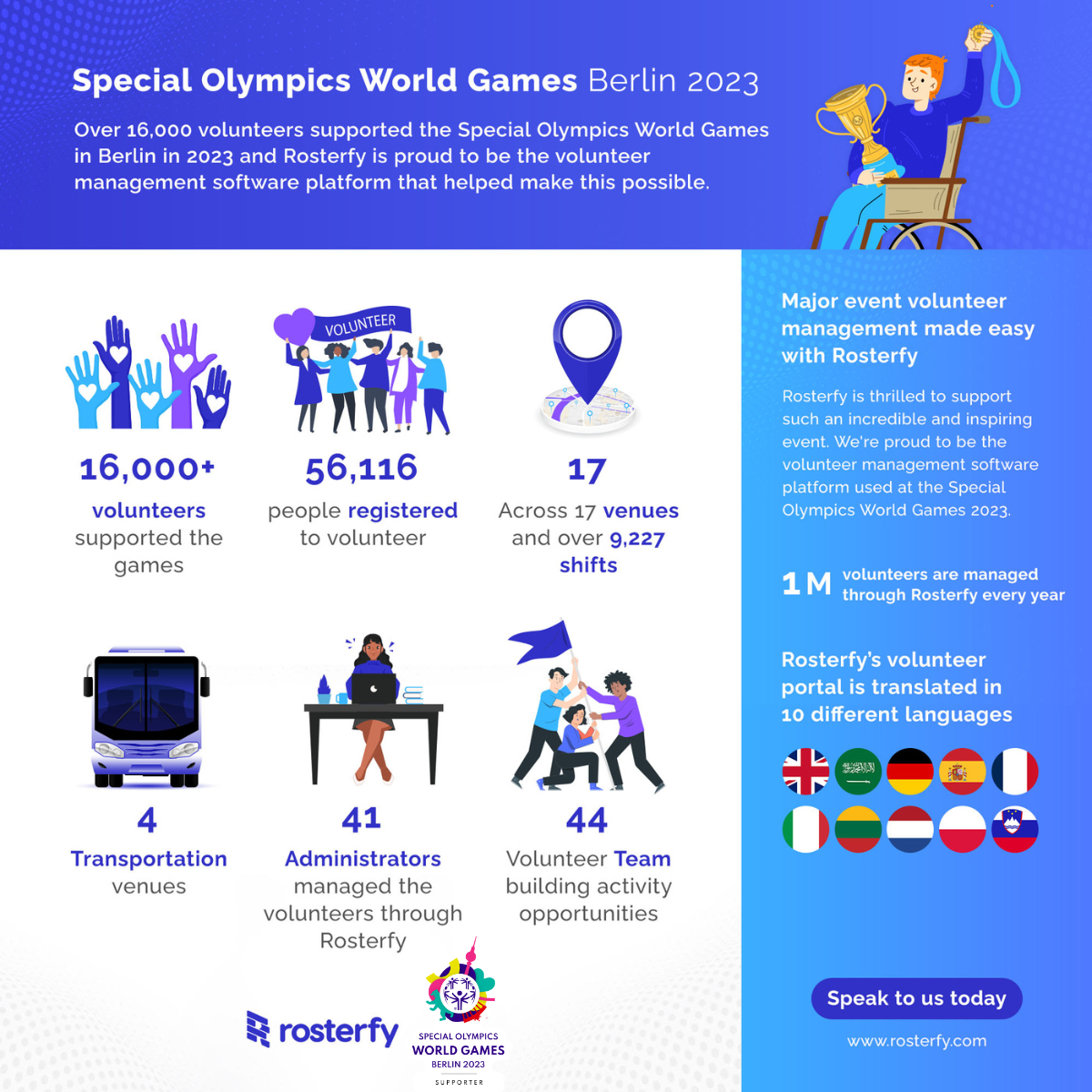 The Special Olympics World Games in Berlin had no short supply of interest from people wanting to volunteer. Turning those registrations into active volunteers is a challenge they met by ensuring their recruitment experience was engaging, fluid and well managed.
Rosterfy helps organisations who put on Mass Sporting events by giving them the blueprint for a successful volunteer program.
If you want to find out more contact us today.
A expert guide to World Class Volunteer Management for Sporting Events
Ensuring a smooth and efficient volunteer management process is essential for large-scale events like the Berlin 2023 Special Olympics. Effective volunteer management involves activities such as recruitment training, scheduling communication and recognition.

Rosterfy provides a comprehensive all-in-one solution to address these needs resulting in a well-organized and successful event. It's the reason why Rosterfy is chosen for some of the biggest sporting events in the world such as the Super Bowl (for seven consecutive years), the London Marathon and more.
Streamlining the recruitment and onboarding of volunteers
Over the last couple of years Rosterfy has redefined the volunteer recruitment process by offering online registrations and application portals for our clients. Our automations ensure volunteers have a consistent and rewarding experience from start to finish.

Extra attention given to screening and diversity visibility means our clients can ensure their recruitment process meets compliance requirements and their own business objectives.

This digital platform allows potential volunteers to easily submit their details and express their interest in participating. The software also enables background checks and qualifications verification ensuring the safety and reliability of the volunteers.
Clear communication channels for each event
Effective communication is the key to keeping volunteers informed and engaged. Rosterfy provides a centralized platform that facilitates quick and easy communication between organizers and volunteers.

Important event updates schedules training materials and acknowledgments can all be communicated through the software ensuring everyone is on the same page.
One of the single biggest reasons why volunteering shifts are missed is poor communication and when you're running a large scale event such as the World Games, where volunteers are spread across many different locations, needed at different times, clear communication is vital.
For the Special Olympics World Games in Berlin 2023, they were able to keep their many thousands of volunteers up to speed on how the games were going, real time updates from the team and everyone was aware of their responsibilities, because of Rosterfy's excellent communication tools.
Efficient Scheduling and Task Allocation
Assigning roles and responsibilities to volunteers is a critical aspect of event planning. Rosterfy's intuitive software allows organizers to create detailed schedules based on specific requirements and allocate tasks accordingly. Volunteers can then view their assigned shifts, update their availability and communicate any changes through the platform ensuring seamless coordination.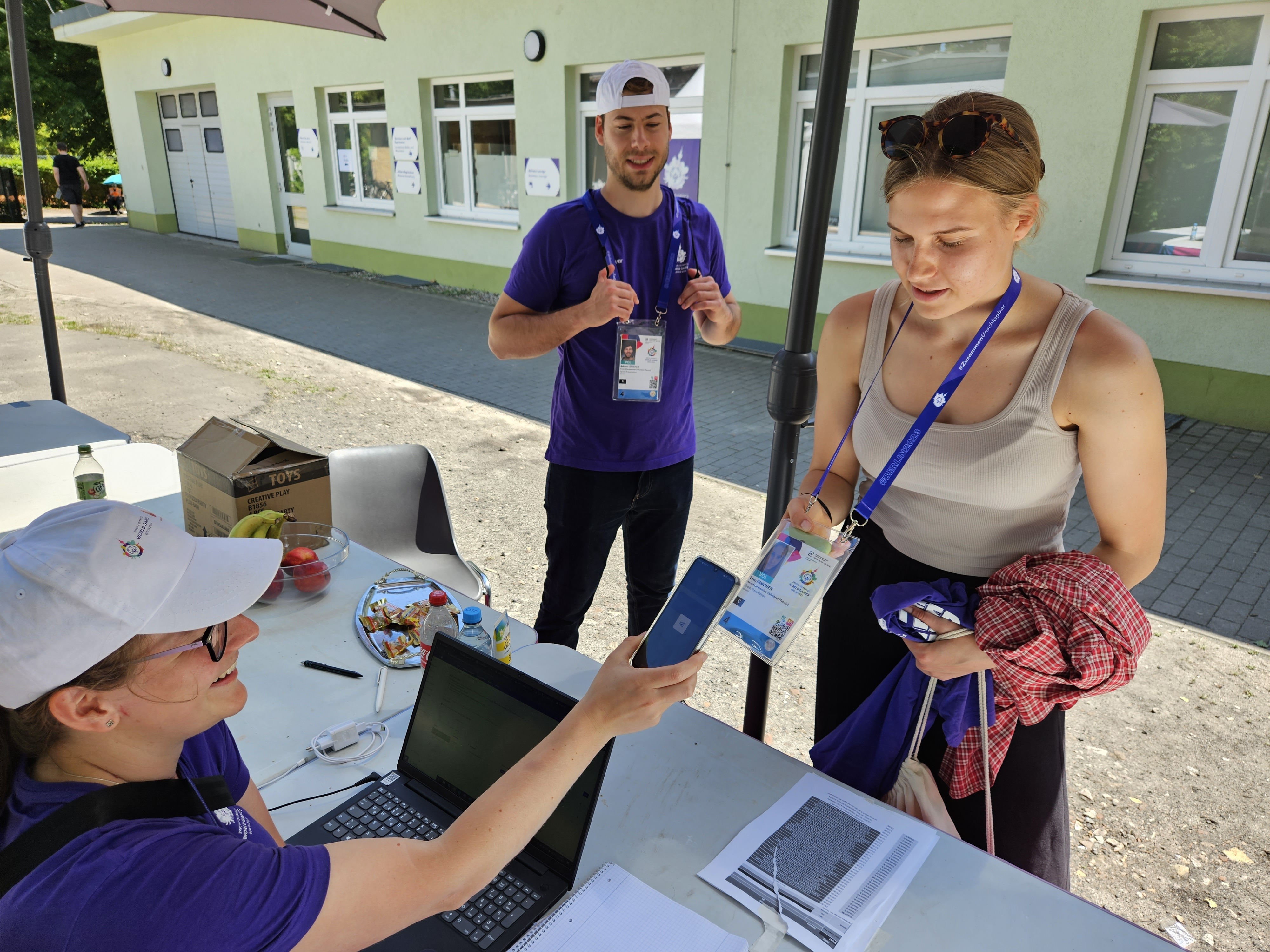 Training and Compliance
To ensure volunteers are well prepared for their roles Rosterfy offers training modules and resources that can be easily accessed online.
Interactive training sessions videos quizzes and documents can be shared with volunteers enhancing their knowledge and understanding of the event and their responsibilities.
Recognising their efforts
Volunteers are the backbone of any successful event and their dedication deserves recognition. Rosterfy enables organizers to appreciate and celebrate volunteers through various features such as certificates badges awards and thank-you messages. Recognizing volunteers not only boosts their morale but also encourages them to continue contributing to future events.

Click here to find out more about how Rosterfy supports organisations who run mass events with our market leading Volunteer Management Software.
About Rosterfy
Rosterfy is used by non-profits, charities, sporting federations, and more to better manage their volunteer programs by improving how they can recruit, screen, train and retain volunteers.
Our market leading technology helps you create engaging experience throughout the whole lifecycle of your volunteer journey.
Book a demo today.
Keep reading more on our blog
Read more helpful articles on our blog: