Your community calls: Food Bank Volunteering
Food Banks play a pivotal role in communities and are often a defining way people can contribute towards supporting those in need.
Volunteers are an essential part of how Food Banks are able to operate, here's a complete guide to how to get involved and what to expect from volunteering at one of these life changing services.
Your community calls: Food Bank Volunteering
Volunteering can bring about transformative change within communities, offering a helping hand to those in need. Of all the causes that need support, food bank volunteering is particularly important. Food bank volunteering plays a vital role in addressing the pressing issue of food insecurity by providing a lifeline for individuals and families who struggle to access nutritious meals.
If you would like to make a difference to people's lives and lend support to those facing food insecurity, this article will share some insights on food bank volunteering. From understanding how food banks get their food to learning how to sign up as a volunteer, we'll share the steps you need to take to get started as a food bank volunteer.
What is a food bank?
Many sponsors have set up automatic payments each month and forget about why they're donating. During certain events or campaigns, however, your organisation may need a certain number of donations to reach a goal. This is the perfect time to send a letter to existing donors, encouraging them to increase their monthly contributions or to send a one-time gift to support the event.

Consider a situation in which a serious threat has made your cause all the more relevant and necessary. Imagine a hurricane came through and tore down homes in a certain district; you may send fundraising letters urging people to donate to help the people affected by the event.
How do food banks get their food?
Food banks with stocked shelves are possible through the collective efforts of various sources committed to addressing food insecurity:
Generous donations from local businesses, supermarkets, and food manufacturers of surplus food that might otherwise go to waste
Compassionate individuals and community groups organising food drives and offering monetary support
Partnerships with government programs provide food banks with access to additional resources.
Through these collaborative efforts, food banks transform donated resources into sustenance for those who need it most.
What hours do food banks typically work?
Food banks recognise the importance of providing readily available assistance to individuals and families facing food insecurity.
They operate during flexible hours to cater to diverse schedules and maximise outreach. While specific operating hours will vary depending on location and community needs, food banks generally offer a range of options, including daytime, evening, and weekend opening times.
How do people get the food?
Food banks prioritise fair distribution by requiring vouchers or referrals from professionals such as doctors, social workers, school staff, or crisis support workers. These vouchers and referrals ensure that individuals facing food insecurity receive the necessary support and are connected to the resources available at the food bank. With these vouchers, individuals can visit the food bank where dedicated volunteers and staff help them select suitable food items. This approach helps ensure the food bank resources reach those who need them most, cultivating a community where everyone can access nourishment with dignity and care.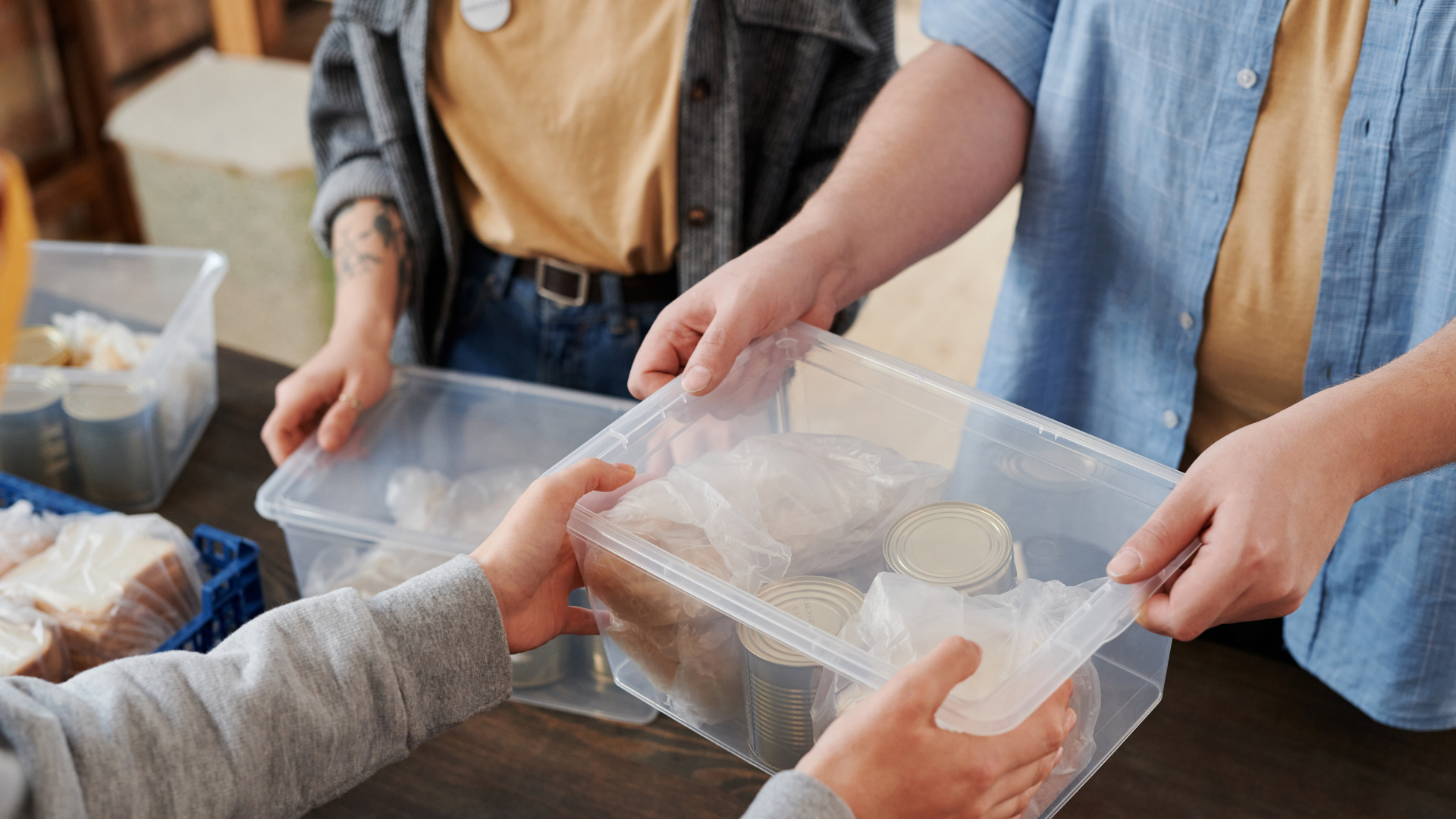 How can you support food banks?
Volunteering
If you want to volunteer at a food bank, you can get involved in various ways, and there is no limit on the number of times you can volunteer. You can help by sorting and organising donated food items, packaging meals, or distributing food to people in need.

If you have expertise in areas such as administration, fundraising, or marketing, donating these skills can greatly contribute to the efficient operation and expanded reach of food banks.
How to sign up
The process of signing up to volunteer is reasonably straightforward. Begin by visiting the food bank's website or contacting them directly to express your interest. If the food bank has a dedicated volunteer department, their contact details will be listed on their website. The volunteer coordinator will provide all the necessary information regarding volunteer requirements and available opportunities.
Fill out any required application forms, providing details about your availability, skills, and areas of interest. Once your application is processed, you may be invited to attend an orientation or training session to familiarise yourself with the food bank's operations. After that, you're ready to get started.
What to look for
When starting your food bank volunteering journey, finding an organisation that resonates with your values and goals is essential. Consider key factors such as the food bank's mission and impact in addressing food insecurity and promoting community well-being. Evaluate the location and accessibility, ensuring it is convenient for you.
Explore the available volunteering opportunities, from sorting food to distributing meals or providing administrative support. Then select a role that aligns with your skills and interests. Lastly, look through annual reports to ensure the organisation is transparent and accountable in its operations. This includes readily available information about partnerships, donation sources, and volunteer management processes readily available. By choosing the perfect food bank to volunteer with, you can make a significant difference while fostering personal fulfilment and purpose within your community.
Age you can volunteer
Volunteering at a food bank offers opportunities for people of all ages to contribute to their communities. While specific age requirements may vary depending on the food bank and the tasks involved, if you're wondering how old you have to be to volunteer at a food bank, the good news is that many food banks warmly welcome volunteers of all ages.
Families can engage in meaningful experiences, instilling values of compassion and service in children from a young age. Teenagers can actively participate, gaining valuable skills, a sense of social responsibility and volunteer hours for college. Adults and seniors can bring expertise and experience to support the food bank's operations. Regardless of your age, there is a place for you to make a positive impact through food bank volunteering.
Ensuring you have the time
Volunteering at a food bank requires a dedicated time commitment. Before committing to this work, assessing your schedule and determining the time you can realistically allocate for volunteering is crucial. Food banks often offer flexible shifts to accommodate various schedules, making it easier to find volunteering opportunities that fit your lifestyle.
Evaluate your existing commitments, such as work, family, and personal obligations, and consider how volunteering can harmoniously integrate into your routine. By ensuring you have the time to volunteer, you can wholeheartedly immerse yourself in this rewarding experience, creating a lasting impact on the lives of individuals and families facing food poverty.
Is onboarding required
When it comes to food bank volunteering, understanding the onboarding process is crucial to ensuring a seamless and impactful experience for volunteers and those they help. While each food bank may have its own guidelines, most require volunteers to undergo an onboarding process.

This process may involve completing an application, attending an orientation session, and receiving training on food safety, protocols, and the organisation's mission. By undergoing onboarding, volunteers gain valuable knowledge and insights that enable them to contribute effectively and make a meaningful difference.
Donating food to the food bank
Donating food items to a food bank is an effective way of supporting those in need. To ensure your donation reaches its intended recipients, follow these simple steps:
Begin by researching local food banks in your community and identifying their donation process. Most food banks have specific guidelines regarding the types of food they accept, and they generally prefer non-perishable items.

Check the expiration dates and ensure the items are in good condition.

Pack the food securely and label it if required.

Contact the food bank to inquire about drop-off locations or collection drives in your area.
Benefits of supporting food banks
Supporting food banks through volunteering is a compassionate act and a catalyst for positive change in your community. By dedicating your time and skills to these organisations, you contribute to alleviating hunger and improving lives. Statistics show the pressing need for food banks. The UK Government reports that in April 2022, 15.5% of all UK households suffered from food insecurity. This figure rose to 17.7% in January 2023.

The Foodbank Hunger Report 2022 showed that 2 million households in Australia ran out of food in the previous year due to limited finances. Similarly, Feeding America reports that 34 million are food insecure in the United States.

With volunteers playing a vital role in food banks, these organisations can efficiently distribute food items and other resources to provide nourishment to those in need.
How to find and apply to a food bank
The first step towards making a meaningful difference in your community starts with finding and applying to a food bank. Begin by researching food banks in your area through online directories or local community resources. Visit their websites to gain insights into their mission, services, and available volunteer opportunities.
Most food banks have a dedicated section or page for volunteers where you can access information on how to apply. Fill out the volunteer application form, typically requiring basic personal details, availability, and areas of interest. Some food banks may have additional steps like interviews or background checks. Upon approval of your application, you'll receive further instructions and training, setting you on a path of impactful volunteering at the food bank.
Gathering a team of volunteers with you
Bringing together a team of volunteers to join you in food bank volunteering can amplify the impact your impact on the community. Whether you're part of corporate volunteering, a community organisation, or a group of friends, registering as a team adds an extra layer of collaboration and camaraderie to the experience. Many food banks offer the option to register as a corporate or group volunteer, allowing you to coordinate efforts, bond as a team, and contribute collectively.
Giving yourself time to apply, onboard and start
When answering the call to volunteer at a food bank, giving yourself ample time to complete the application, onboarding, and commencement process is essential. First, allow yourself enough time to carefully complete the volunteer application, ensuring accuracy and providing any necessary information.
Next, understand that onboarding is crucial for both you and the food bank to ensure a successful and rewarding volunteer experience. Onboarding may involve attending orientation and training sessions and familiarising yourself with the organisation's mission and guidelines. Allowing sufficient time for each phase sets the foundation for a fulfilling and impactful journey as a food bank volunteer.
Conclusion
Food bank volunteering is a way to give back to your community and make a tangible difference in the lives of those living with food insecurity. By dedicating your time, energy and skills, you contribute to a vital cause, helping to nourish individuals and families in need. The benefits of volunteering at food banks extend beyond the impact you create, offering personal growth, fulfilment, and the chance to forge lasting connections.

Whether you choose to volunteer individually or gather a team, the journey of food bank volunteering is one that unites compassion, empathy, and the power to change lives. So, step forward, embrace the call, and join the collective effort to build a hunger-free society, one act of volunteerism at a time.
About Rosterfy
Rosterfy is used by non-profits, charities, sporting federations, and more to better manage their volunteer programs by improving how they can recruit, screen, train and retain volunteers.
Our market leading technology helps you create engaging experience throughout the whole lifecycle of your volunteer journey.
Book a demo today.
Keep reading more on our blog
Read more helpful articles on our blog: