A simple and intelligent volunteer management solution
Replace manual processes with automations
Utilize Group Manager to segment your groups
Create engaging experiences for your volunteers
Facilitate check in from various locations
Report attendance and attrition with accuracy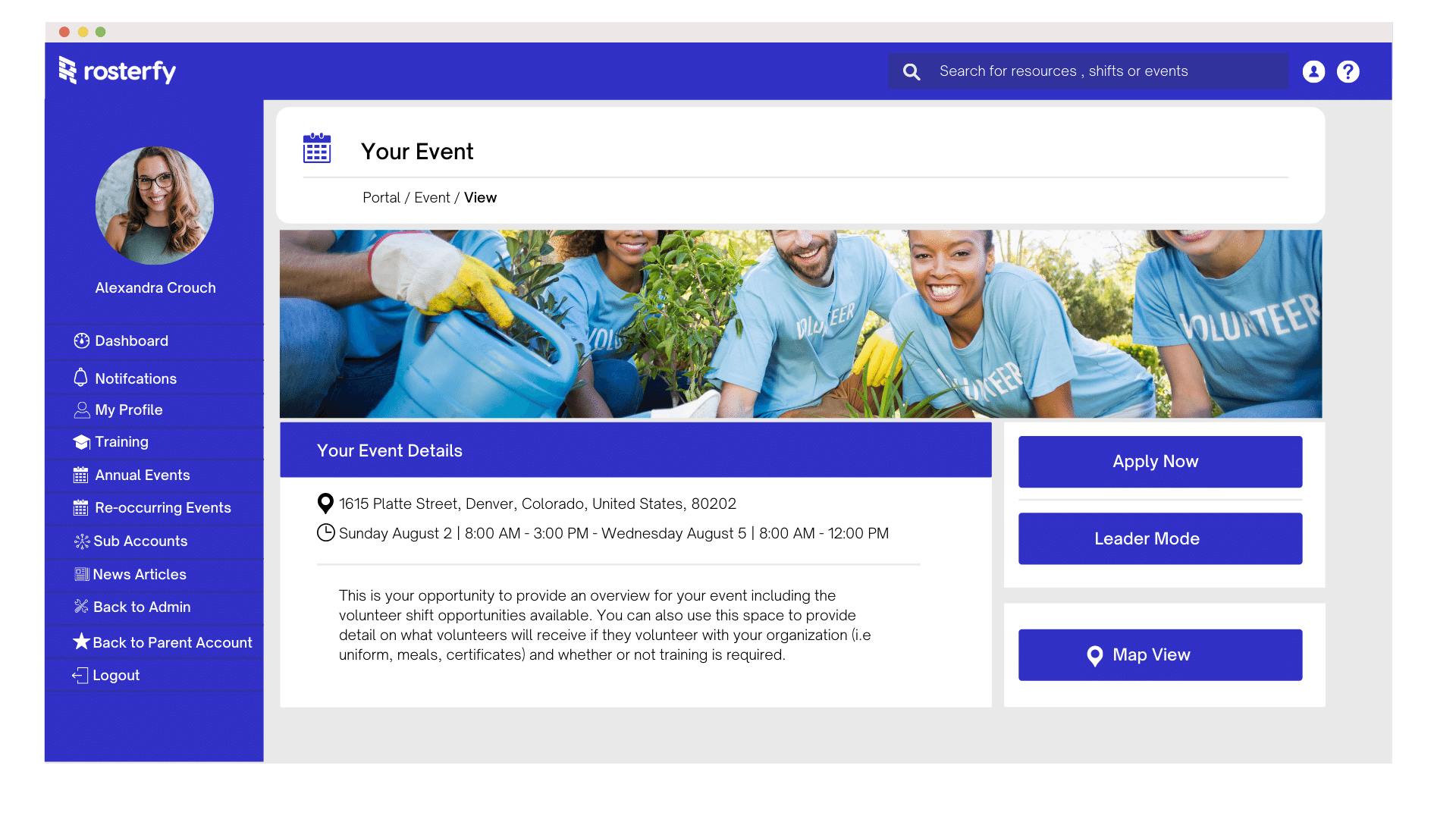 Features for Event Suppliers & Contractors


Manage groups with ease
Group manager provides the ability to provide custom experiences including specific shifts, communications and training that engage directly with a particular group.


Simplify complex scheduling
Create schedules for your event using automations to simplify your volunteer management. From recruitment, screening, training & communications, streamline your end to end management.


Better engage and retain volunteers
Volunteers love Rosterfy's user friendly portals, providing a central platform to apply for shifts, complete training modules and access important communications.


Check in your volunteers with ease
Utilize Rosterfy to facilitate simple check in & out onsite or remotely from multiple locations via mobile or QR codes.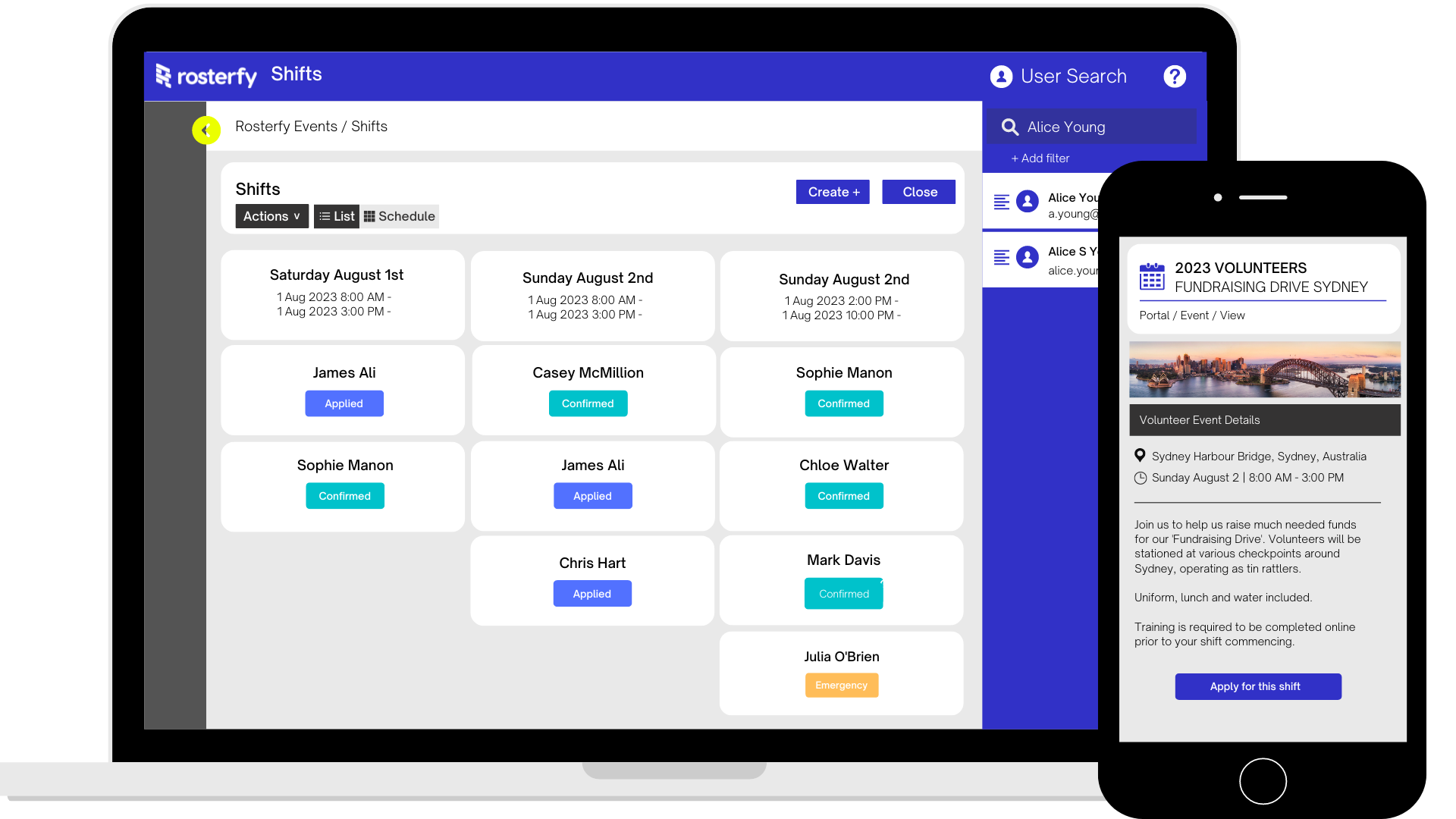 SCHEDULE
Make complex scheduling easy for any event
Rosterfy's effective scheduling tools help to replace manual processes, allowing event suppliers and contractors to focus on what's important - like engaging your volunteers. Using Rosterfy's automations functionality, scheduling the right volunteers to suit your needs has never been simpler.
Event suppliers and contractors use Rosterfy to:
Schedule volunteers across various locations and events
Train volunteers to ensure that volunteers have the skills required to perform at their best
Communicate with their volunteers via automated emails and SMS
Manage check in and out onsite or remotely
Improve reporting and visibility of operations
MANAGE
Manage your community groups all in the one place
Simplify your volunteer management with Rosterfy's group manager functionality. Engage with multiple stakeholders and get the most out of your volunteer management program by creating groups within your account enabling you to create a custom experience for each volunteer group. From bulk imports for users and shifts through to screening, training and communication, Rosterfy's group manager makes managing your stakeholders streamlined and simple.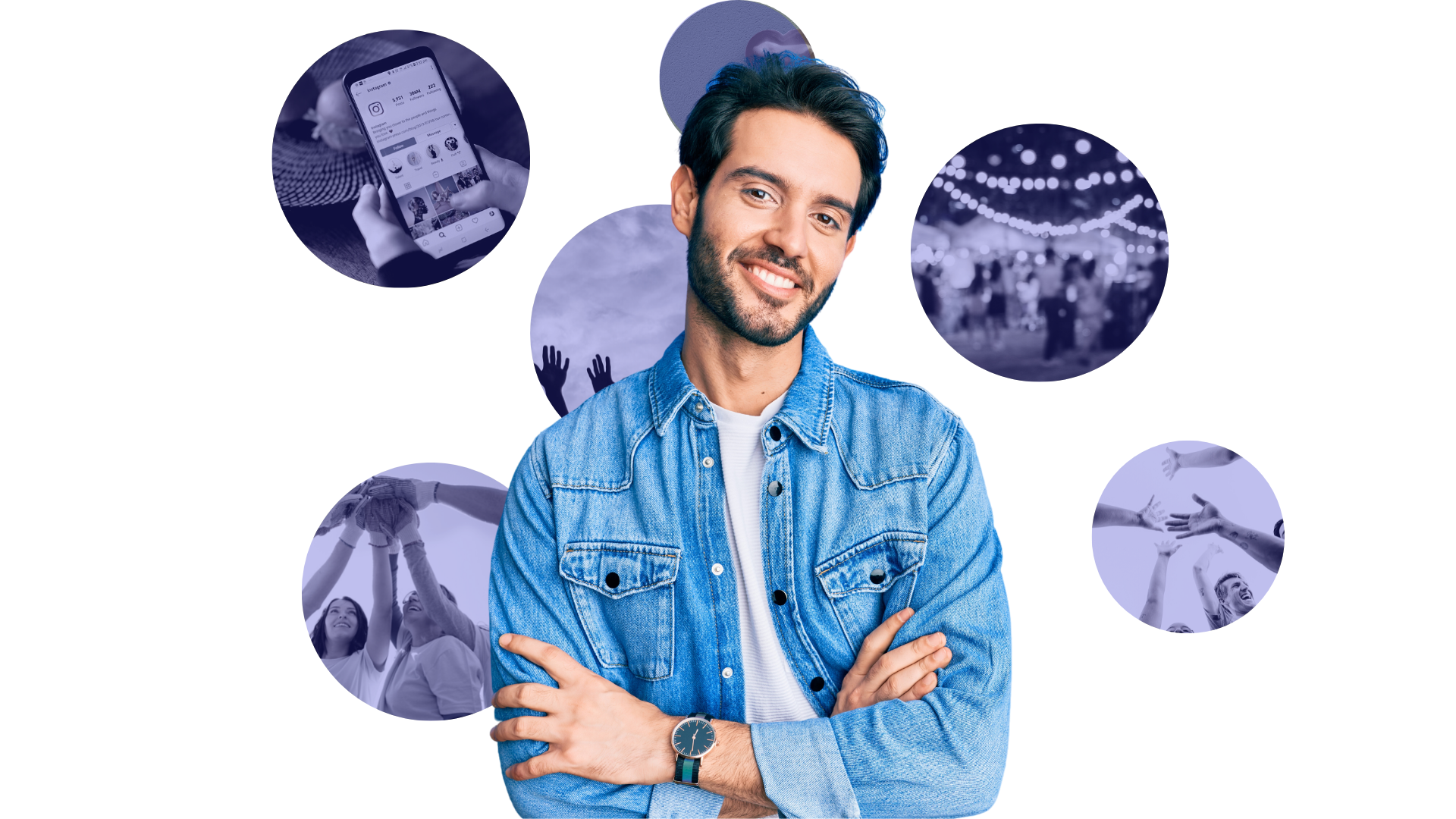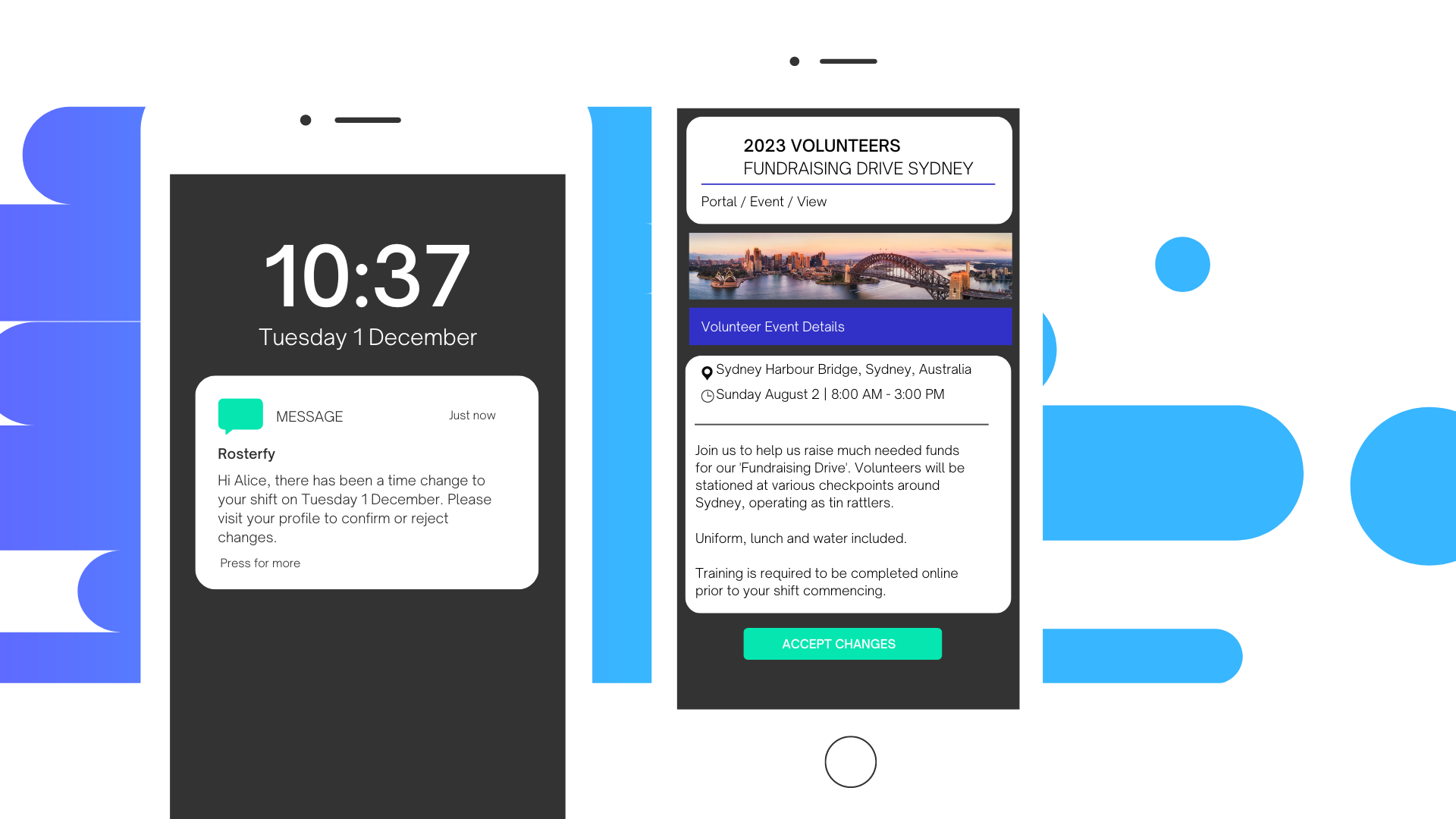 COMMUNICATION
Communicate and engage with your volunteers
Rosterfy allows you to better engage with your volunteers with the ability to communicate in real time. Create custom templates for email and SMS and automate processes such as welcome emails, training reminders and completion certificates.
Need to communicate event or shift changes to your volunteers? No problem! Rosterfy allows you to send bulk emails and SMS to a specific group at the click of a button.
Determine the true value of your volunteers.
Want to learn more about the value of your volunteer management program? Download our free white paper to learn more.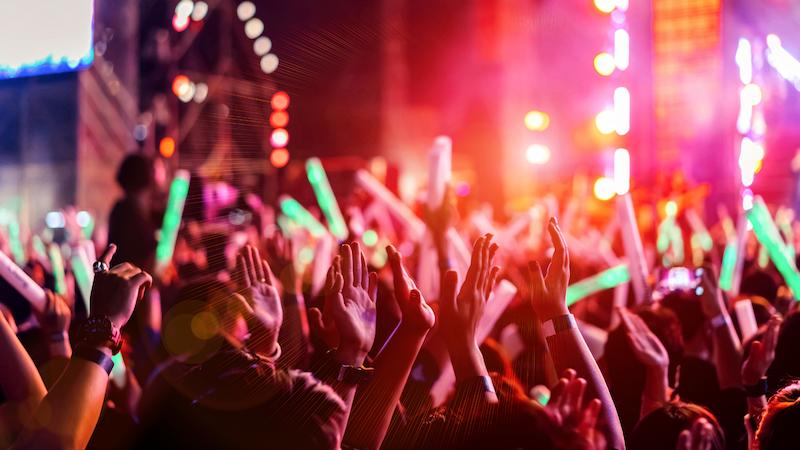 "Rosterfy has been the perfect solution for managing our high volume, low contact workforce in the events industry (music festival hospitality). We found the system to be robust, and while it required a significant time investment to configure it to our requirements the result has been well worth it. Praised by our staff, Rosterfy has been an overwhelmingly positive addition to our business."
RYAN CAMOV, DIRECTOR, PRIME COLLECTIVE

"It was great to be able to use Rosterfy for the ICC T20 Women's World Cup with many of our staff familiar and comfortable using the system and its user friendly staff portals. We had one of the highest attendance rates we have ever had for this event and I'm confident that a large part of this can be attributed to the staff experience enhanced through Rosterfy."
GEORDIE MILES, DIRECTOR, SPARK EVENT GROUP