Replace manual processes with automations
Increase your output without increasing your workload
Automate your end to end workflow
What can you automate? Rosterfy allows you to automate every step of your end to end volunteer and paid staff management.
From onboarding and scheduling through to training, communications and reward and recognition, Rosterfy on average saves clients 40% of their time by replacing manual processes with automations.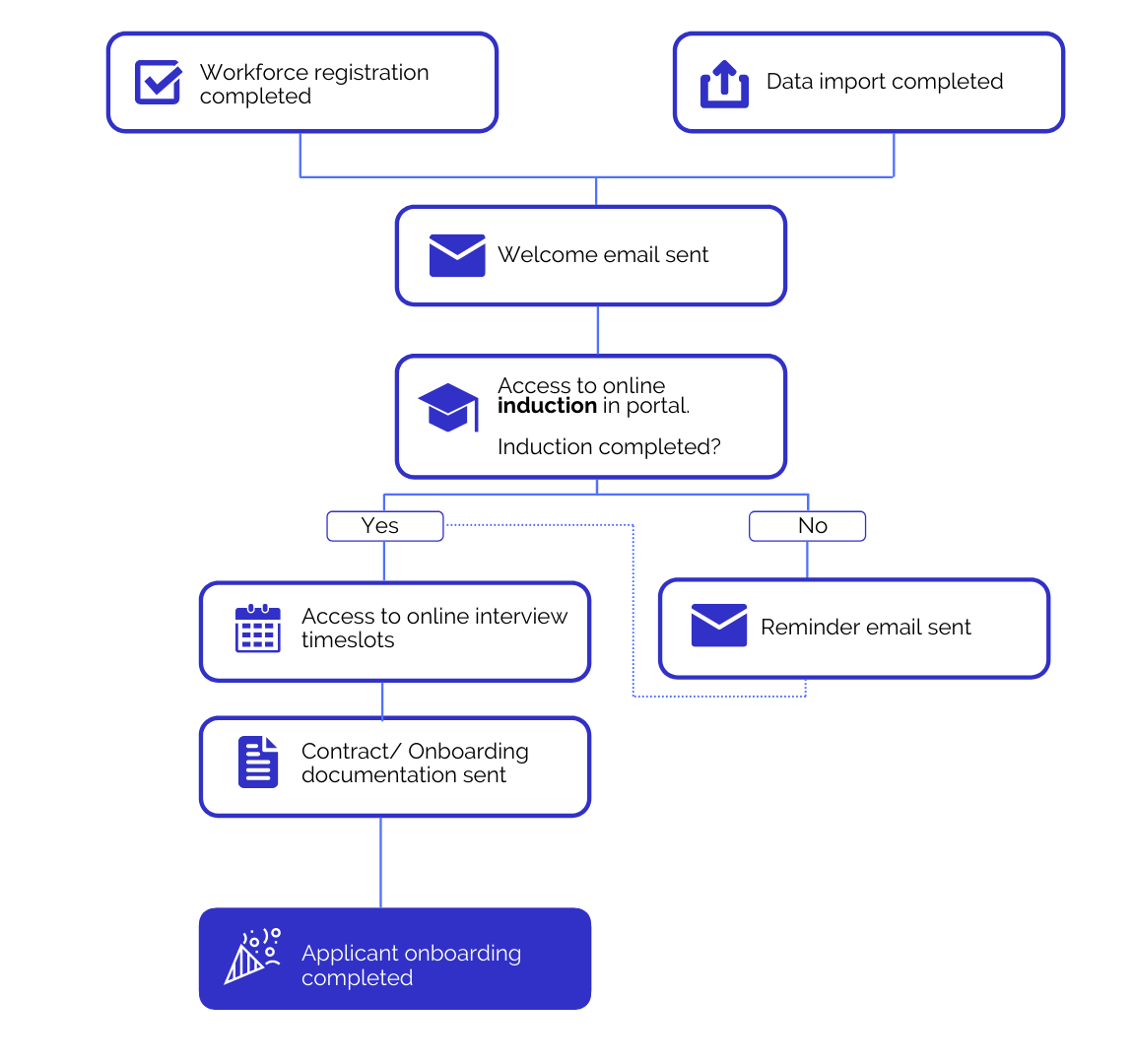 Onboarding your workforce
Rosterfy allows organizations to ensure that volunteers and staff are thoroughly inducted, interviewed and screened before allowing them to apply for opportunities through our automations engine.
Need a volunteer who holds a valid working with children's check? Or need staff to be undergo an induction before they progress? Rosterfy allows administrators to ensure compliancy when it comes to their volunteers and staff through one centralized system.
Scheduling & Rostering
Let Rosterfy do the hard work for you. Screening and scheduling your volunteers and paid staff has never been simpler with the ability to build your own scheduling rules by role, qualifications, and/or location.
Used in conjunction with Rosterfy's automations technology, advanced scheduling can be used to automatically screen and schedule based on your specific requirements.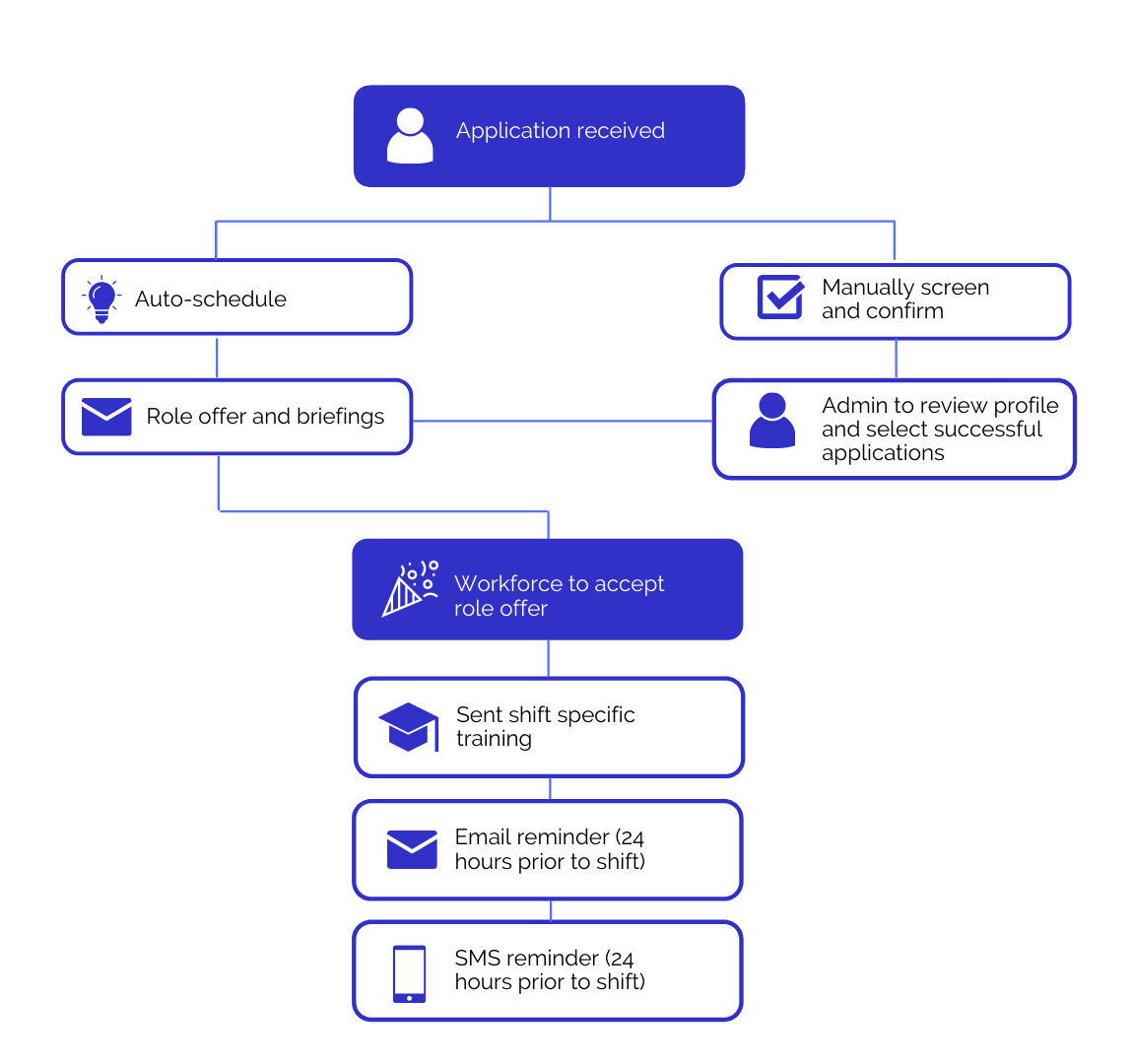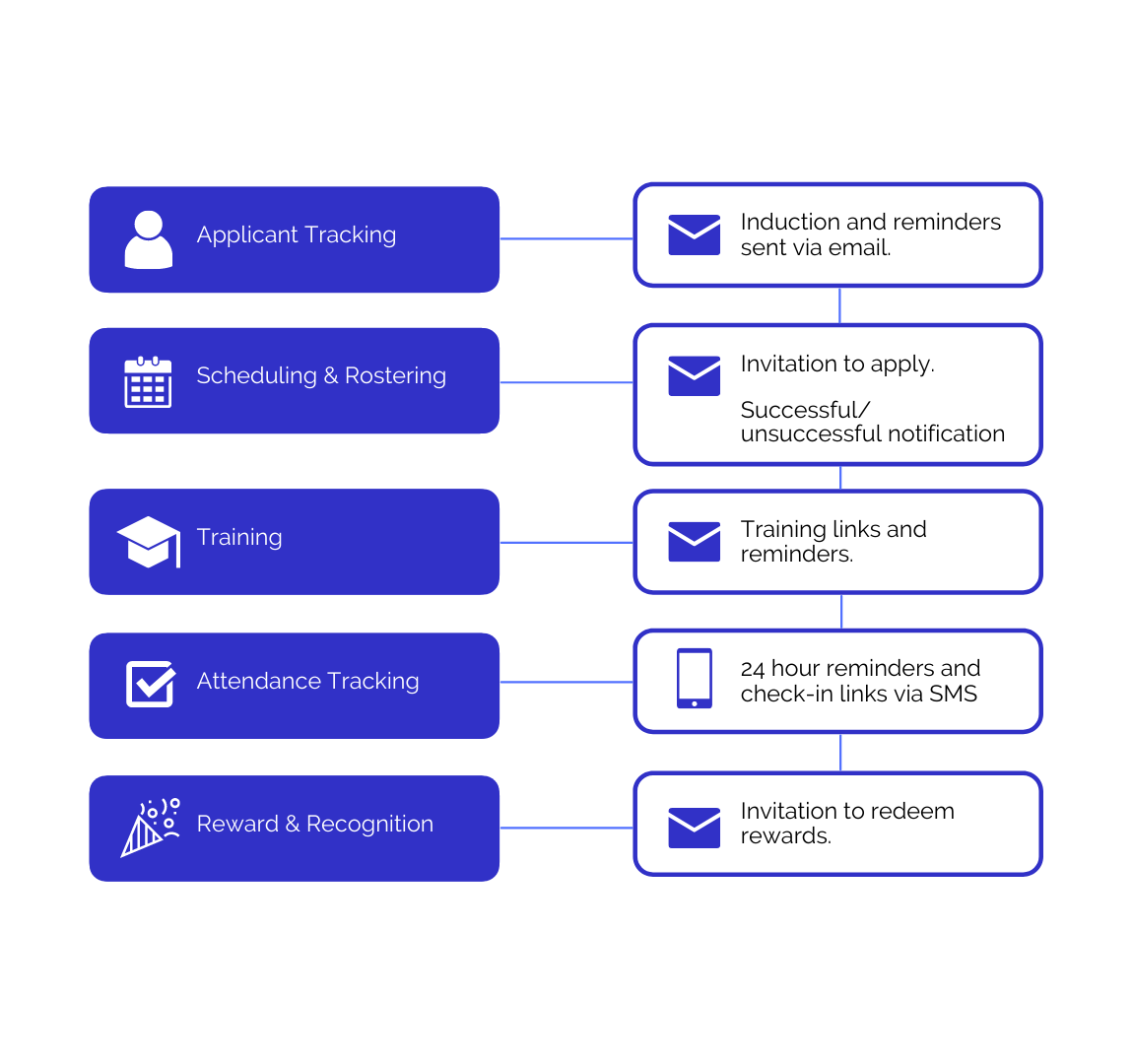 Communications
Rosterfy makes communication simple. Use our automations technology to ensure that volunteers and staff receive confirmations, reminders, briefings and alerts via email, SMS and in portal notifications.
From welcome emails and training reminders to shift updates and additional volunteer opportunities, Rosterfy ensures that your workforce are always in the know.
Keen to learn more?
Book a demo with our Sales team to better understand how Rosterfy can work for you.
Training
Provide your volunteers and staff with the training they need to succeed at their role through Rosterfy's inbuilt training modules and integration partners.
Create your own custom quizzes with multiple choice options and set benchmarks to pass training based on internal measures.
Utilize Rosterfy's automations functionality to prompt notifications, reminders and next step triggers to ensure a seamless experience from start to finish.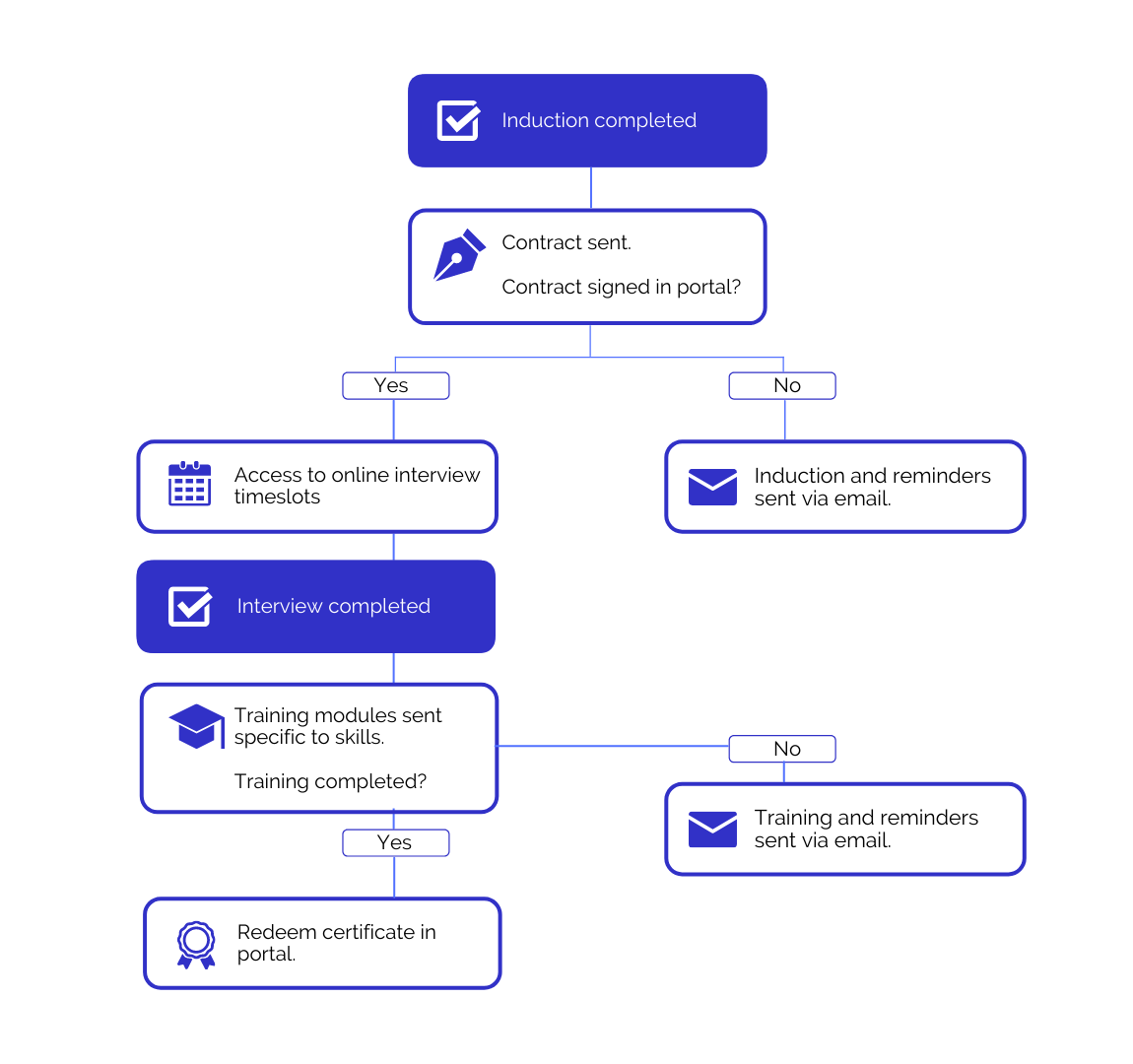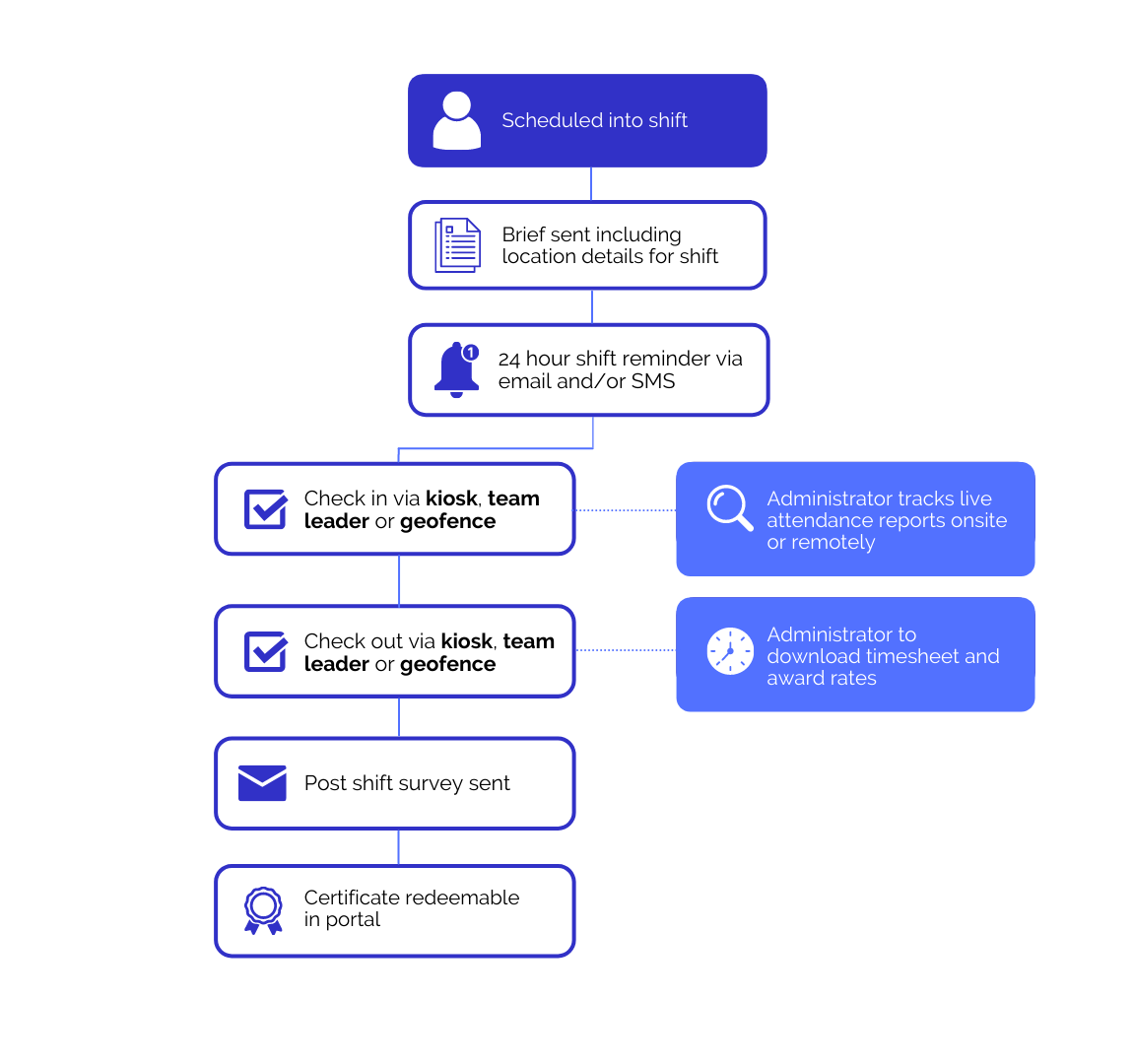 Attendance Tracking
Make onsite management simple with Rosterfy's in-built check in and out options. Choose from your preferred device including mobile, tablet and desktop and make check in simple with features including geo fencing and QR codes.
Track the status of your check across multiple events, venues and/or locations both onsite or remotely and react accordingly with the ability to reassign volunteers and staff based on attendance rates.
Reward & Recognition
Make your volunteer management program shine with Rosterfy's reward and recognition functionality, allowing you to incentivise your workforce through the use of rewards, which can redeemed in exchange for hours or shifts completed.
From merchandise and apparel, through to event tickets and once in a lifetime opportunities, gamifying your workforce management program is a great way to engage and retain your volunteers and staff.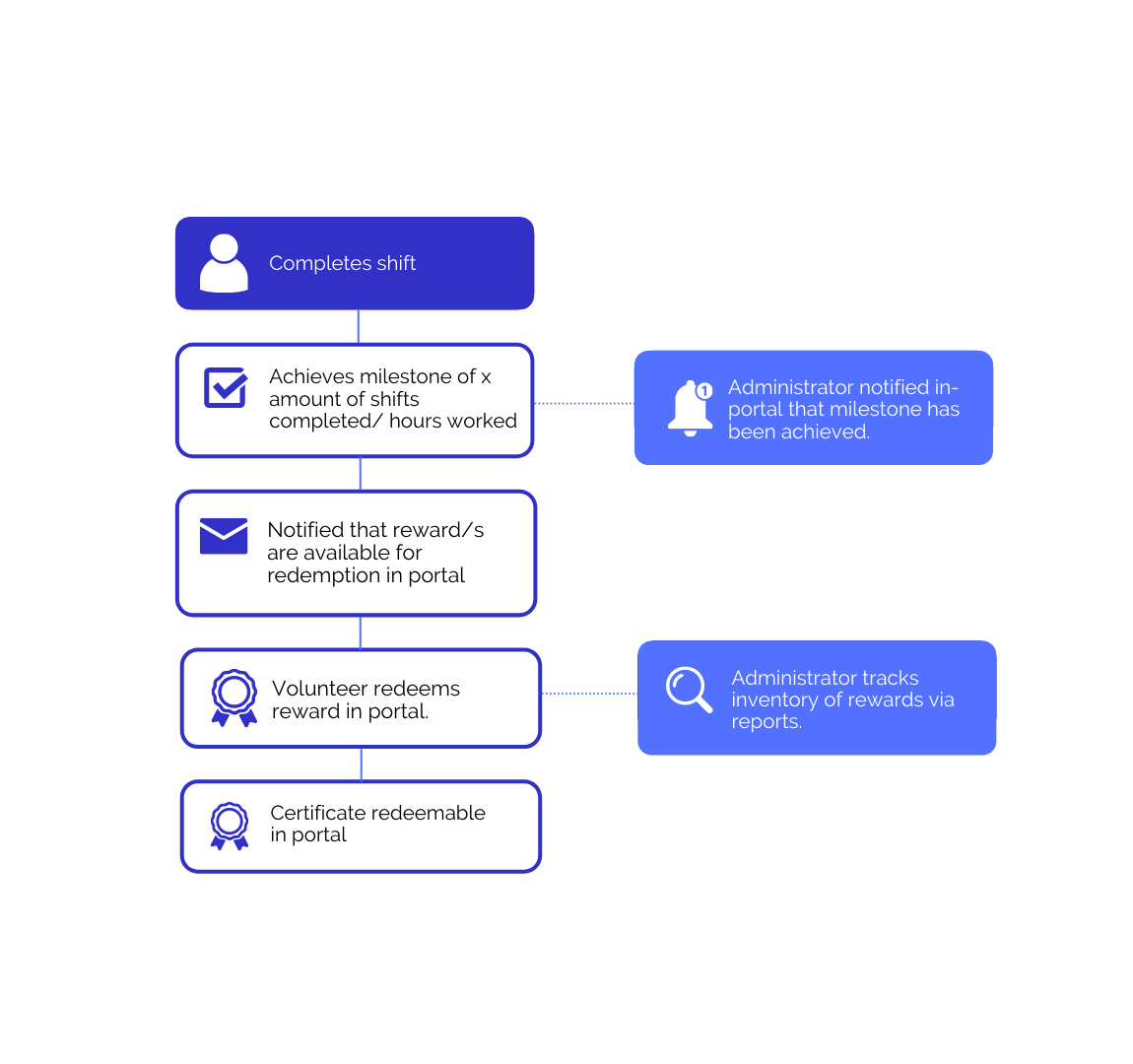 Ready to get started?
Book a demo with our Sales team to better understand how Rosterfy can work for you.