Utilize volunteers to better engage with your community
End to end solution to volunteer man

agement
Replace manual processes with automations
Reward and recognize your volunteers
Create and send personalized communications
Report attendance and attrition with accuracy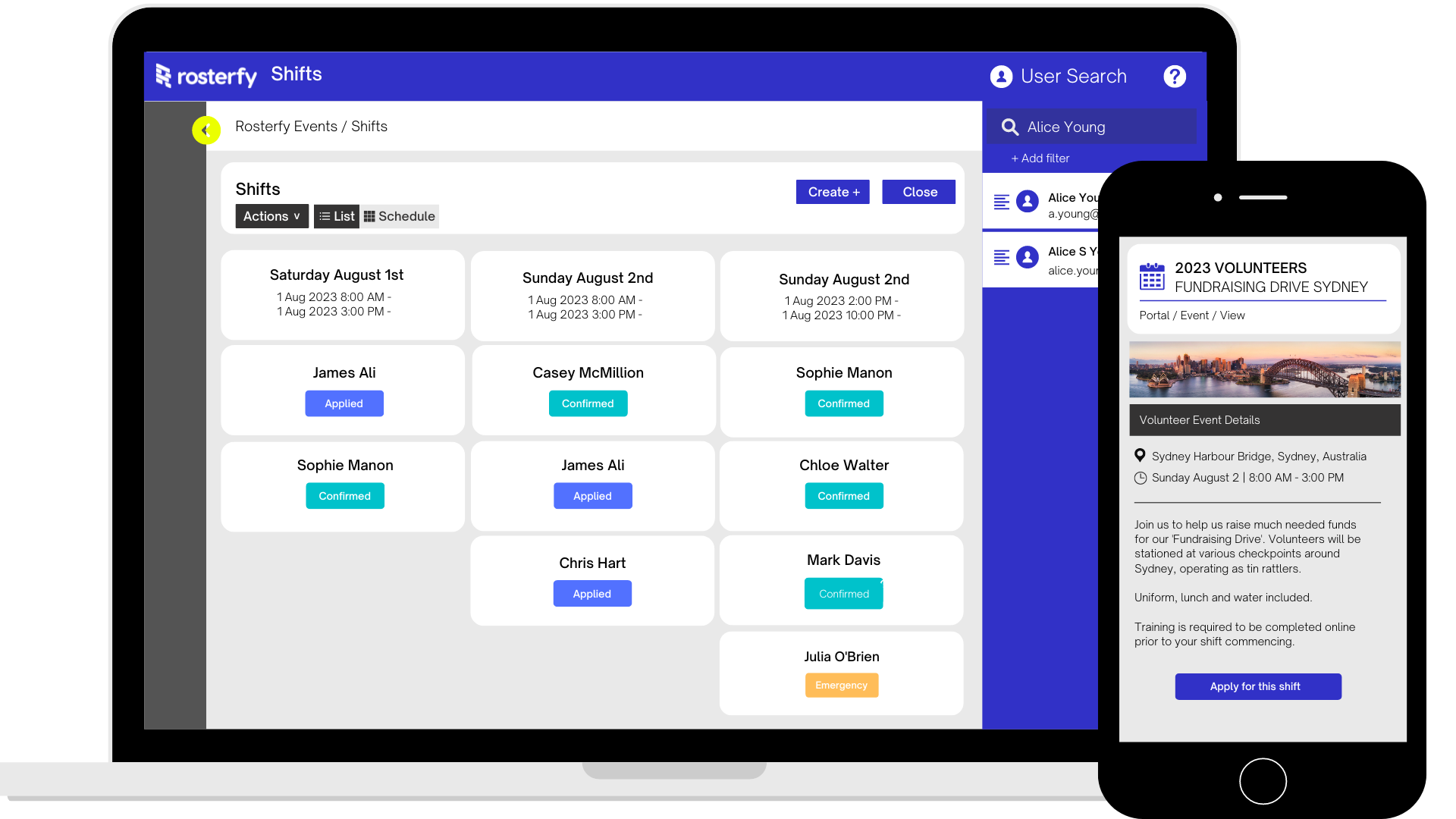 We help professional teams to manage their volunteers
Features for Professional Teams


Simplify complex scheduling
Create schedules for your event using automations to simplify your volunteer management. From recruitment, screening, training & communications, Rosterfy has got you covered.


Create a lasting legacy
Rosterfy provides a unique opportunity for your organization to create a lasting legacy within your community with a centralized system for volunteer opportunities.


Better engage and retain volunteers
Volunteers love Rosterfy's user friendly portals, providing a central platform to apply for shifts, complete training modules and access important communications.


Reward and Recognize volunteers
Show your volunteers you care with Rosterfy's reward and recognition functionality enabling you to give back to your volunteers in exchange for achieving certain milestones.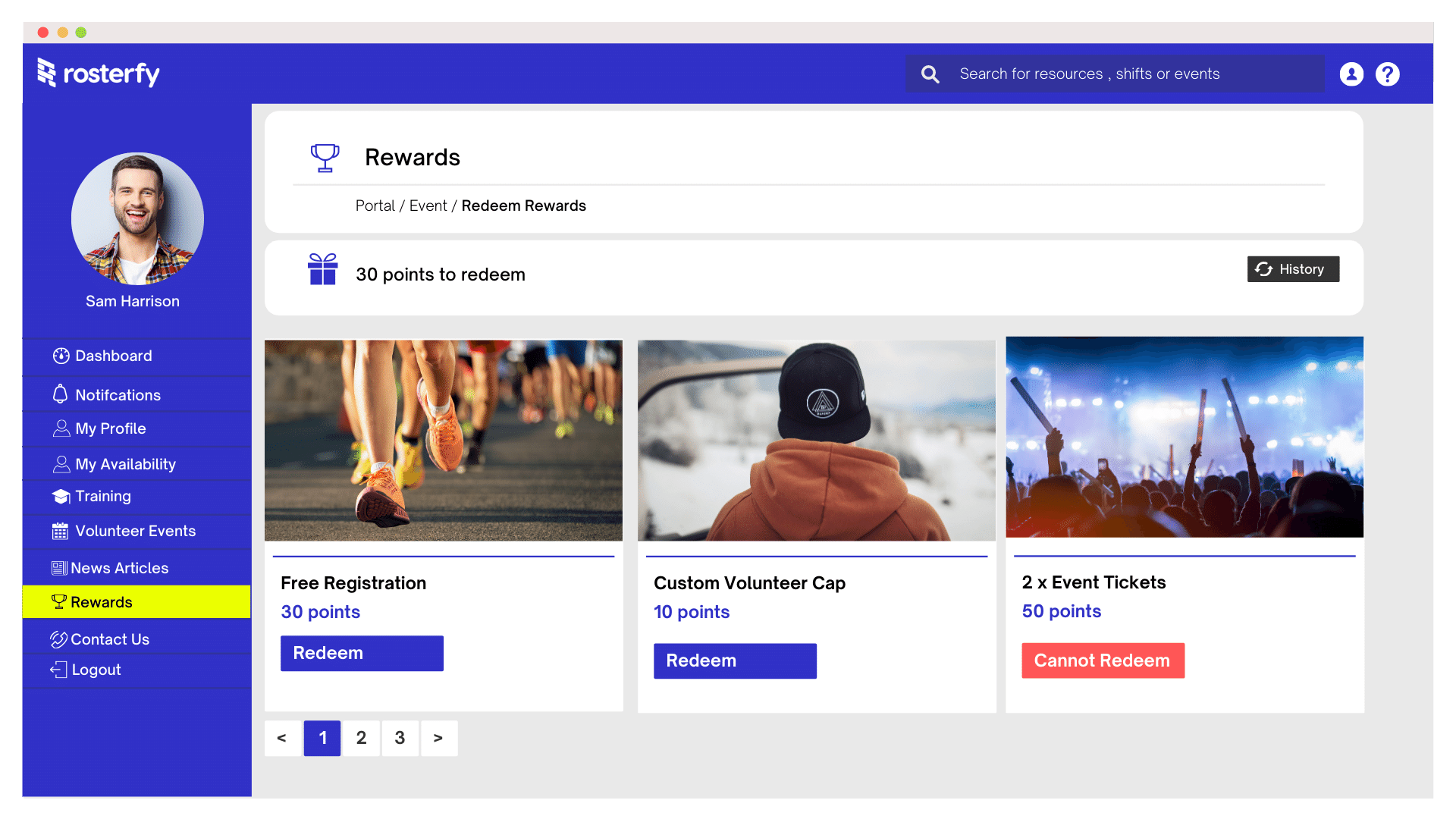 REWARD & RECOGNIZE
Reward and Recognize your volunteers
Rosterfy's unique reward and recognition functionality allows professional teams to incentivise your volunteers with access to memorabilia, discounts and access to events once key milestones or achievements are met.
Volunteers can access rewards via their centralized volunteer portal, providing a great tool to engage with your volunteers.
SCHEDULE
Make complex scheduling simple
Rosterfy's effective scheduling tools help to replace manual processes, allowing professional teams to focus on what's important - like engaging your volunteers. Using Rosterfy's automations functionality, scheduling the right volunteers to suit your needs has never been simpler.
Professional teams use Rosterfy to:
Schedule volunteers across various locations and events
Train volunteers to ensure that they have the skills required to perform at their best
Communicate with their volunteers via automated emails and SMS
Manage check in and out onsite or remotely
Improve reporting and visibility of operations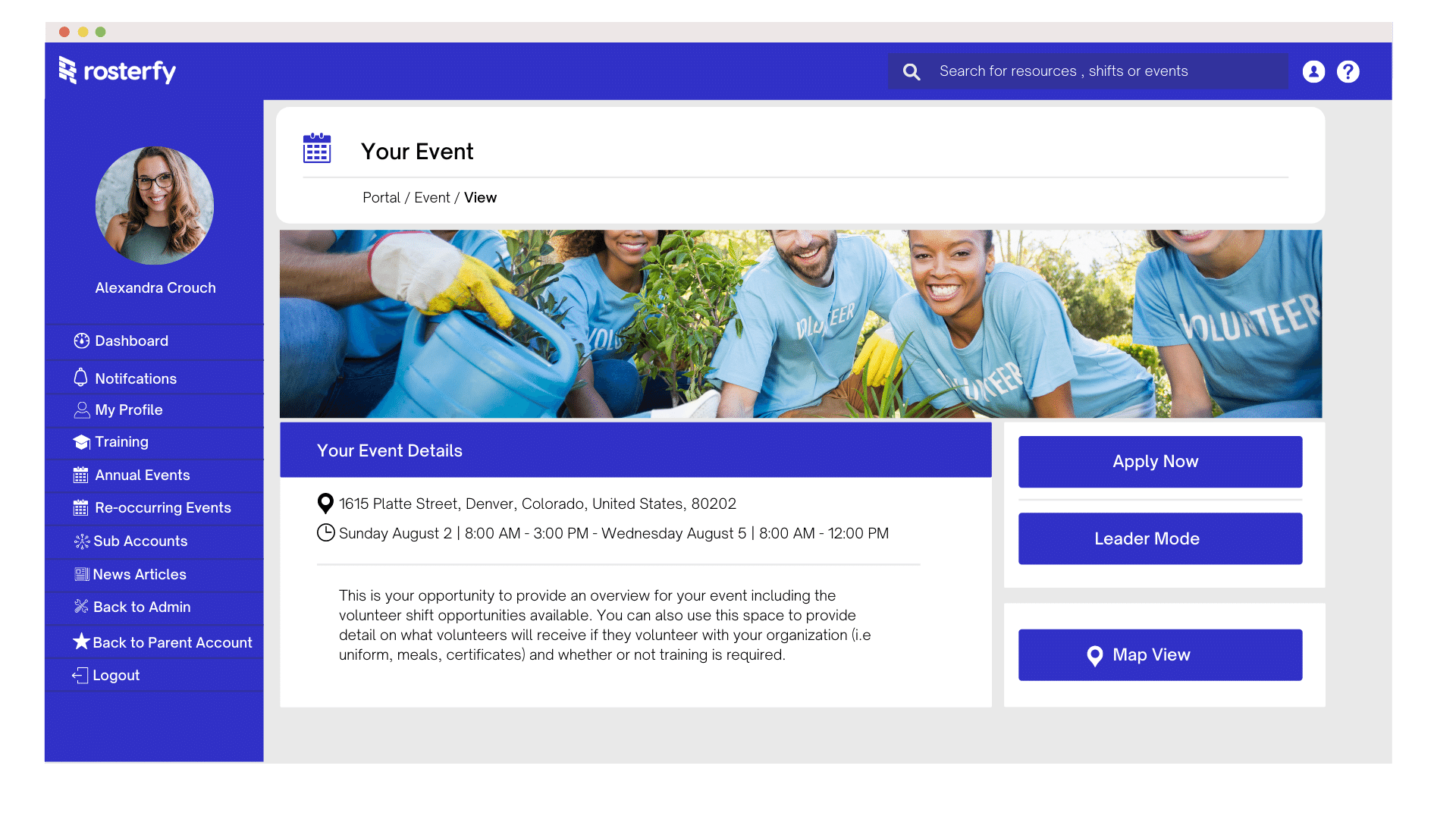 Determine the true value of your volunteers.
Want to learn more about the value of your volunteer management program? Download our free white paper to learn more.
REPORT
Track information in real time
Visually track your volunteer and workforce management program in real time with the ability to create your own custom Dashboard providing an overview of user demographics, status of shifts and training.
Rosterfy also enables you to create and generate custom reports at the click of a button, allowing you and your organization to report clearly and accurately.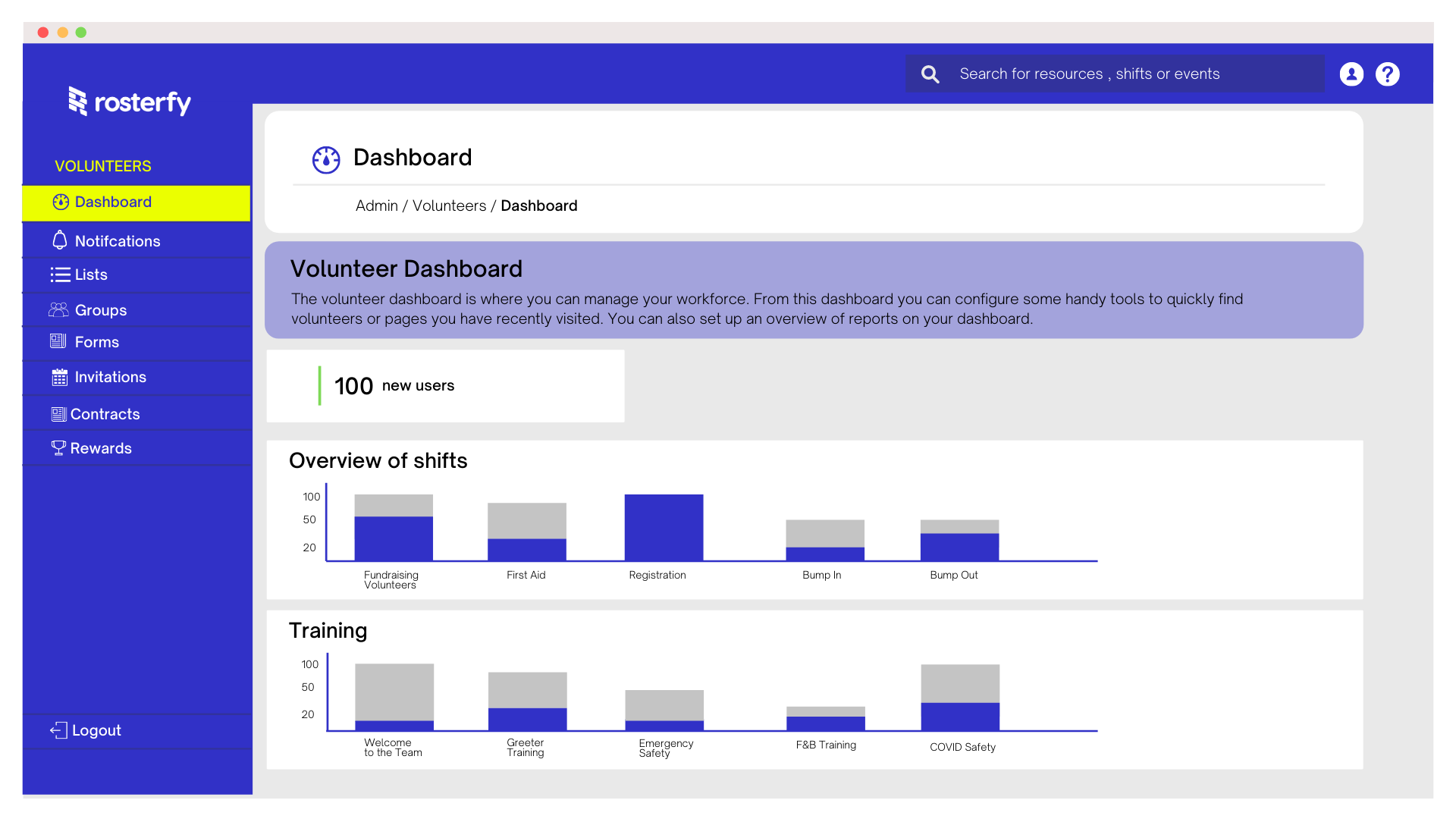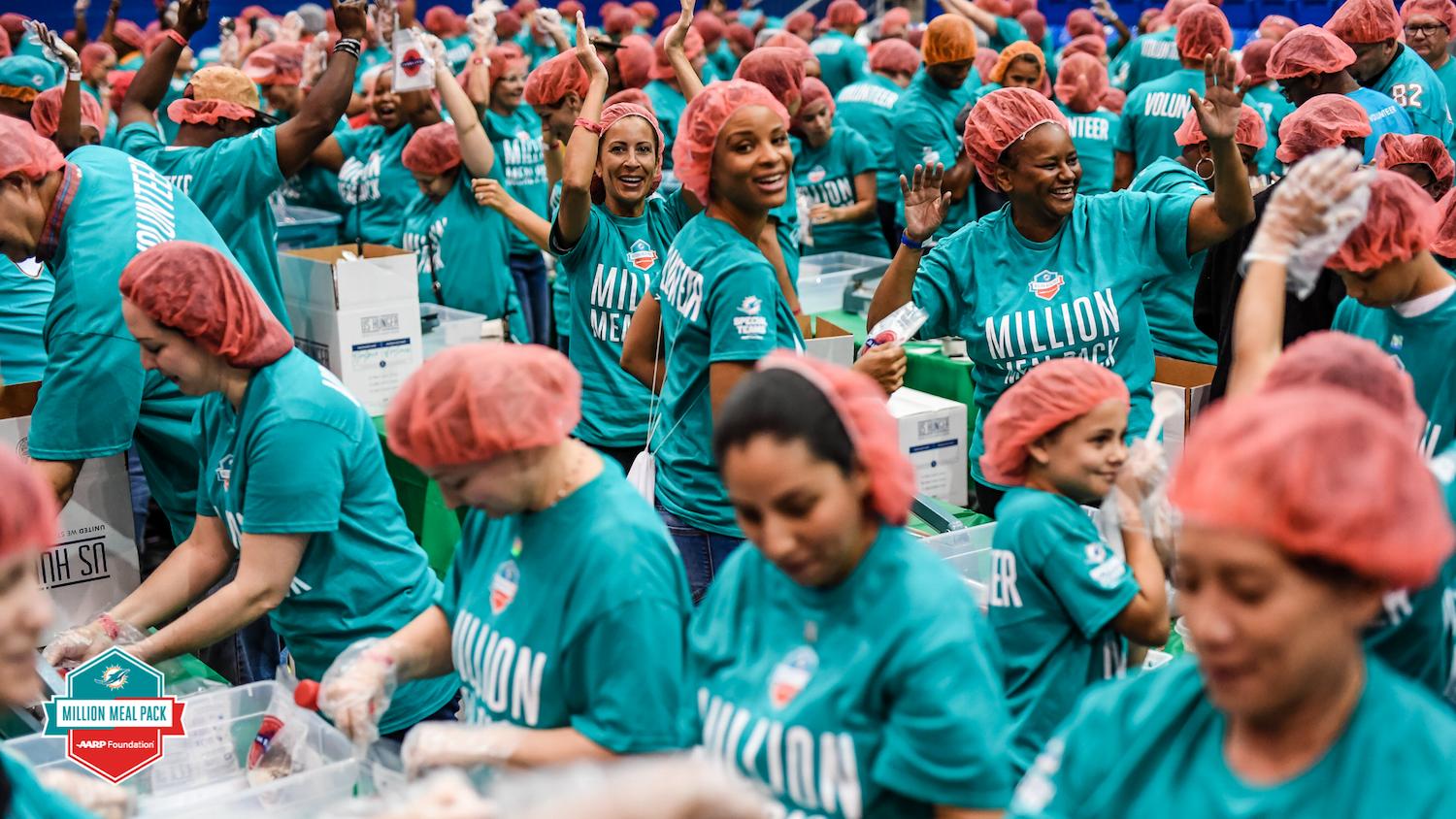 "As we evolve, reliance on digital communications to allow us to engage with our volunteers in the ways in which they want to be communicated is so important - Rosterfy has enabled us to do this."
LESLIE NIXON, SENIOR DIRECTOR, COMMUNITY AFFAIRS, THE MIAMI DOLPHINS