Volunteer Management Software for Events
Replace manual processes with automations
Manage permissions and access across multiple teams, locations and events
Reward and recognize your volunteers
Report attendance and attrition with accuracy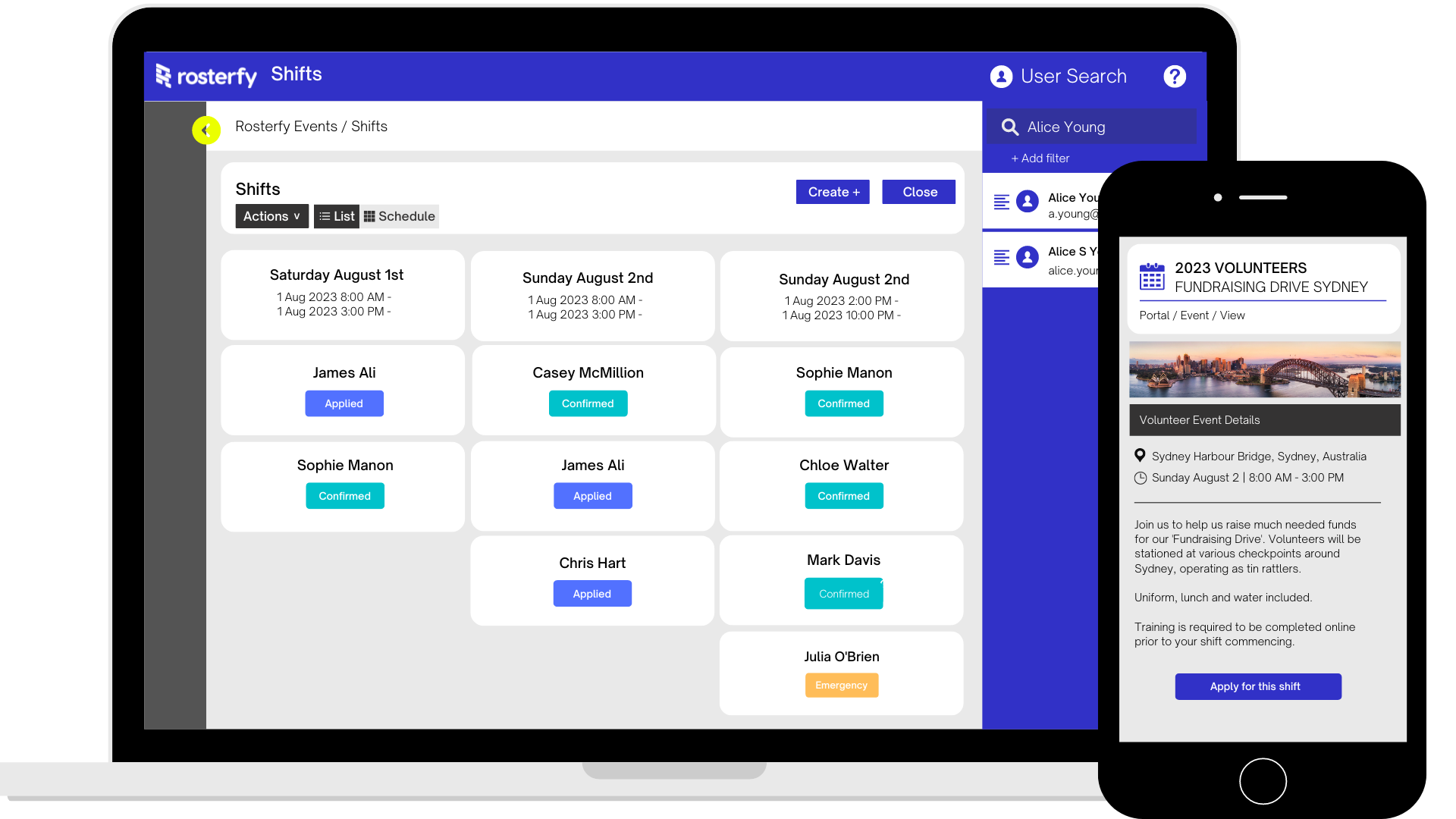 We help large scale and international events to manage their volunteers
Features for Large Scale & International Events


Simplify complex scheduling
Create schedules for your event using automations to simplify your volunteer management. From recruitment, screening, training & communications, Rosterfy has got you covered.


Better engage and retain volunteers
Volunteers love Rosterfy's user friendly portals, providing a central platform to apply for shifts, complete training modules and access important communications.


Effectively manage your team
Manage multiple projects simultaneously with the ability to create sub accounts and delegate permissions as required.


Reward and recognize volunteers
Show your volunteers you care with Rosterfy's reward and recognition functionality enabling you to give back to your volunteers in exchange for achieving certain milestones.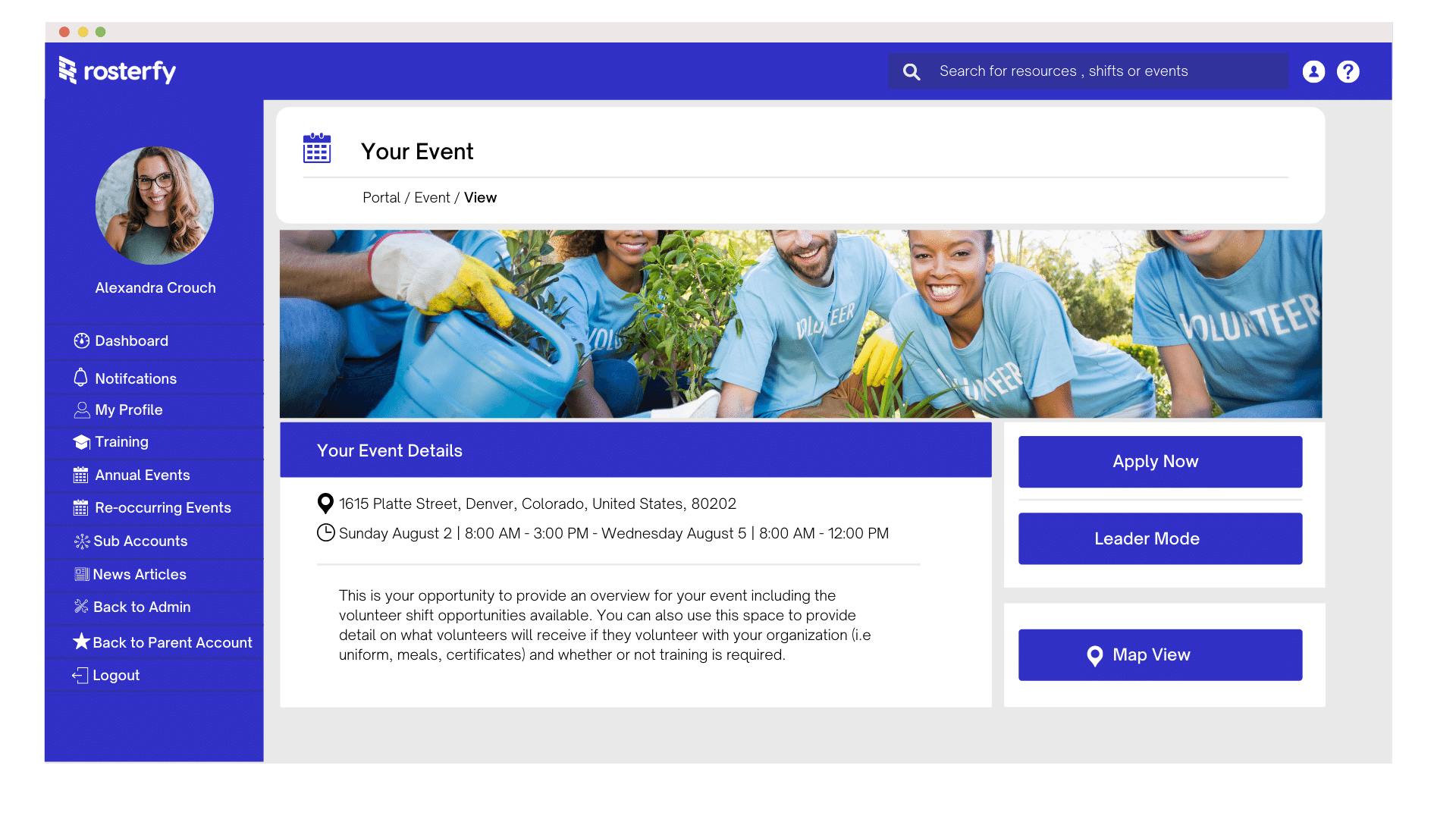 SCHEDULE
Make complex scheduling easy for any event
Rosterfy's effective scheduling tools help to replace manual processes, allowing large scale and international events to focus on what's important - like engaging your volunteers. Using Rosterfy's automations functionality, scheduling the right volunteers to suit your needs has never been simpler.
Large scale and international events use Rosterfy to:
Schedule volunteers across various locations and events
Secure volunteers with specific skills for certain shifts or events
Train volunteers to ensure that volunteers have the skills required to perform at their best
Communicate with their volunteers via automated emails and SMS
Manage check in and out onsite or remotely
Improve reporting and visibility of operations
REPORT
Track information in real time
Visually track your volunteer and workforce management program in real time with the ability to create your own custom Dashboard providing an overview of user demographics, status of shifts and training.
Rosterfy also enables you to create and generate custom reports at the click of a button, allowing you and your organization to report clearly and accurately.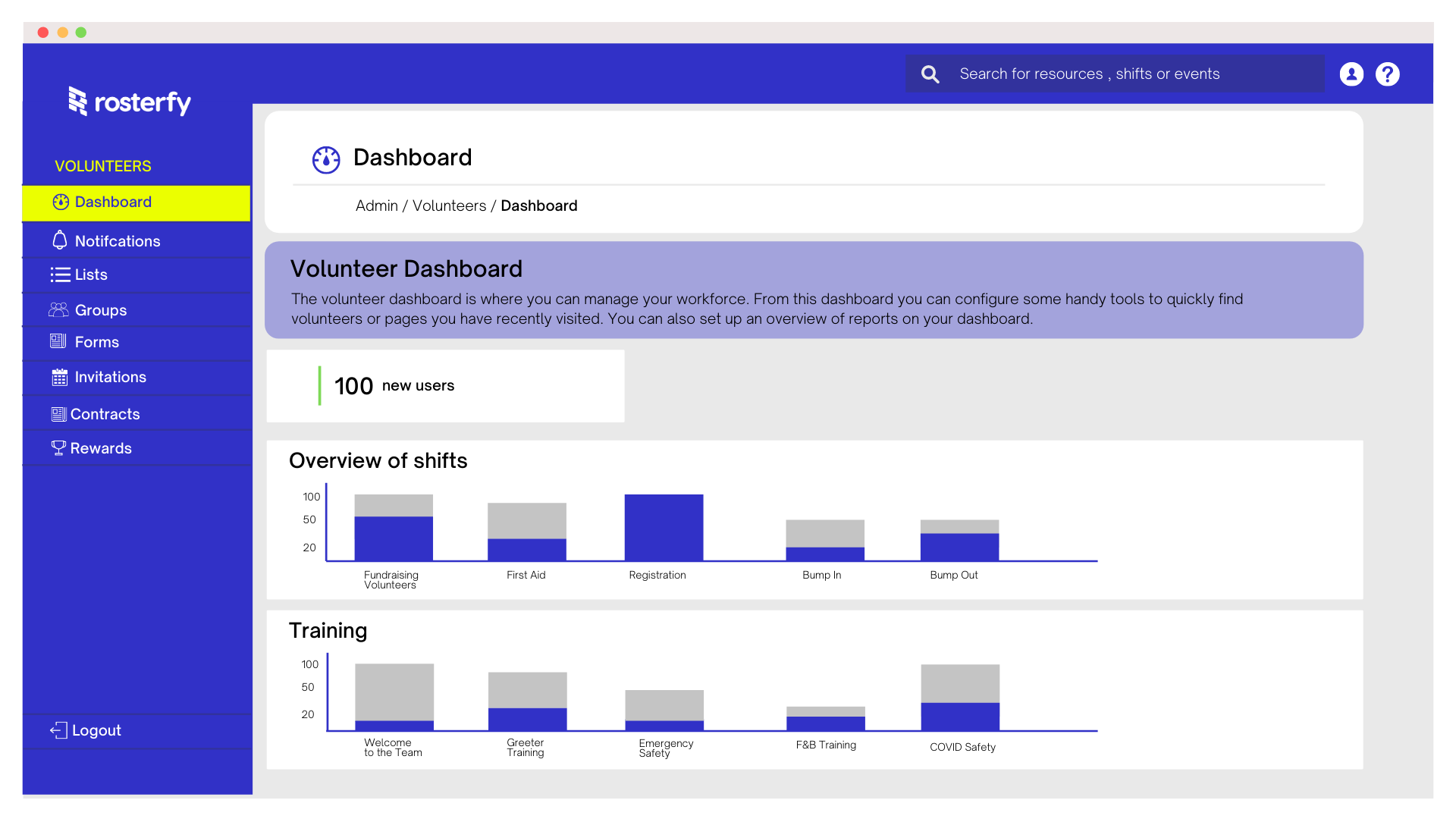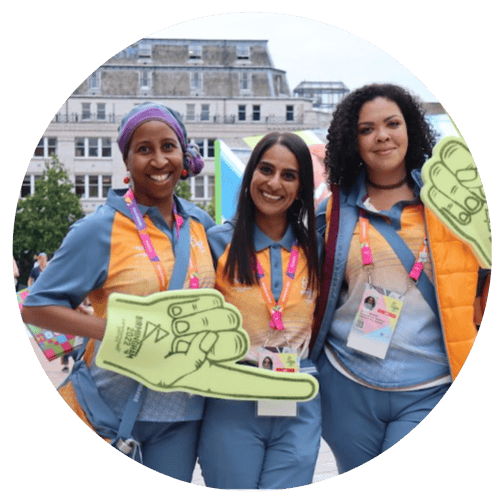 'Best volunteer programme in Commonwealth Games history'
Birmingham 2022 Commonwealth Games was described as the best volunteer program in the Games' history. Take a look at how Rosterfy helped to manage and engage thousands of volunteers to create a lasting legacy within the Birmingham community.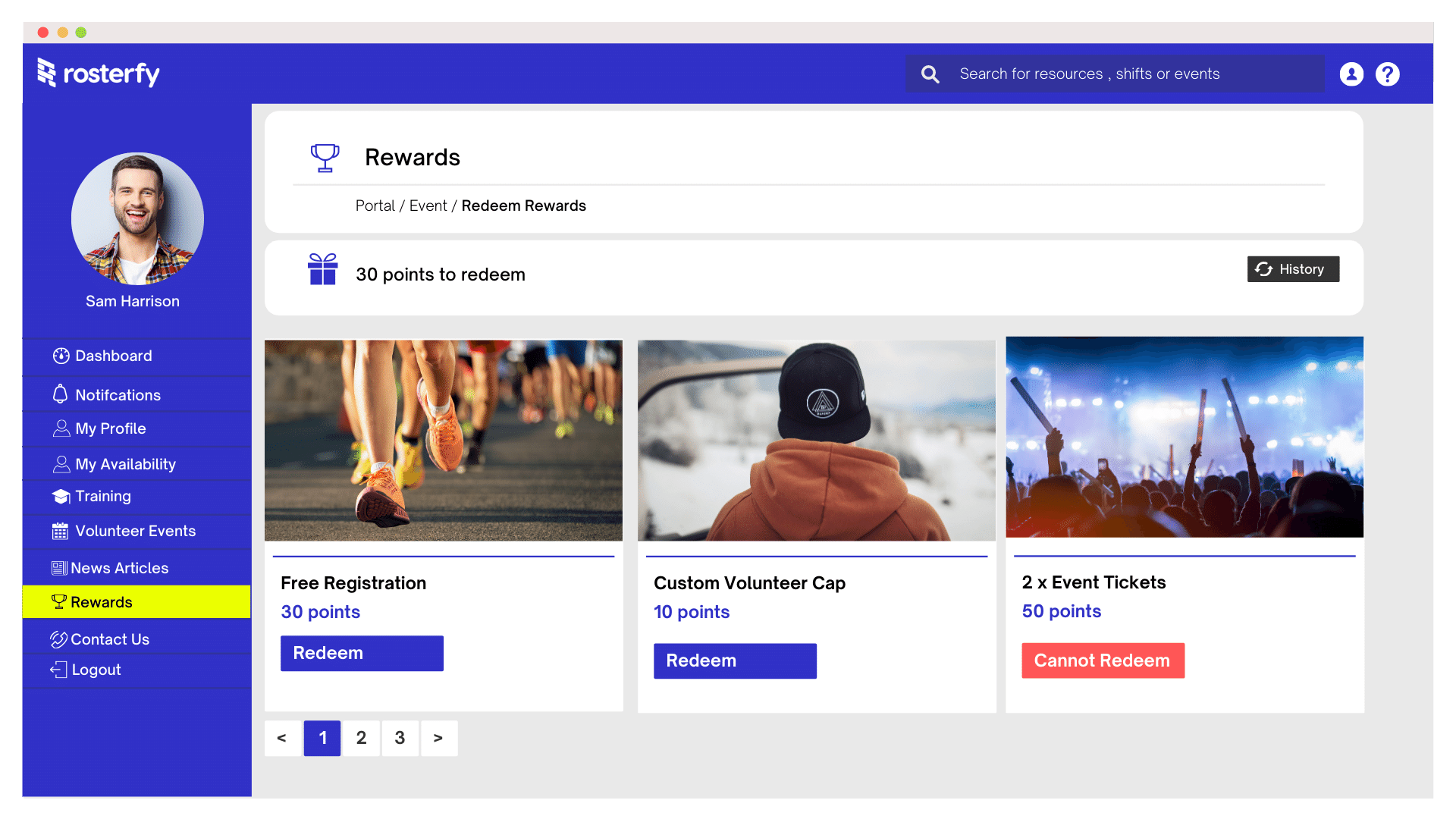 REWARD & RECOGNITION
Reward and Recognize your volunteers
Rosterfy's unique reward and recognition functionality allows nonprofits to incentivise your volunteers with access to memorabilia, discounts and access to events once key milestones or achievements are met. Volunteers can access rewards via their centralized volunteer portal, providing a great tool to engage with your volunteers.
INTEGRATIONS
Connect with your favourite tools
Each and every event is unique and with that comes unique requirements. Rosterfy offers customization and flexibility to ensure that your volunteer management program gets the most out of your experience with additional features including:
Partner integrations including accreditation

Branded Communication and Volunteer Portal customization

Payroll integrations

Advanced automations

Database migrations
Don't see what you need? The team at Rosterfy are committed to enhancing our product and can always explore options for custom development.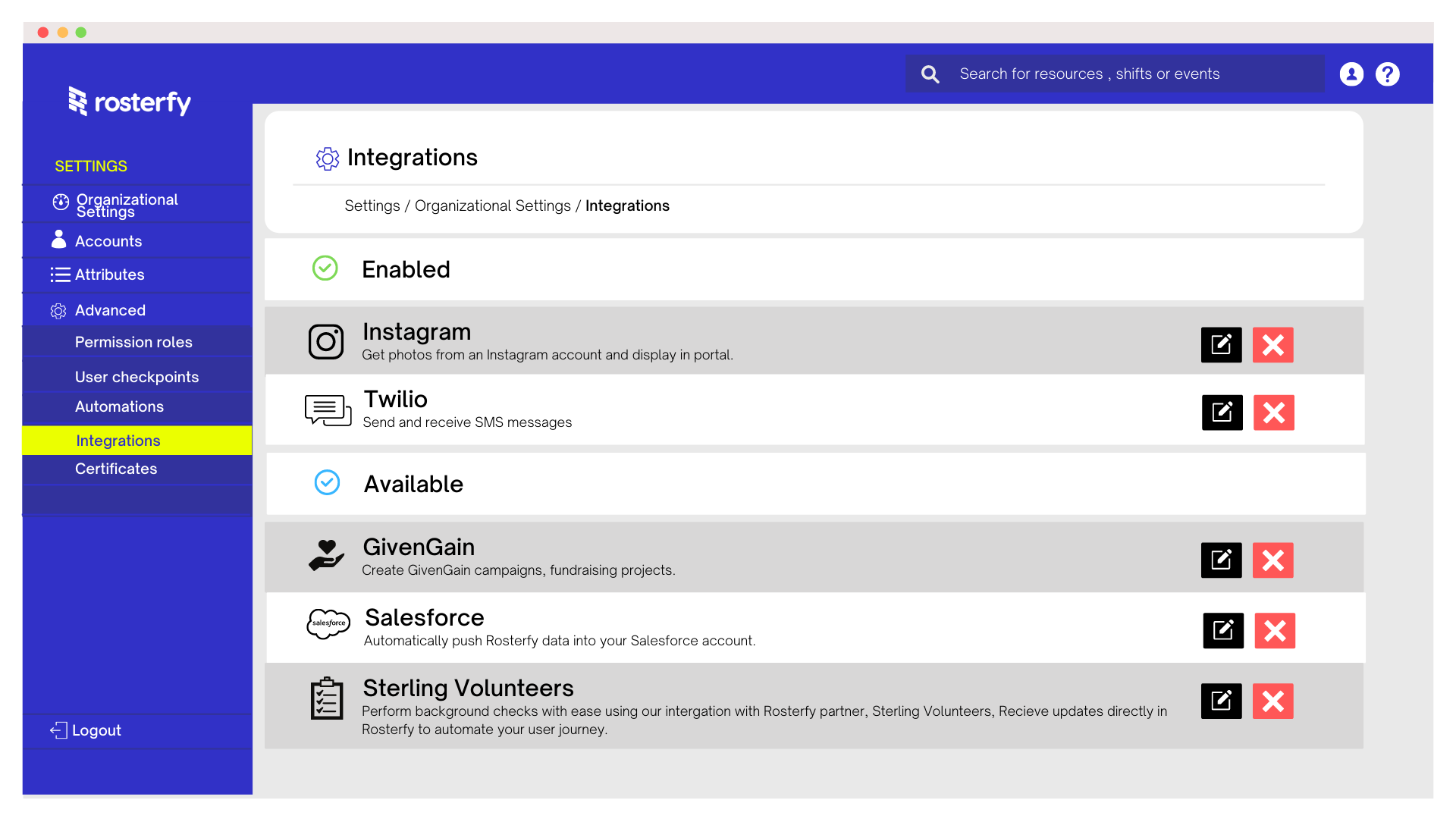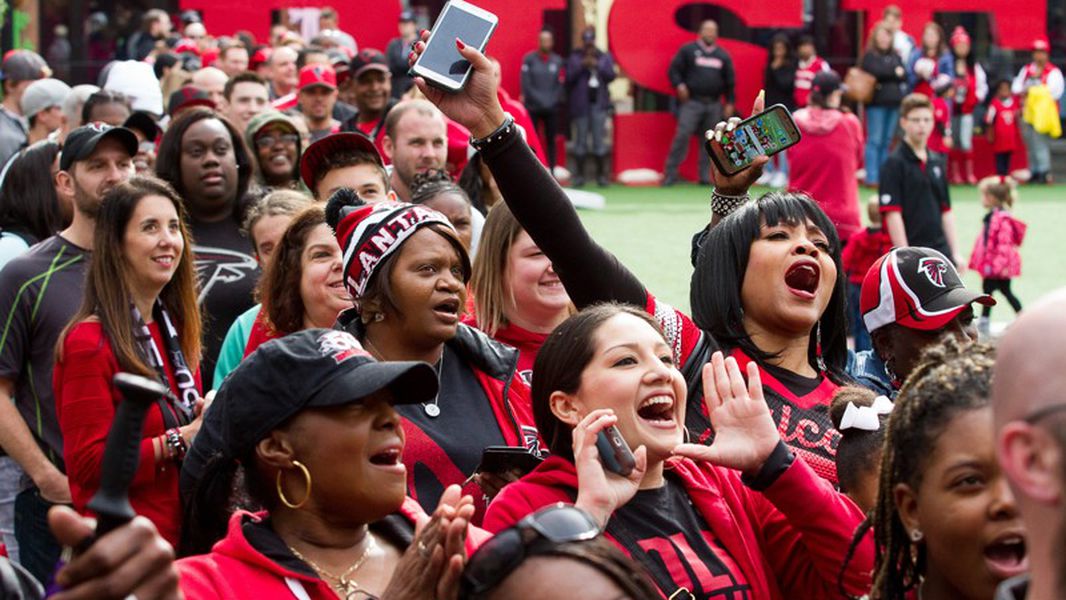 "Rosterfy provides a scalable and tailored platform with no compromise. We have a volunteer workforce of over 10,000 and Rosterfy helps us to consolidate that, through the ability to build out individual portals, which allows them to be able to fully track their experience through the system. I would cry without Rosterfy!"
LEE HENDRICKSON, VICE PRESIDENT COMMUNITY ENGAGEMENT, THE ATLANTA SUPER BOWL HOST COMMITTEE

"One of the best decisions we made was engaging Rosterfy as our volunteer management solution for the ICC Women's T20 World Cup. Operating across six different host cities with multiple venues and roles to fulfill, Rosterfy enabled our small team to confidently execute our workforce management strategy and to engage with our volunteers in meaningful ways. From recruitment and screening right through to scheduling, communication and onsite reporting, Rosterfy was a fantastic asset from start to finish."
MATT CULLEN, VOLUNTEER PROGRAM, ICC T20 WORLD CUP 2020 LOCAL ORGANIZING COMMITTEE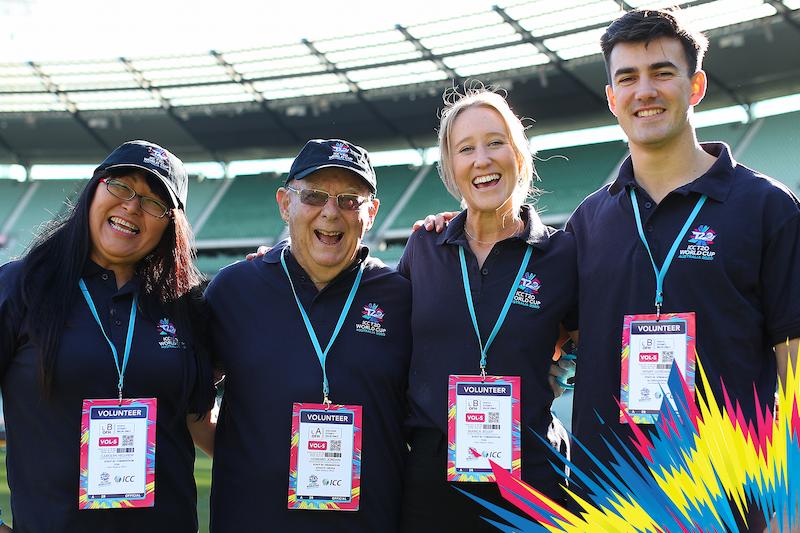 Large Scale & International Events FAQs
How much does Rosterfy cost?
Rosterfy have a number of Pricing options, depend on the size and scale of your requirements. Please check out our Pricing Page for more information.
Is there a maximim number of volunteers that can be used in my Rosterfy account?
The number of volunteers is dependent on which Rosterfy package you select. Please check out our Pricing Page for more information.
How many administrators can I have using my account?
The number of administrators who have access to your account is dependent on which Rosterfy package you select. Please check out our Pricing Page for more information.
Does Rosterfy enable background checks?
Yes we do! We have a seamless integration with Sterling Volunteers, which enables organizations to run background checks on your volunteers and/or paid staff. Learn more about our Integrations here.
Where will my data be stored?
All data is stored securely on Amazon Web Servers (AWS) in the USA
Does Rosterfy utilize my data in any other way?
Rosterfy don't use your volunteer data or communicate with the in any way.
Can Rosterfy facilitate check in and check out?
Rosterfy has a number of on site check in options including self check in, check in desk and kiosk view. You can also allow your volunteer leaders to check in their team for you.
What training and support does Rosterfy provide for administrators?
Rosterfy provides comprehensive training and onboarding for all new clients along with on-going support via our Zendesk site and Rosterfy Resource Hub.
Do you integrate with any external platforms (CRM etc)?
Rosterfy integrates with a number of platforms. To view our extensive integration options, please visit our integrations page. If you need a specific integration then this is also an option with POA.
Can Rosterfy keep track of where each of my volunteers are from?
Rosterfy's unique Group Manager feature allows you to keep track of where volunteers are registering from, enabling you to customize forms, trainings and communications specific to that group.
Does Rosterfy allow for training modules to be implemented?
Yes, Rosterfy has inbuilt training modules, which depending on your package can integrate with existing solutions.
Can I interview volunteers using Rosterfy?
Yes! Rosterfy has an inbuilt online interview platform, which can be used to interview and help screen volunteers during recruitment.