Below are a list of frequently asked questions regarding the Rosterfy App!
Please note
Rosterfy is currently in its Beta stage ahead of a full launch. We're currently giving it a fine-tune to provide you with the best volunteering experience possible.
How do I login?
To access the Rosterfy app, you will first need to create a Rosterfy Community account.
Note - you cannot login using your existing Rosterfy login credentials.
You can do this by;
- Entering an email to receive a verification code (If you have registered with Rosterfy previously, you should use the email you used to create this account)

Or use a social login:
- Google
- Facebook
The Rosterfy app is passwordless, meaning you don't need to remember another password.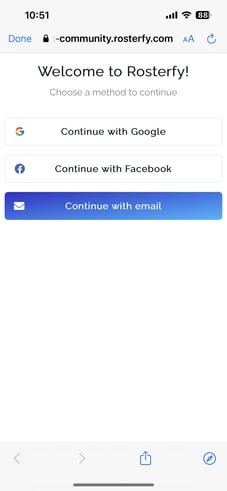 I've registered, but I can't see any of my organisations/accounts in the App
It's possible you have registered with a different email. Your options include;
- Contact the organisation and have them update your email
- Make sure you create your Rosterfy Community account with the same email you used to register with an organisation
How do I delete my Rosterfy Community account?
To delete your Rosterfy Community account, click on the

menu and then view account.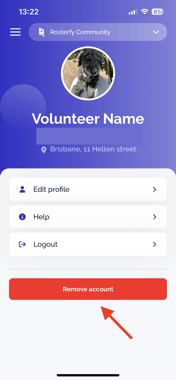 Note - this will remove your access to the Rosterfy app.
This will not remove your affiliation with organisations directly. To remove yourself from an organisation, repeat the steps above by switching to the organisation view first.