You can generate a report to track completed training, check your workforce details or view event signups?
There are the below report types that can be generated:
All Users - All user attribute responses
All Events - All Event attributes and details around the Event
All Event Shifts - All Event Shift attributes including Post Event Feedback
All Event Shifts Users - All Event shift user attributes. responses and user status
All Role Offers - All created Role Offer, Role offer count overview and user status
All Role Offers Users - All Role Offer User attribute responses and user status
All Inventory Item - All created Items, item quantity overview and user status
All Inventory Item Users - All Items with users
All Email recipients- All email recipients
All Event Users- All Users that are on an Event
Training Report- details surrounding training modules
Training User Report- Training details, training User details (score, completed etc) and User attributes
Report Listing

The Report Listing page allows you to create, edit and view your recently downloaded reports. If you need to regularly download the same report template, simply click regenerate (highlighted in red below) next to the report to update the information and then download.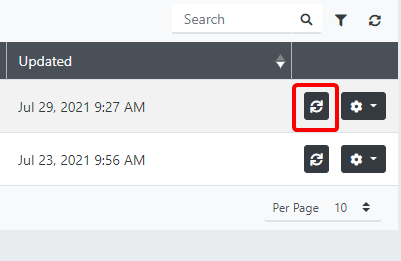 Similarly, you can duplicate a report and make further updates to create an additional template by clicking the settings wheel to open the drop down.

You should check out the help article: How do I create a report?