Volunteer Onboarding Software
Ensure your workforce are compliant through comprehensive inductions, onboarding and interviews.
Optimised recruitment
Rosterfy software can automate your volunteer onboarding to ensure that volunteers and staff are thoroughly inducted, interviewed and screened to comply with your needs via one centralised system.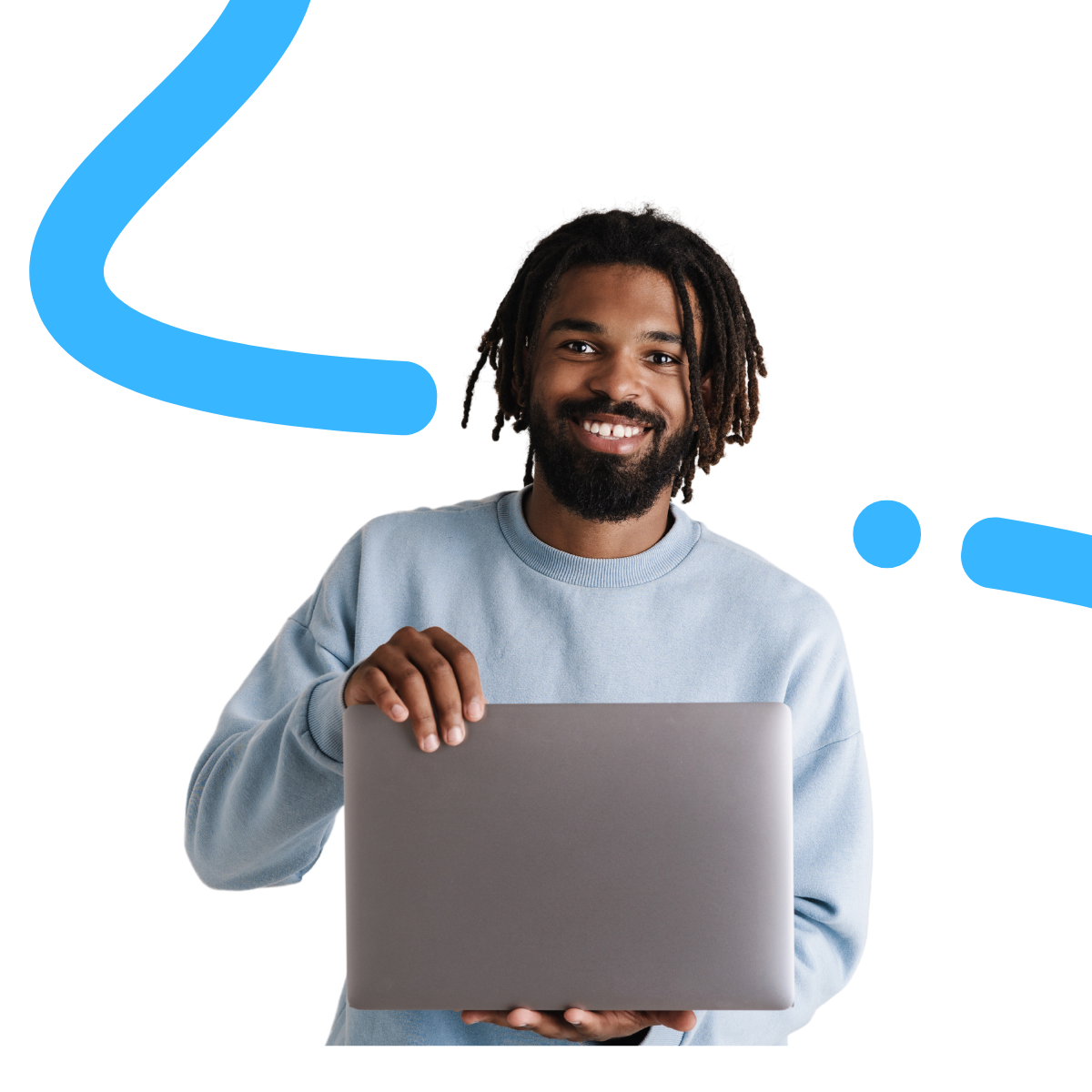 Work smarter not harder
Eliminate manual processes and facilitate a straightforward onboarding process that can boost volunteer engagement and retention, whilst ensuring compliance for your organisation.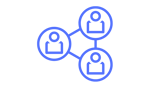 Segmentation
Categorise volunteers for a cohesive onboarding experience.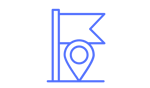 Rule based checkpoints
Ensure each new volunteer meets your standard for compliance.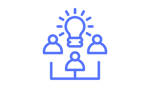 Training modules
Implement skills-based volunteering to cultivate a focused team.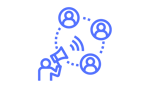 Onboarding tracking
Enhance the volunteer experience with push notifications via SMS, email and video.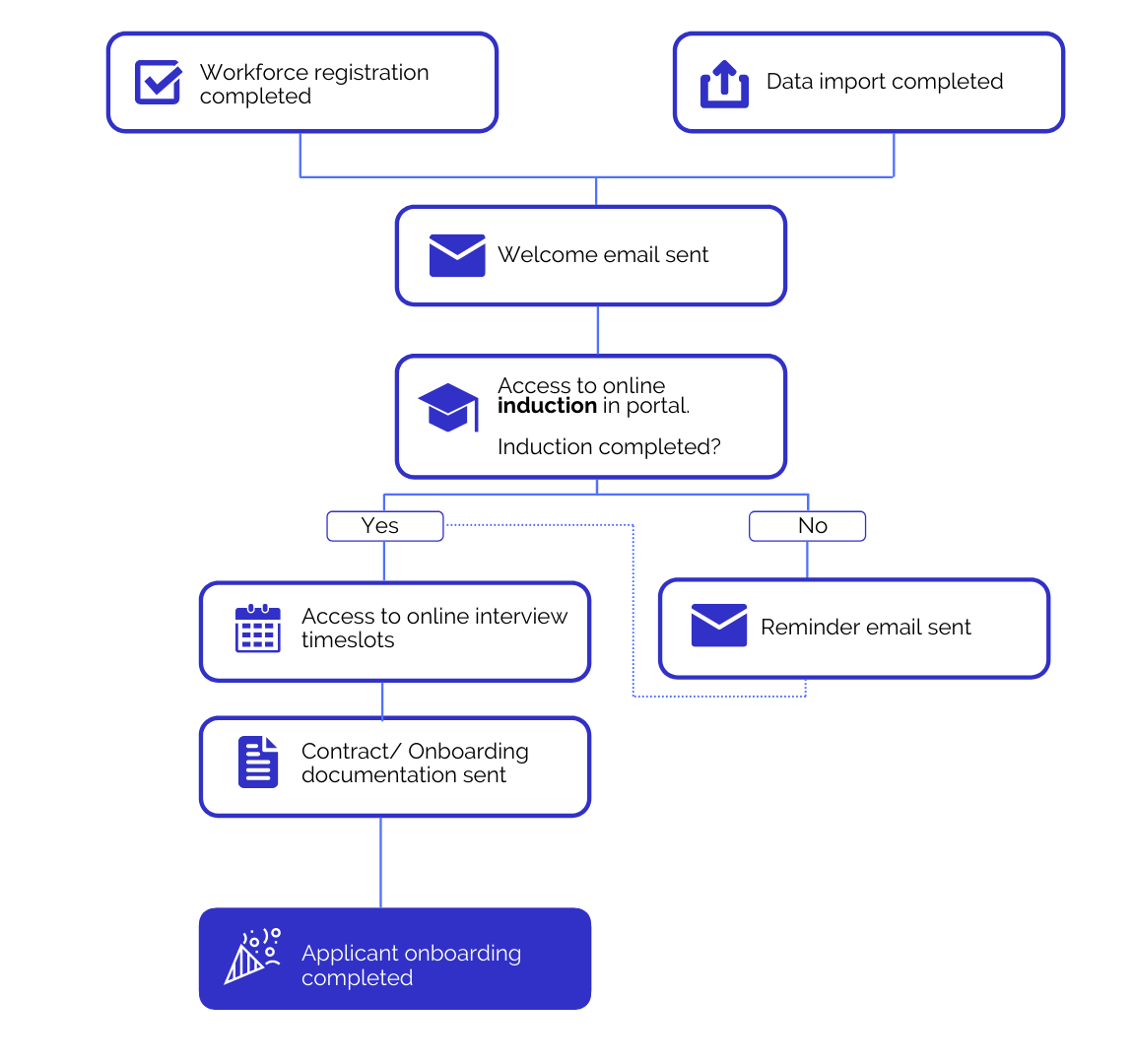 Feel confident knowing your volunteers are compliant
Utilise Rosterfy's in-built automation functionality which uses rule-based checkpoints that allow you to automatically progress volunteers once key criteria are met.
Automations can include:
Inductions
Interview Invitation & Scheduling
Volunteer Communication
Contract Personalisation & Signing
Training
More skills, bigger impact
Looking for volunteers who are committed and engaged? Training and inductions engage with your volunteers, whilst preparing them with the necessary skills and knowledge to perform at their best.
Create custom quizzes with multiple-choice options that can include images, videos and PDFs through the Rosterfy volunteer management system that ensures volunteer shift compatibility, preparation and compliance.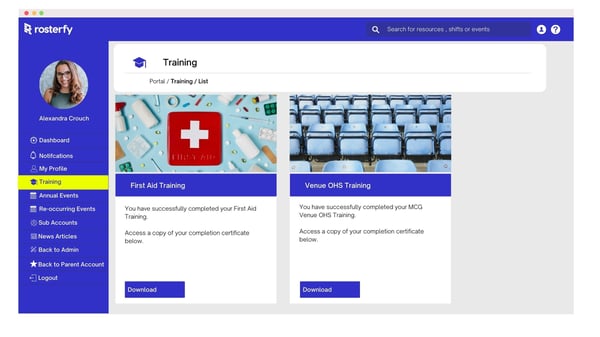 Keen to learn more?
Book a demo with our Sales team to better understand how Rosterfy can work for you.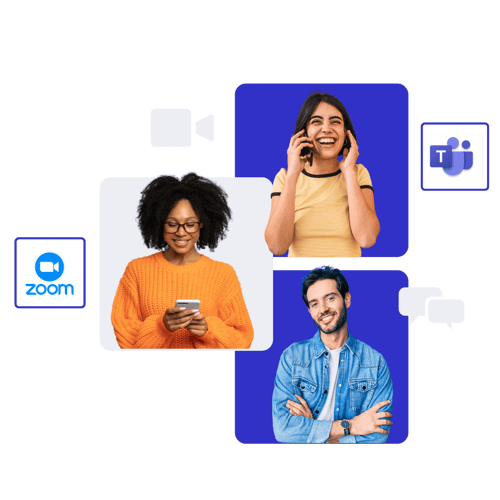 The right volunteer for the right role
Rosterfy's extensive screening features integrate with your favourite video conferencing tools, including Zoom and Microsoft Teams, so you can interview and connect with your workforce with the click of a volunteer scheduling button.
Signed and delivered
Rosterfy offers a built-in signature feature tool.
You can also use your existing software like Adobe Sign or DocuSign with simple integrations to allow your workforce to sign their contract without ever leaving their portal.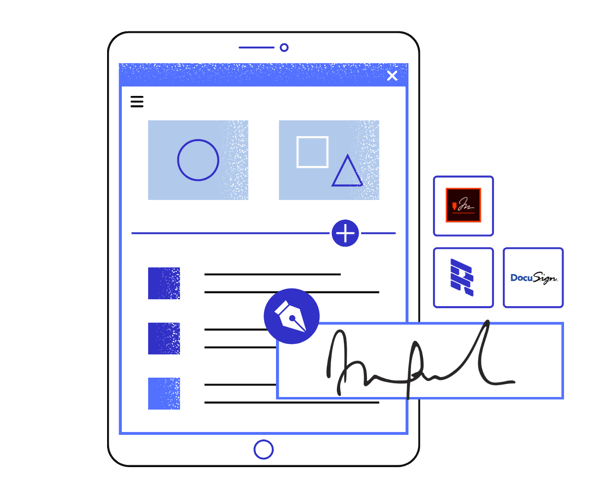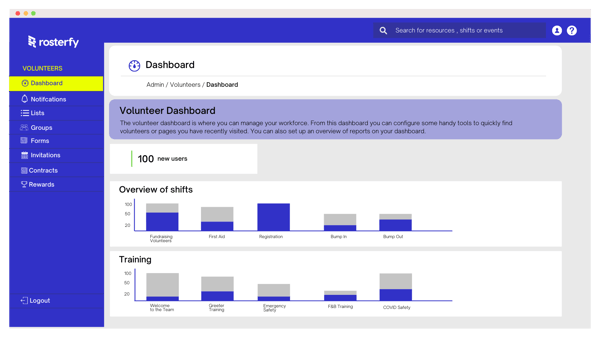 The reporting hack you always wanted
Bring every volunteer up to speed at the same time with live volunteer activity dashboards. Here, you can check on which individuals have completed their training and inductions and who have not.
You can send push notifications to their preferred method of communication and track their progress in real-time.
Bring volunteer management to life
You should only need one software solution to motivate and engage your volunteers.
No matter the size or type of organisation you have, Rosterfy can accommodate:
Enterprises
Charities & nonprofits
Cities & local governments
Event suppliers & contractors
Sports teams & federations
Higher education, universities & colleges
Arts, festivals & cultural events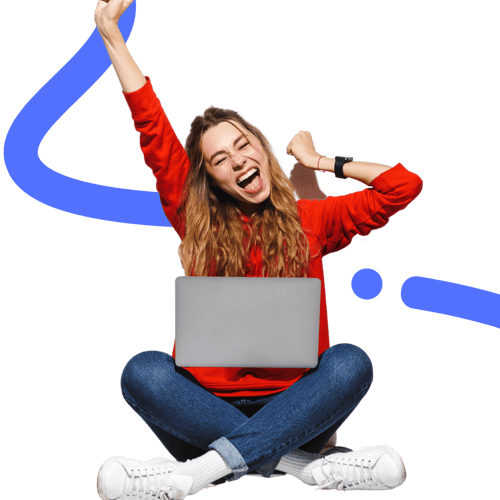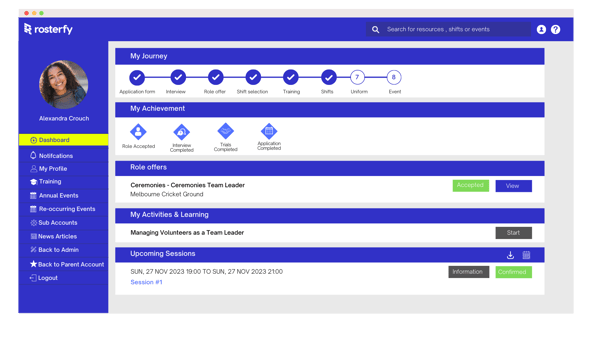 Equip your volunteers with the tools they need to succeed
With the Rosterfy volunteer management solution, you can collect volunteer data, build a volunteer profile and improve volunteer engagement all within a single platform.
With our software, you get:
Easy scheduling: Drag and drop eligible volunteers and assign them to shifts all on your dashboard.
Recruitment: Check on new recruits to your volunteer program and activate the onboarding process.
Background checks: We integrate with your existing software like ADP so volunteer recruitment can function all on one platform.
Onboarding processes: Customise your Rosterfy software to fit the needs of your volunteer recruitment strategy.
Learning modules: Onboard every volunteer with ease so when they show up on-site, they're ready and informed about the processes, policies and requirements.
Customer feedback and FAQs
Can you interview volunteers and staff using Rosterfy?
Yes! Rosterfy integrates with a number of services including Zoom and Microsoft Teams to facilitate online interviews.
Can I create my own custom training and inductions using Rosterfy including videos, images and quizzes?
Yes. Rosterfy allows you to create your own training and induction models to ensure that you get the most out of your volunteers. Create quizzes including multiple choice and add your own videos, images and branding to make training engaging and reflective of your brand.
Can Rosterfy allow for onboarding contracts?
Yes. Rosterfy allows you to send contracts to successful applicants where volunteers and staff can sign these digitally via a number of our integration tools.
Is there a maximum number of training and induction modules I can create?
You can create as many training and induction modules as you need within Rosterfy, with no limitations.
Can you automatically progress volunteers through inductions, interviews and training?
Yes. Rosterfy's automations functionality allows you to set up checkpoints, which progresses applicants through once milestones are achieved.
Can I report on completed inductions and trainings?
Yes. You can configure your dashboard to report on completed inductions, trainings and successful applicants. Learn more about reporting
here
.
What is volunteer management software?
If you're looking for a way to streamline managing volunteers, Rosterfy offers you all-in-one volunteer management software. Volunteer management software powered by Rosterfy allows you to conduct background checks, automate application screening, schedule based on availability, interest and location, and do so much more. You can build out the platform based on integrations you already have or via the modules already available on our platform. This software gives you a single source of truth for the entire volunteer journey, from volunteer hour tracking to productivity to program success.
Can you interview volunteers and staff using Rosterfy?
Our software allows your potential volunteer applicants to schedule interviews whenever you have availability right from the platform. The software integrates with Zoom, Microsoft Teams and other video conferencing platforms.
Which types of organisations use volunteer management strategies?
Any mission-driven organisation uses volunteer management strategies. If you are trying to organise any sized team, management software backed with a plan is vital to success. Starting with your mission statement first and working with this in mind can help you navigate how to build out your management approach. Rosterfy software can support each step of the process.
Will the solution enable us to create volunteer profiles and segment data?
Our flexible tracking and reporting allow you to create and download reports for customised views of your volunteer information. From shifts and states to availability and preferences, you can organise your volunteers based on any quality. For remote teams, this is helpful to find previous volunteers that meet the specific geographical needs of the opportunity.
You can also track performance and shift hour times to ensure that the scheduled volunteers have shown up on time and fulfilled their responsibilities. When shift leaders and your volunteer manager write reviews of each volunteer's performance, you can segment stand-out individuals and prioritise them for the next volunteer opportunity — always focusing on optimising the volunteer impact on each project.
Want to see Rosterfy in action?
Get in touch with our sales team to request a demo.
"Incredible software - Efficient and effective"
"We use Rosterfy on a daily basis and it makes our job 100x easier and more efficient. Rosterfy is easy to navigate and extremely clear on what features it provides in the navigation menu. The support you receive from Rosterfy is one of the best I have received when submitting a request for improvement - they always reply within 24 hours (usually much sooner)."
ANNIE T, DIRECTOR OF VOLUNTEERS