A simple and intelligent volunteer management solution
Replace manual processes with automations
Make it your own with custom branding
Create engaging experiences for your volunteers
Facilitate check in from various locations
Report attendance and attrition with accuracy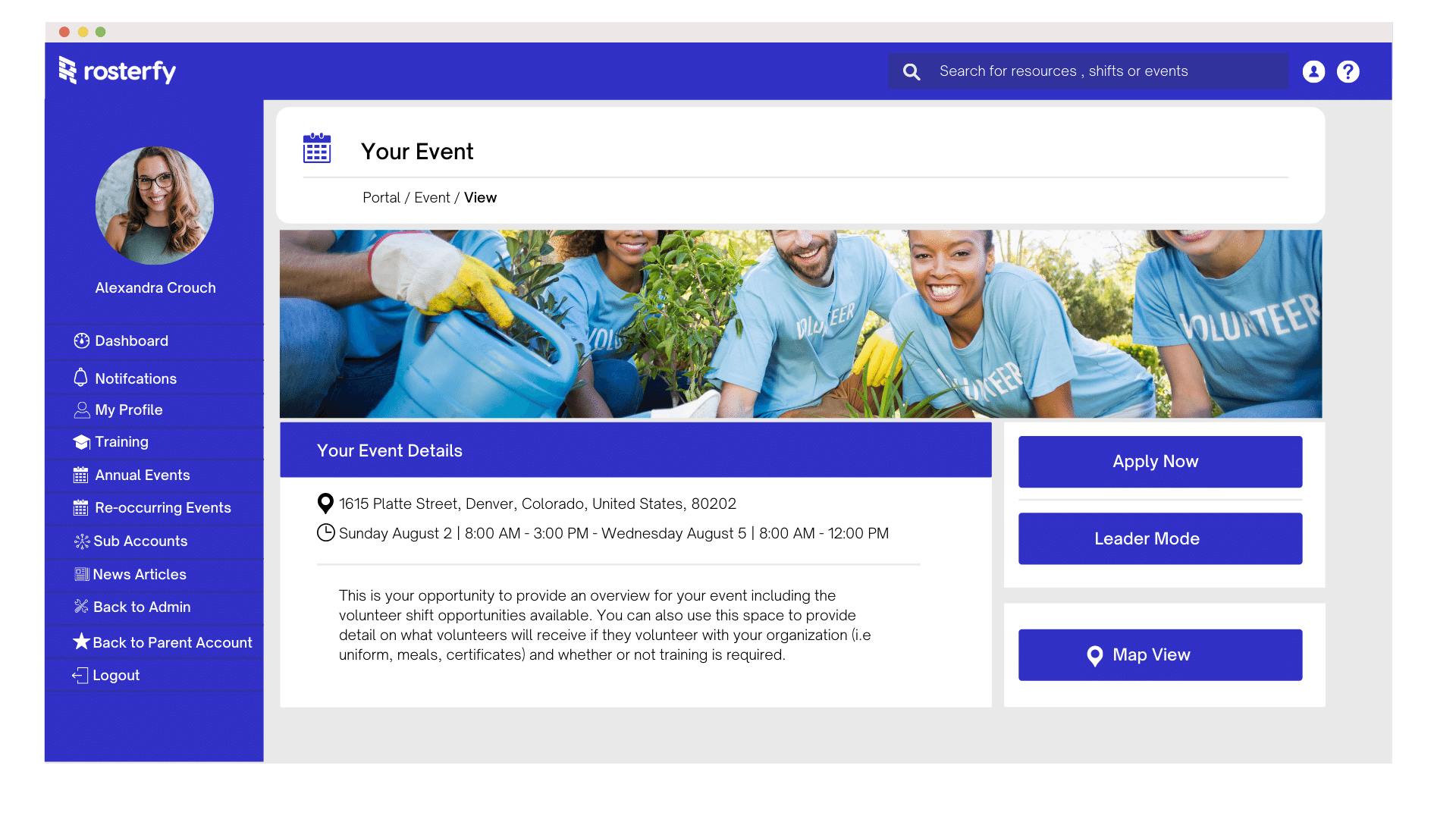 We help arts, fesitivals and cultural events manage their staff and volunteers
Features for Arts, Festivals & Culture Events


Recruit the right volunteers
Create custom registration forms that allow you to segment and select the right volunteers for shifts, daily needs or events to ensure that you get the most out of your program.


Simplify complex scheduling
Create schedules for your event using automations to simplify your volunteer management. From recruitment, screening, training & communications, streamline your end to end management.


Better engage and retain volunteers
Volunteers love Rosterfy's user friendly portals, providing a central platform to apply for shifts, complete training modules and access important communications.


Check in your volunteers with ease
Utilize Rosterfy to facilitate simple check in & out onsite or remotely from multiple locations via mobile or QR codes.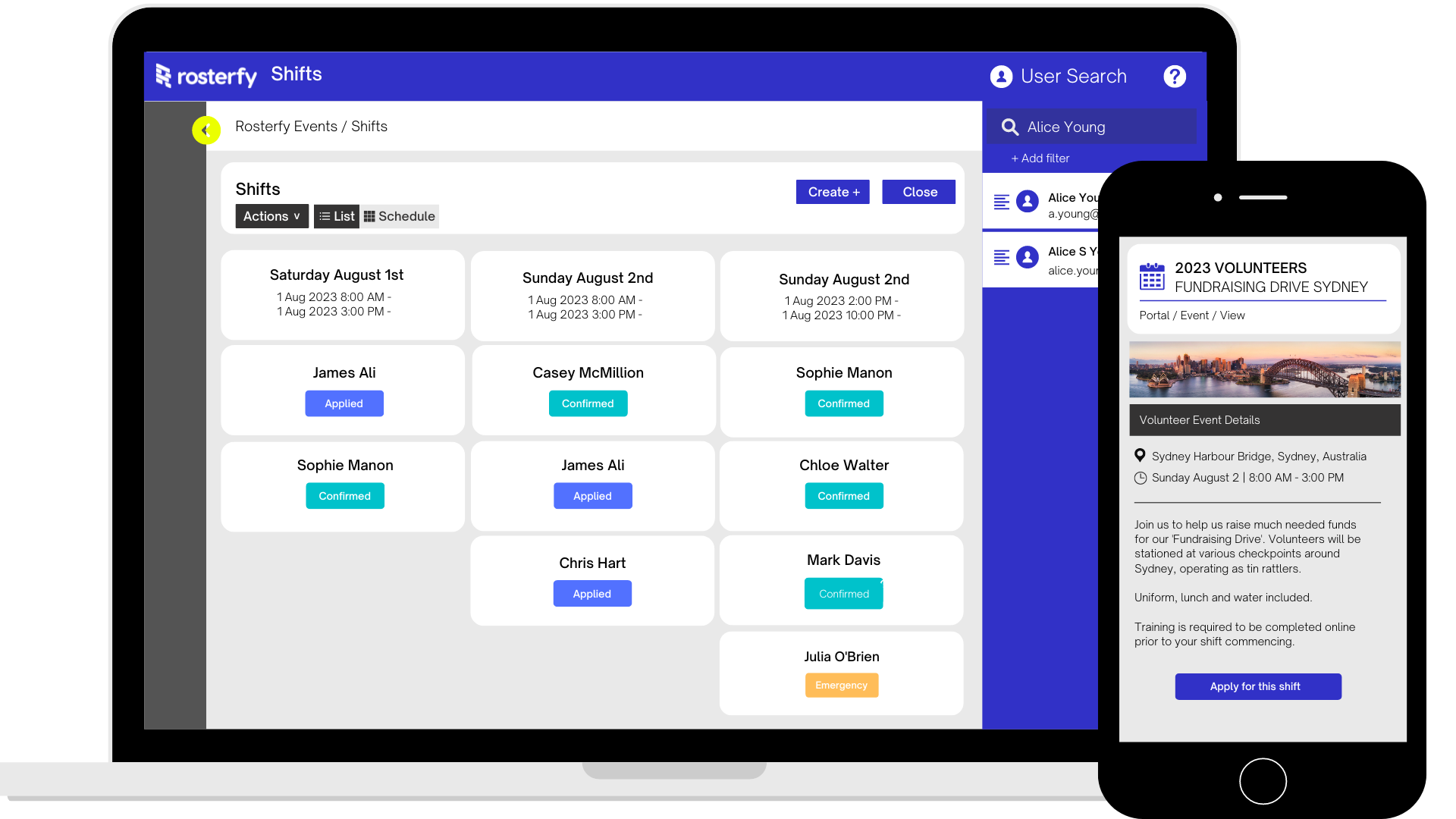 SCHEDULE
Make complex scheduling easy for any event
Rosterfy's effective scheduling tools help to replace manual processes, allowing you to focus on what's important - like engaging your volunteers. Using Rosterfy's automations functionality, scheduling the right volunteers to suit your needs has never been simpler.
Events use Rosterfy to:
Schedule volunteers across various locations and events
Train volunteers to ensure that volunteers have the skills required to perform at their best
Communicate with their volunteers via automated emails and SMS
Manage check in and out onsite or remotely
Improve reporting and visibility of operations
REPORT
Track information in real time
Visually track your volunteer and workforce management program in real time with the ability to create your own custom Dashboard providing an overview of user demographics, status of shifts and training.
Rosterfy also enables you to create and generate custom reports at the click of a button, allowing you and your organization to report clearly and accurately.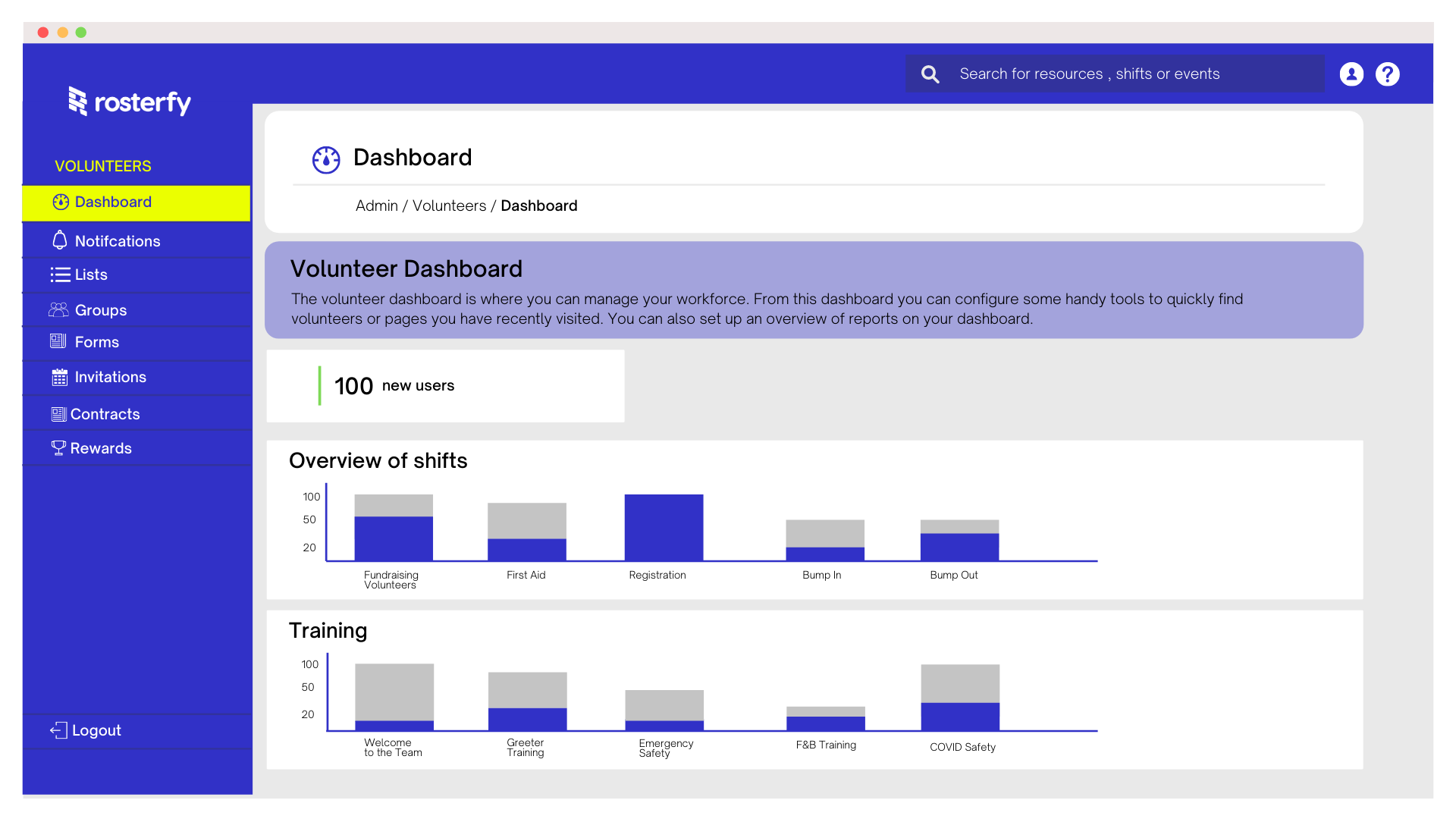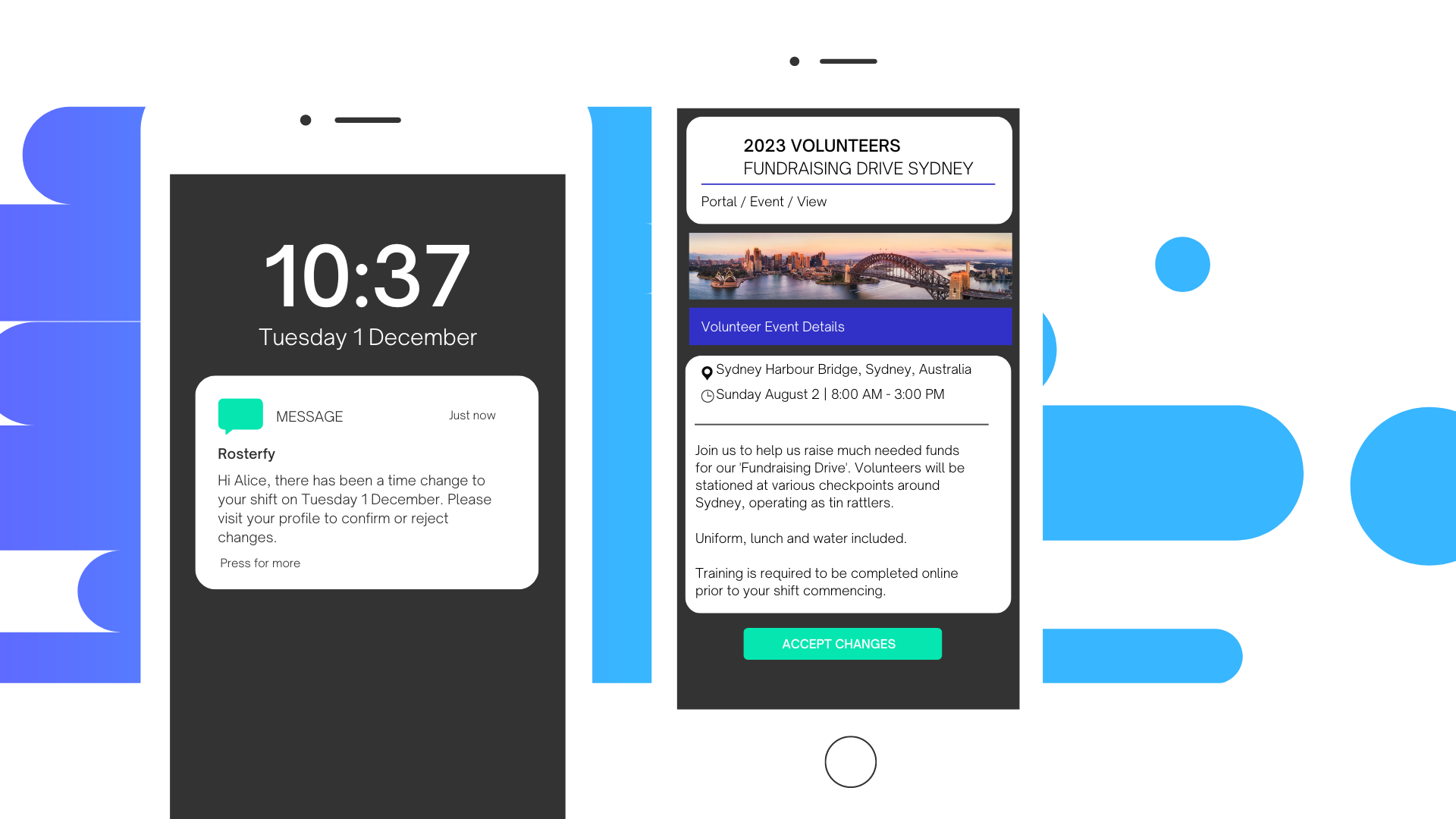 COMMUNICATION
Communicate and engage with your volunteers
Rosterfy allows you to better engage with your volunteers with the ability to communicate in real time. Create custom templates for email and SMS and automate processes such as welcome emails, training reminders and completion certificates.
Need to communicate event or shift changes to your volunteers? No problem! Rosterfy allows you to send bulk emails and SMS to a specific group at the click of a button.
Determine the true value of your volunteers.
Want to learn more about the value of your volunteer management program? Download our free white paper to learn more.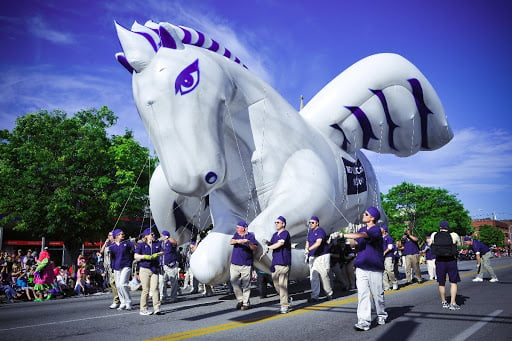 "The Kentucky Derby Festival's volunteer is huge - we utilize 4,000 volunteers and over 100 job categories but Rosterfy created a seamless migration from our former platform. Rosterfy supported us and made the transition simple and fast. The system is intuitive, clean and provides great branding plus the volunteer portal is a nice touch making each volunteer feel special."
TRICIA SIEGWALD, DIRECTOR OF EVENT PRODUCTION & VOLUNTEERS, KENTUCKY DERBY FESTIVAL