If you need to Deactivate or Delete user accounts, you have several options.

1. Deleting User Accounts from the Admin Portal
- Individual users can be deleted via the User List

- You can also Bulk Delete users through a User Import.

2. Deleting User Accounts from the Candidate Portal
Candidates are able to delete their account from within the My Profile section of the portal
Deleting a user account will remove all attributes marked as 'Private/Personal'.

If you would prefer to have more oversight over account deletions, Administrators have two options:
- Require admin approval before an account is deleted
This will send an email to the designated address notifying them of the request. Admins will then need to action the request by manually deleting the account.
- Require users to complete a form when deleting their account
A user interaction form can be created to collect feedback about why a user is deleting their account. By setting a 'Delete Account Form', this will force users to complete the form before they are able to delete their account.
Both of the above settings are found under Settings > Organisation Settings > Users


Please contact support if these settings are not enabled in your account.

3. Deactivating User Accounts
Instead of completely deleting an account, you are able to Deactivate users. Unlike deleting a user account, deactivating an account will keep all user data within your Rosterfy database.
A deactivated user will be removed from all groups, role offers, future shifts, items and incomplete trainings. For more information see article Deactivate Users.
To deactivate an account, you will need to assign them to the Deactivated checkpoint.
This can be done manually within a user's profile, under the Access tab.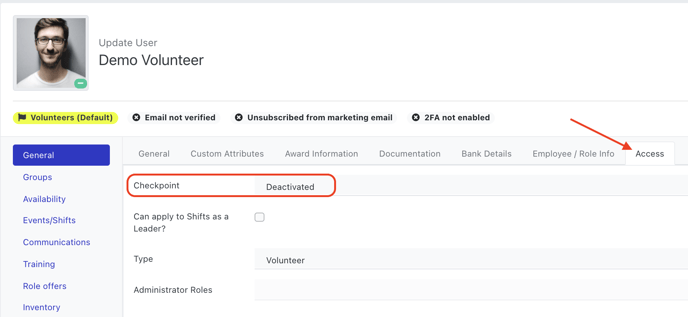 Users can also be assigned the checkpoint automatically using automations.