An Event Expression of Interest form allows you to collect information about a candidate before they're able to see or apply to shifts for an event.

To create an expression of interest form, navigate to Users > Forms > Create
1. Select 'Event User Interaction' as the Form Type
2. Name the Form
3. Add User or Event User attributes to this form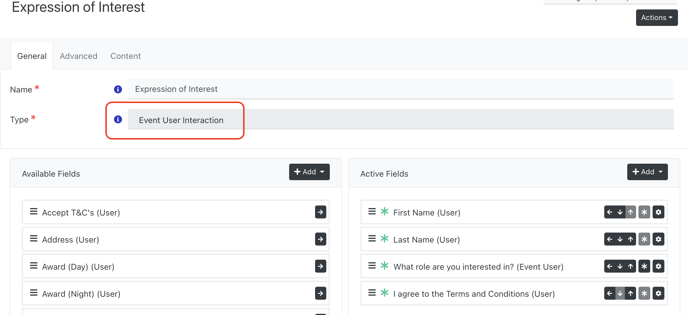 To add the Expression of Interest Form to a particular event, navigate to the Events menu.
1. Update / Create an Event
2. Go to the Advanced Tab
3. Select the form from the Expression of Interest field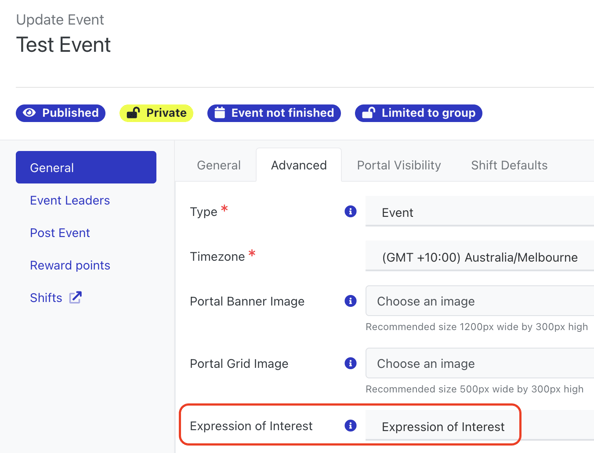 The expression of interest form will now appear on the Event page in the candidate portal. The form must be completed before the candidate can view or apply to shifts.



Viewing who has submitted an expression of interest
To get a quick overview of candidates who have submitted an expression interest in your event, go the Events menu.
Click the

and then View Users.


To export a full report of information collected within the expression of interest, create an Event User report.

Automatic Actions upon Completion of Expression of Interest Form
You may want to trigger automations when a candidate submits an expression of interest. For example, you may want to send an email to the candidate, update a checkpoint or add them to a group when the form is completed. For more information about creating automations, click here.