A custom permission role can be set up to restrict what an admin user has access to and actions that they can perform. You can define the ability to Create, Read, Update and Delete for each module.
You can access the permission roles by:

1. Click Settings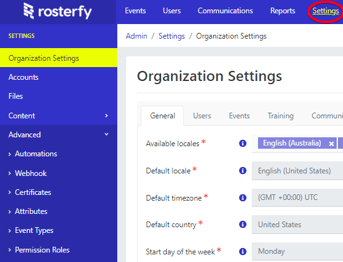 2. Select Permission Roles in Advanced Settings

Note:- You can Create a new permission role, if you would like to customise their permissions

3. Alternatively, you can click the Settings button and select Update to give the new user the same permissions


4. Click Create
5. Enter the new administrator name, email or Rosterfy Id then Submit
Note:- That anyone with the Admin Access and Settings Update can modify system settings along with permissions.