Go to Settings > Advanced > Certificates
Certificates can be created to represent your organisation. They are one of the fast and automated ways to reward your users who have assisted at the event. When a certificate is assigned to an event or training, the certificate will be available to download in the event history or completed training section. A certificate can also be allocated through an Automation or by an admin in bulk on the user listing or by user profile.
You can setup a certificate by:

1. Click Settings
2. Under the Advanced section Click Certificates
3. Add a Name (This will be visible to the user)
4. Select paper size, orientation and Background image
Note:- The background image should be the same paper size and orientation to ensure it look correct.
5. Click Add Text to add a message. You can use the letter button to add system and custom user attributes.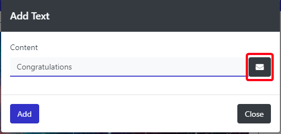 6. Once text has been added you can make amendments to color, font and location

Note:- Any content changes made will be shown once the certificate is saved.
7. (Optional) Click Is Default if this is your only template
8. Click Save
Once the certificate is saved you will be able to download a preview of the certificate. The certificate will appear on the completed section or if allocated manually in the Rewards section to be downloaded
Event certificate

Training Certificate

Reward assigned certificate