This document will provide an overview of the features/updates the product development team has delivered in Sprint SPO47 (16 August 2022 Release).
| | |
| --- | --- |
| Release number | SPO47 |
| Date of Release | 16 August 2022 |
| Link to Videos (Internal) | |
New Features & Enhancements
Advanced User Search Improvements
Administrators will now have the ability to click through to see more results, previously this was capped at 10 results.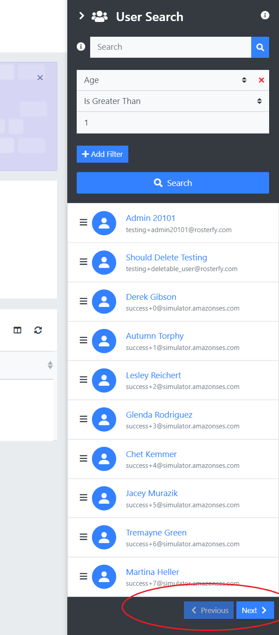 Users will be displayed in alphabetical order for Group Leaders in the portal
New administrator permission to allow Subaccount domains to be modified.


More options within the Save button
Administrators will now be given three options when saving records to help perform tasks faster:


Save and remain on the update page
Save and return to the listing page
Save and create another



Ability to add custom message in subaccount carousel.
A custom subtitle can be added to the subaccount carousel via Organisation branding settings




Invitations can only be completed once


If users try to complete the same invitation again, the system will now display the following message:

More information added to Role Offers in the portal dashboard.
New information includes:
- Functional Area
- Location
- Venue
- Account Name (if role offer is from a subaccount).




Expression of Interest (EOI) Updates

A new checkbox to 'Accept Expression of Interest' has been added
Adding an 'Expression of Interest Form' is now optional
Admins can optionally add a demand for Expression of Interest. When this number is met, expressions of interest will be closed.


Ability to archive Subaccounts
Subaccounts can now be archived which will remove them from the subaccounts listing. Archived accounts can be viewed and restored via the subaccounts archive.


New Dashboard Widget 'Recommended Events'
This new section in the candidate portal is populated based on areas of interest the user has selected (event tags).

Note - if event tags are not being used, this widget will not appear.


New Dashboard widget 'My Expressions of Interest'
This new section in the candidate portal will display a list of events the candidate has expressed interest in.
The widget will disappear once the candidate has been added to a shift with a pending, confirmed or attended status.


The title of the widget can be customised in the Terminology section.



Event Users can now be assigned a status
Event users can now be assigned a status (either manually or via an automation). An event user is someone who submits an expression of interest for an event.

Notes:

By default, no status will be assigned to the event user.
Administrators can create their own custom event user status
Administrators can control whether the event user status is displayed in the candidate portal via the Organisation Event settings.
Event Tags (Areas of Interest) are now available as an Event Filter
Admins can now add Event Tags as an Event Filter.







New Terms added to the Terminology page