This document will provide an overview of the features/updates the product development team has delivered in Sprint SPO46 (26 July 2022 Release).
| | |
| --- | --- |
| Release number | SPO46 |
| Date of Release | 26 July 2022 |
| Link to Videos (internal only) | |
New Features
Parent accounts can now see child account events from within their own event listing page.
Parent accounts now have the ability to set a default event type for child accounts via the Organisation Event Settings. When events are created using this event type, the events will also be visible in the parent account event listing.
Events can now be assigned 'tags'
A predetermined list of tags (categories) will appear in the list to choose from. The purpose of event tags is to help users search for events based on the areas they are interested in.
Notes:
The ability for users to filter events via tags will be released in a future deployment
Using tags is optional when creating events.
Ability to add an Expression of Interest demand to events
A new 'Expression of Interest demand' field has been added under the Advanced tab within Events. The purpose of this field is to allow administrators to cap the number of people they want to express interest in an event. If a demand is set, when this number is reached, the event will be closed for any further expressions of interest.
Ability to set 'Maximum Shift Applications per Shift Type'
Maximum shift applications can now be set per Shift Type, instead of all shifts. This allows for further flexibility when setting maximum shift applications for users.
Blackbaud Integration enhancements
The existing integration has been updated to support the seamless flow of the additional custom fields; Notes, Actions, Consent and Relationships
Introduction of Communication Limits and Notifications
New communication limits have been introduced to provide better system performance.
The default limits will be:
5,000 emails per batch (no limits on the number of batches per day)
1000 sms per batch (no limits on the number of batches per day

When the limit is exceeded, an error message will appear immediately
Note: Email batch limits can be increased to 100,000 by request. Please speak with your Rosterfy Customer Success Manager to discuss.

Improved feedback messages have been added



Splitting Groups into Segments
Groups can now be split into smaller segments to assist with sending communications in smaller batches.



Administrators will have the option to choose how many users will be put into each group, which will then determine how many groups will be created.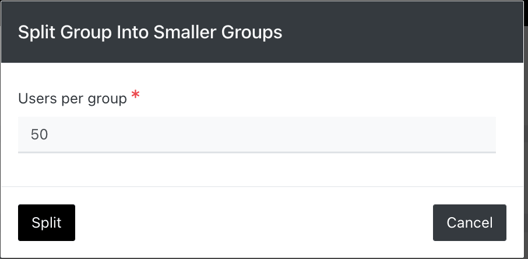 The split groups will be named 'Part 1/5', Part 2/5 etc' to clearly identify each of the new segments that have been created.





Note - auto-update rules (such as add only or add and remove), will not be coped into segmented groups. ​​