When changes are made to a web page, the same files on the server will be updated. If you've been to that web page in the last day or so, your web browser may be set up to cache (save) images locally on your computer to help speed up browsing. If this occurs, then you may not be seeing the changes that were made to a web page since you do not have the updated files. What you need to do is force your web browser to refresh the page.
You can resolve this issue by clearing your cache and here are the methods depending on your device:
Laptop/PC
Hold down Ctrl and press F5
Or
Ctrl, shift and press F5
Mac
Hold both the ⌘ Cmd and ⇧ Shift keys and press the R key


Ipad or Iphone
Go to Settings
Scroll down to Safari
Scroll down to "Clear History and Website Data."
Select only Browser history, cache and cookies
Click clear data
Select the site url you are on if available

Android
Open Chrome
Click "Settings" from the browser menu bar
Find "Privacy" from the menu.
Scroll down to the bottom and click "CLEAR BROWSING DATA"
Select only Browser history, cache and cookies for the site url that you are on
Click Clear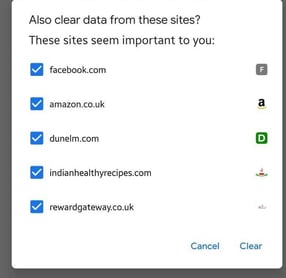 Once you have cleared the browser history you can load the website to see the latest update.