You can use the import shift function to quickly create or update existing shifts. If you are updating multiple shifts with the same information, it is easier to do this using the bulk update process.
The import function is located on the shift listing page.

You can use the sample file to see the required format and default fields that you can create/update. The process can be started by:
1. Click Import.
2. Click Browse to select a file from your desktop.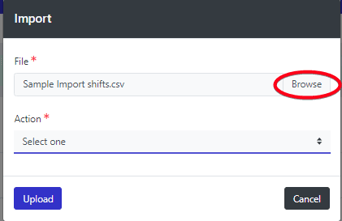 3. From the Action dropdown, select either Create or Update.
Note: Shift ID numbers will be required when updating existing shifts.
4. Click Upload.
You will be brought to the import mapping where you can choose what is in each column and select to ignore to exclude columns from the import.

5. Click Validate to initiate the data check.
If there is incorrect information in your file you will be shown which line and specific cell that is incorrect. You will need to correct any errors in the original file and then import it again to correct the error.

Note: If you have continued issues, refer back to the sample file provided.
6. Once the file has passed validation, click Process.
You will then be shown a successful import screen.